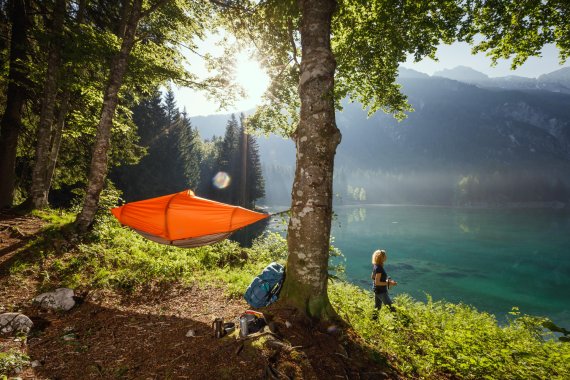 Tent idea from a tropical storm
ISPO.com: How and when did you come up with the idea for the flying tent?
Joachim Leitgeb: I travel a lot around the world for my job. My loyal travel companion in all of it is my beloved light hammock. On a trip to Kuala Lumpur, when I had just gotten set up between two palm trees in a park, I was surprised by a tropical storm.
I didn't have an umbrella with me, so I threw my hammock over myself instead. So on the spot it became a shelter from the rain, and to a certain degree it kept the water out. That evening came the flash of inspiration: a hammock and a rain poncho in one. I followed up on the product idea with friends, and that evolved into the flying tent.
What makes your tent unique, and how does it set itself apart from the rest of the market?
The flying tent is characterized by a high degree of functionality, innovation, and user friendliness. Our products are manufactured and qualitatively processed in an experienced factory exclusively with high-quality materials.
Due to the elaborate combination of design, material, and processing, the flying tent weighs just 1.8 kg without accessories. The technically innovative, patented construction is based on the function of a classic pop-up tent, and makes for fast and easy setup.
Whom do you see as your target group?
The flying tent is suited for touring in all kinds of countryside. Thanks to its sophisticated, multifaceted applications, the flying tent makes it possible for campers, hikers, cyclists, and fishers to settle down even in places where layouts are difficult for tents, like the wet ground, river beds, or steep terrain. The integrated mosquito net also protects adventurers from bothersome insects.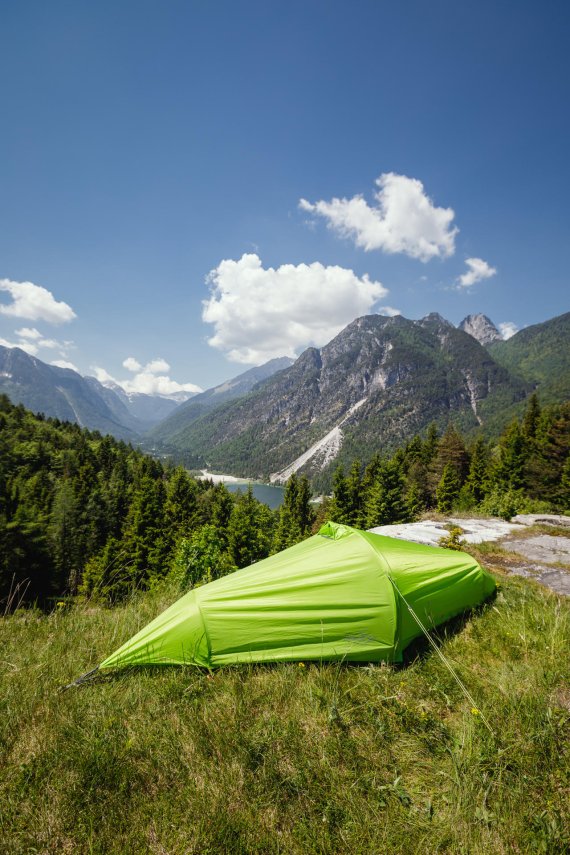 TV show brings investors
What is the biggest challenge for a company as young as Campfire Outdoors?
The biggest challenge in our company was securing quality textile production, as well as the process towards series transition.
How did you set up your network and organize the search for partners?
Through our pitch on the TV show "2 Minuten 2 Millionen" on the Austrian network Puls4, we were able to get our first big investors and mentors on board. We also expanded our network through various start-up events and pitch events.
What are your three most important pieces of advice for other founders?
In short: Quality is king! Also important is a good preparation of processes, getting customer feedback right at the beginning of product development, and doing as much market analysis as possible.
Attention through ISPO BRANDNEW
What is special about Campfire Outdoors? What does your company come down to?
We offer flexible working hours in our company. Besides a work-life balance, an outdoor lifestyle is our top priority. We're building a strong team with employees who are excited about outdoor and enjoy shifting the office outside now and then.
What are the next steps with the flying tent and at Campfire Outdoors?
We're concentrating on new, multifunctional products having to do with life al fresco. We're focusing on international retail with our online store.
To what extent have you benefited from ISPO BRANDNEW?
Thanks to ISPO BRANDNEW, we received more visibility and attention in international media. We were also able to register inquiries from retailers and distributors. Aside from that, thanks to ISPO MUNICH, we were able to expand our network with bloggers, the press, and influencers. We also made contacts with future business partners.
ISPO BRANDNEW offers contacts, insights, and new perspectives for your start-up! Get to know the world's biggest competition for founders in the sports business! >>>
Company information:
Name: Campfire Outdoors GmbH (formerly Startraveller Equipment GmbH)
Location: Sankt Veit an der Glan (Austria)
Website: www.flyingtent.com
Founded: 2015
Employees: 5 (as of June 2017)
Video: ISPO BRANDNEW 2017