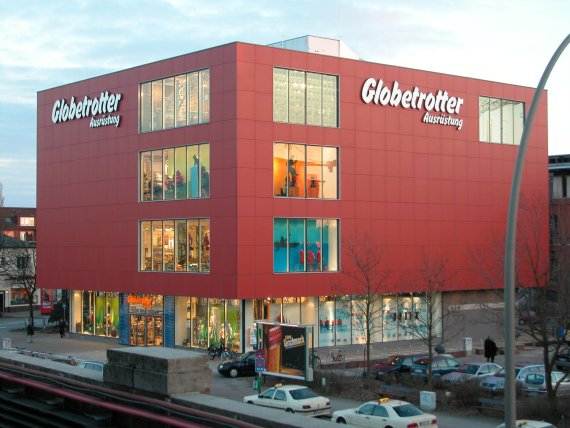 Globetrotter Ausrüstung GmbH from Hamburg is Europe's largest independent outdoor retailer and has 1400 employees at twelve different locations (including nine subsidiaries). The retailer sells 50,000 items from 800 different brands. In 2014, Globetrotter generated sales of EUR 194,198 million.
Own brands with responsibility
Due to the fact that many outdoor retailers have established their own shops, Globetrotter has promoted its own brands. Its own brands, meru and Kaikkialla are produced in Europe, Vietnam, China and on the Indian subcontinent. In this way, Globetrotter guarantees that child and cheap labor are taboo.
The Globetrotter magazine "4 seasons", which is published quarterly, has a minimum circulation of 400,000 units, making it the magazine with the largest circulation in Europe.
The company has set up a call center with 30 specialist advisers to answers any item-related questions.
Heaven for fans of alpine sports
The different subsidiaries offer diverse attractions. There is a pressure chamber in Munich which mountaineers can use to test whether altitude has an effect on them. The Cologne subsidiary is even represented in guidebooks by its 220,000 liter diving and canoeing pool.

Besides a faithful reproduction of an original stone course as well as a cold chamber (temperature drops to minus 28 degrees Celsius), you get everything you need in the Hamburg branch for an excursion to the tropics. Even the requisite malaria medications.
History and milestones of Globetrotter
The globetrotters Klaus Denart and Peter Lechhart founded "northern Germany's first specialist shop for expeditions, safaris, survival and trekking" in 1979. On the occasion of the opening of the business in Hamburg, friend and survivalist Rüdiger Nehberg served mealworms.

The hobbyhorse of the Hamburger locals is trekking accessories: Light-weight tents, rucksacks and sleeping bags, functional underwear, climbing gear, canoes as well as useful gadgets for outdoors such as stoves, compasses, flashlights and water filters.
Over the years, Globetrotter has expanded right through Germany. There are subsidiaries, among others, in Berlin, Munich, Dresden, Cologne, and Stuttgart.
An adventure department store of never before seen dimensions has emerged from the headquarters in Hamburg. 16,000 square meters in size, with 400 employees. A massive building in the growing outdoor market. In comparison: Joseph-Pschorr-Haus in Munich, which has moved into the Sport Scheck, is just over 10,000 square meters in size.
Globetrotter products
Globetrotter Ausrüstung GmbH has two own brands: meru and Kaikkialla. Besides clothing, both brands produce bags, isomats and sleeping bags. Walking poles, rucksacks and other essential equipment for excursions into the countryside are available in the subsidiaries and the online shops. The companies guarantee sustainable, environmentally friendly, economically fair production.
Globetrotter strategy
For 36 years now, Globetrotter's approach has been to employ professed outdoor enthusiasts as salespeople. Globetrotter should help other globetrotters in every way that it can. Its salespeople should be passionate about the outdoors. Sometimes employees are given leave for world trips, climbing excursions or bicycle tours lasting several months.
A year ago, Globetrotter was in a very difficult situation due to this strategy. Sales stagnated, 100 employees had to be laid off. Expertise is all very well; however, most customers would also just want to look good in their clothes in the city – keyword urban outdoor – say the critics.

Dedication for sustainability
Thus, too much expertise is even dangerous. Many customers are simply not prepared to absorb a markup of up to 30 percent in comparison to e-commerce retailers simply because of good service.
Globetrotter also fights for sustainability, environmental protection and an improved living situation for people living in poverty and under oppression. For this reason, the Globetrotter Foundation was set up. In addition, the company is represented in the Sustainability Working Group (SWG), a joint platform of the outdoor sector for the dissemination and adoption of the best standards for sustainability.
Key figures of Globetrotter
Data and facts on Globetrotter Ausrüstung GmbH (numbers from the 2013 annual report):
• Company founders: Klaus and Peter Lechhart
CEOs: Andreas Bartmann, Thomas Lipke, Philip von Melle and Angela Rux
• Sales: EUR 194,198 million
• Net loss for the year: EUR –5.55 million
• Employees: 1,400
• Subsidiaries: Hamburg, Berlin, Dresden, Frankfurt, Cologne, Munich, Stuttgart, Filderstadt, Ulm
• Outlets: Bonn, Frankfurt, Metzingen
• ACTIVE STORE: Torfhaus
• Company headquarters/logistics: Hamburg 

Collaborations/programs
• Big Point Youth Project: For young people who are in the difficult transition period between school and work and have unsatisfactory career prospects. The young people take part in a group with a social education worker for two years and in the process are given intensive support.
• Hamburger Tafel
• action medeor: Largest European medication aid organization. Globetrotter supports the malaria project in Tanzania/Lituhi in particular.
• Rettungshundestaffel Hamburg/Schleswig-Holstein
• Shelter108 e.V.: The association takes care of young Tibetan children who are sent by their parents on a treacherous journey over the highest passes in the world.
• Switch: A project of Kulturbrücke Hamburg. International family exchange for 14-year-old children.
• Climate ambassadors – students become climate observers
• TARGET – targeted initiatives for human rights: Main task is on-site deployment against female genital mutilation
• Tatort – Straßen der Welt (Streets of the World): The Tatort association has made it its goal to ensure that children who are left to their own devices are still able to have a good start in life. This also includes, among others, a loving house as well as good schooling and vocational training.
• Wilderness International Foundation: Helps to preserve wilderness areas and put a stop to far-reaching environmental damage