The manufacturer GoPro has revolutionized the video industry and made action sports accessible to everyone. The impressive stunts and daring maneuvers have been going viral on social media for years and trigger an adrenaline rush just by watching them. But even a mega brand like GoPro started out small and was awarded the ISPO Brandnew Award when it was still a start-up - a real growth booster for the still unknown brand. For founder Nick Woodman, it was a dream come true. Today, he is one of the richest people in the USA.
"We want to constantly seek out new markets and expand our network. Being at ISPO helped us meet new potential business partners and GoPro customers from all areas of the sports world. The ISPO Brandnew Village was a great way to get started!" Nick Woodman, GoPro, ISPO Brandnew Finalist 2005
What is ISPO Brandnew?
ISPO has been awarding prizes to the most promising newcomers in the sports and outdoor industry since 2000. And with success: former award winners, including GoPro, Naish Kites, Maloja, Nixon, and On, are shaping the market today.
Every year, a jury of experts from the fields of sustainability, design, quality, functionality, and technology selects the ISPO Brandnew Winners.
You too can present your start-up and your vision at the largest international platform for sports, the ISPO Munich 2023from November 28 to 30, 2023!
If you are part of ISPO Brandnew, you belong to a real community. Today, the former winners form a strong network and a unique community. And even more: For the start-ups, the award and the contact to other innovators are absolute gamechangers in their success story.
"ISPO is a strong growth accelerator for Covision Media because ISPO has a large but tightly connected and high quality B2B network in the sports, outdoor and footwear industry. Access to this network, together with winning the ISPO Brandnew Award in the category "Sports, Technology and Platforms", has enabled us as a technology start-up to immediately make the right contacts in the markets relevant to us, thus accelerating our growth." Franz Tschimben, CEO Covision, ISPO Brandnew Category Winner 2022
ISPO Brandnew is THE platform for start-ups to present their innovative products or services to the sports industry and make important contacts that are otherwise difficult to access. In this way, ISPO Brandnew gives start-ups a success booster and a head start. 4 reasons why the platform is worthwhile:
1. connecting platform
Investors*, founders*, retailers*, distributors* or other start-ups. ISPO Brandnew is the perfect platform for everyone who wants to connect with really valuable partners. Especially as a start-up, it is essential to make new contacts, network with other players in the industry and find potential business partners. Or simply talk to other start-ups about their experiences, successes and fuck-up stories to learn from each other.
"Through our presence at ISPO, we have been able to feel the great interest in MEVO from manufacturers, retailers, media and end customers. The many new contacts have opened up completely new opportunities for us and we are in talks with well-known manufacturers in the industry." Martin Edelsbrunner, Founder MEVO Sport (EDELWORKS GmbH), ISPO Brandnew Finalist 2022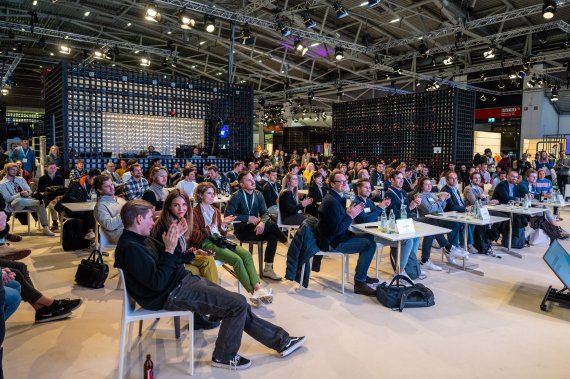 2. simplified market access
ISPO Brandnew makes market access easier. ISPO Munich is the place-to-be for the sports industry. This is where everyone who sets the tone and is hot to discover new ideas and innovations hangs out. ISPO Brandnew enables start-ups to present themselves to this very audience. By participating in the competition, start-ups can present their innovations to a broad audience of industry experts* and receive valuable feedback directly.
"ISPO Brandnew played an important role in my life. The award was a great career jump for the GIBBON brand." Robert Käding, Gibbon Slacklines, ISPO Brandnew Finalist 2009
3. targeted scouting
ISPO Brandnew offers start-ups not only the opportunity to network and find business partners, but also to be found. Targeted scouting is therefore an important part of ISPO Brandnew, as it enables companies and investors to discover and identify promising start-ups in the sports industry.
"Our presence alone opened many doors to the industry. We made contacts with the media of the snowboard scene and other manufacturers who played a key role in our yet surprisingly fast growth." Jorgen Karlsen, Bataleon, 2005 ISPO Brandnew Finalist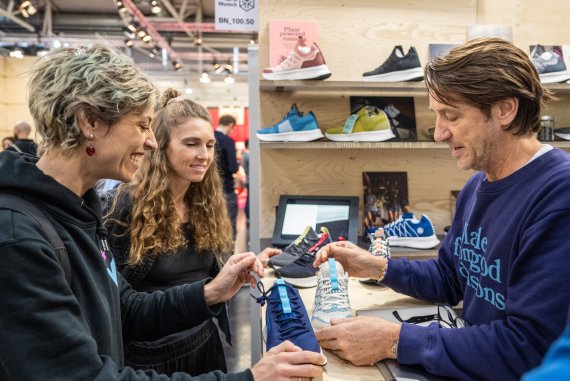 4. analysis of the start-up ecosystem
ISPO Brandnew is a true team player and provides startups with an analysis of their ecosystem. It looks at the startup ecosystem in the sports industry as a whole and analyzes trends and developments that are relevant to startups in the industry. Not only that, it also takes a very close look at the challenges that startups in the sports industry face. After all, financing, talent acquisition, scaling and expansion into new markets are all stumbling blocks that can jeopardize the success of a young company. Based on this analysis, ISPO Brandnew offers participants valuable insights and advice on how to improve their business models and succeed.
Benefit

Overall

Winner

Winner

Selected

Brands

ISPO Brandnew Village

4 m²

worth 1.990 Euro

4 m²

worth 1.990 Euro

 

Trophy/ Certificate

Trophy

Trophy

Certificate

Ceremony

x

x

x

Media package

x

 
 

Networking Night

x

x

x

free participation ObI 2023

(worth 2.000 Euro)

x

x

 

ISPO Award registration fee

(worth 500 Euro/ registration)

x

x

 

Open Innovation Project

(worth 12.000 Euro)

x

 
 
 
 
 
 

worth it in total

17.000 Euro

5.000 Euro

1.000 Euro