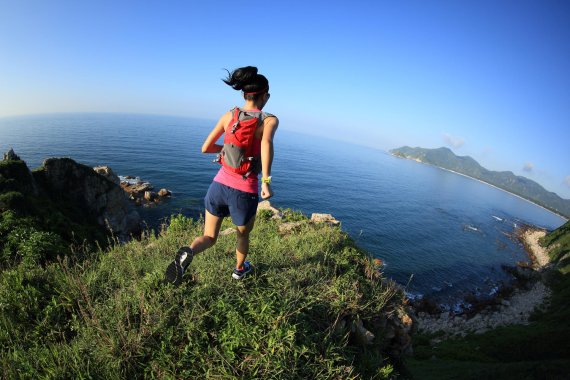 Living sustainably is uncomfortable, complicated and in any case means renunciation. Nobody said it was easy. However, these nine personalities from the worlds of sport and the outdoors prove that a sustainable lifestyle can be cool and inspires participation. Because their Instagram feeds are not only about action shots, but also about a real message. So it's worth clicking on the follow button.
Instagram and beautiful pictures belong together like spaghetti and tomato sauce. That's why a photographer should never be missing from the list. May I introduce: Meg Haywood Sullivan. She photographs for manufacturers such as Clif Bar, Prana or Keen. Besides her work, she also supports environmental organisations such as Protect our Winters, Surfrider Foundation or Conservation International to protect our planet.
Together with Sierra Quitiquit she has founded Plastic Free Fridays. Her photos immediately make you want to go out and show exactly why we should work for sustainability: the beauty of nature.
You want a prime example of an outdoor influencer? Then I suggest Katie Boué. On her Instagram profile, she shares stylish images of her adventures with her dog Spaghetti around her hometown of Salt Lake City, while at the same time championing the environment and, most importantly, American National Monuments and Public Lands.
Besides her social media work for the Outdoor Industry Association and her blog The Morning Fresh, Katie founded the Outdoor Advocacy Project and wants to encourage outdoor athletes to treat their environment and fellow human beings ethically, sustainably and emphatically.
I guess I don't have to say much to him in the outdoor world. Climber. Conqueror of the Dawn Wall. And he is described, in a nutshell, as the best big wall climber of all time. So his Instagram account shows just that: breathtaking climbing shots, life with his wife and two children in Yosemite Valley and his work as an environmentalist.
He speaks before Congress, attends climate change demos, actively calls for votes to protect the Arctic National Wildlife Refuge (the northernmost wildlife sanctuary in the US) from Trump's government's oil plans, and talks to Alex Honnold in videos about how the two can become better citizens of the world.
Photographer Wyn Wiley has created a drag queen alter ego with Pattie Gonia, who wants to make the outdoor world a little less stiff and more sustainable. Pattie Gonia values sustainability, recycled materials and above all equality. Intersectional environmental protection is of course also her theme. She, or rather Wyn, also openly admits that he wasn't always a sustainability nerd, but that anyone can change if they want to.
And if you are still not satisfied with Patty's Instagram Account, you should definitely take a look at the video she made with REI under the title "Everything to lose" has produced. Mother Natch is counting on you!