Steve Richardson, the founder of "Material STEPS" said: "Sustainability is very important for sport as sport has to take place somewhere. We need a place to play and for competition; a place to have fun. Without the environment? What would we have then?" Exactly: little to nothing. Nowhere to live out your passion for movement and sport. However, it's clear that many of the exhibitors at ISPO Munich oppose the sellout of nature. Clever ideas on the subject of raw material use are increasingly leading to the discovery of new, environmentally friendly solutions.
Lara Delle, Innovation Manager for Materials at Vaude, said: "Synthetic materials such as polyester or polyimide are usually used for fleece materials. A lot of energy is required to manufacture them. On the other hand, Tencel is a fiber which is acquired from wood; this means you don't need any oil to do so. It's also a biodegradable fiber that breaks down."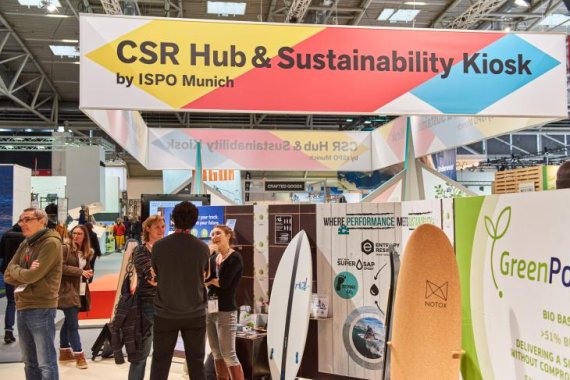 Unlike plastic, which causes massive amounts of pollution with microplastic that even endangers our food and thus us, special laundry bags can solve this problem. Outdoor fans impregnate with beeswax instead of with harmful sprays. Natural products such as cork and recycled material are also being used more frequently in hardware.
What can you still do? Dr. Pamela Ravisio, Head of CSR and Sustainability at the European Outdoor Group, said: "If you're interested in where things come from and you ask questions, that's the most important role you can play. Ask questions about where things come from and about credentials! It's the same for a brand: Talk to the suppliers and have the raw materials improved. Are there better materials? Use them!
Perhaps you ask a question that gets someone else thinking." ISPO Munich asks many of these questions and influences the sustainability politics of the decision-makers in the industry as a result. Ravisio's summary: "ISPO has a real opportunity to provide a platform to brands, manufacturers and retailers who have a clear vision of more sophisticated options and better quality products."