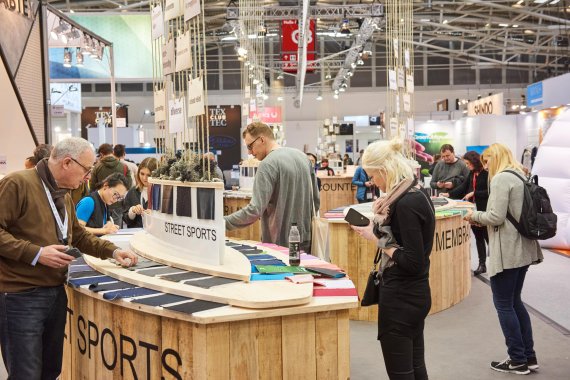 Hybrid Fibers – Temperature Control for Sportspeople
"When you do sport you want to feel good. That means that you shouldn't cool down when you take a break and you shouldn't overheat when you're in the middle of your workout. Many garments have a warming part in the body section and a cooling function in the arms. Combinations of wool with polymides or Tencel fiber with polymides are most often used. We mostly find these combinations in the base layers which touch the skin."
Natural Fibers Increase Comfort 
"As is the case with merino wool, natural fibers are particularly popular in winter. There are so many opportunities to complement the wool with other fibers. For example you could incorporate nylon in the wool. The most important part is that the moisture transfer works. In addition to new natural fibers such as Tencel and Hapok that comes from an African tree, silk and cotton remain relevant.
The Rebirth of Softshells
This is what Arlt is calling these new updated versions of the softshell jacket which are making their return: "There are so many new versions of the softshell jacket which use technology all over. The basic softshell will disappear but new versions with similar technology will appear on the market."
Lighter, Lighter and Even lighter
"We have actually reached the limit already. It'll be almost impossible to go less than the 20 grams which we have today. There are still so many functions that can be integrated into these lightweight products. At the same time they are highly elastic and can also support reflective prints. It is especially important that they no longer require any stitching and that gets rid of the seams which let the cold in."
Sustainability: More Detox
"Detox is the buzzword. We have the first PFC-free and water resistant materials. More and more products are being recycled and are lead back into production." 
But cashmere and wool can also be recycled. Materials can be produced from PET bottles or from old fishing nets.