In 2017 alone, 720,000 e-bikes were sold in Germany, and the mountain bike sector in particular is booming. In other outdoor sports, too, more and more manufacturers are opting for electric drives. But in contrast to electric bicycles, the numbers of e-skateboards on the roads or e-surfboards and e-wakeboards on the seas are still negligible – something also due to the legal framework.
In terms of speed, the current e-skateboards are twice as high one on the conventional hoverboards, with monowheels or Segways on top: 25 miles per hour or more are possible. The Hamburg manufacturer Mellow Boards supplies complete boards as well as just the substructure incl. remote control, which can be added to any skateboard.
The sales argument here: At 99 watt hours, the battery falls just below the limit of 100, which decides what's allowed by airlines in carry-on luggage. The prices vary between 1,300 euros (drive only at max. 15 mph, 6 mile range) and 2,100 euros (complete longboard at max. 25 mph, 7 - 9 mile range).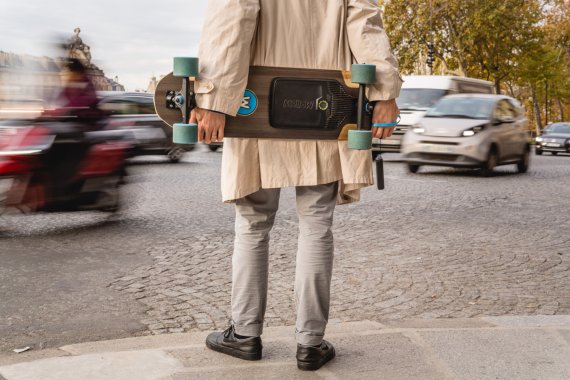 At Evolve Skateboards, which are distributed in Germany out of Düsseldorf, the focus is more on power – and on a market-unique 2-in-1 version. If you prefer to be away from the street, you can change the road wheels for larger off-road tires in a few easy steps and turn the street board into an all-terrain board.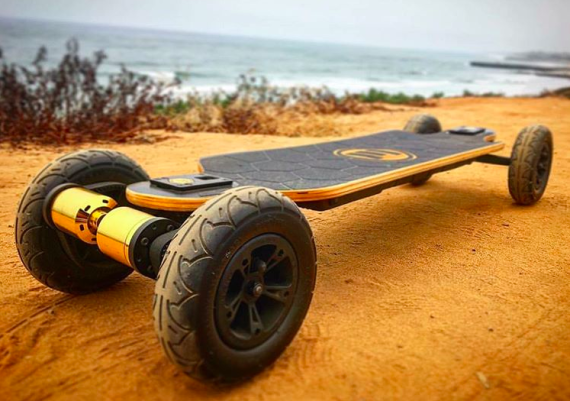 The stronger battery ensures top speeds of around 22 to 27 mph depending on tire size, and doubles or triples the range compared to Mellow at 19 to 31 miles, depending on the terrain. The drawback: Evolve weighs in at almost twenty pounds, more than twice the weight of the Mellow kit. Evolve's beginner board for the street costs 1,000 euros, while the professional complete package with conversion kit comes in at 2,100 euros.
The legal situation is identical – and sobering – regardless of performance and scope: All motorized vehicles faster than 4 mph have no place on sidewalks or bike paths. On the road, they can only be used with approval and corresponding driver's license, due to the drive. So far, there are exceptions only for e-bikes and Segways. For all other e-vehicles, there's a threat of fines and even points on your license in Flensburg – and liability insurance won't pay for damages.
The manufacturers are correspondingly frustrated, especially since, according to Kathrin Hoffman of Mellow in France, skaters usually get away clean from similar legislation. However, open letters and auditions at the responsible ministries have yet to produce any results. Jens Haffke, Managing Director of Evolve in Germany, is particularly annoyed by the slow legislative process, as he sees the e-skateboard as the ideal vehicle in urban traffic to reduce congestion and emissions: "Compact and space-efficient in public transit, more efficient, and lighter than any e-bike."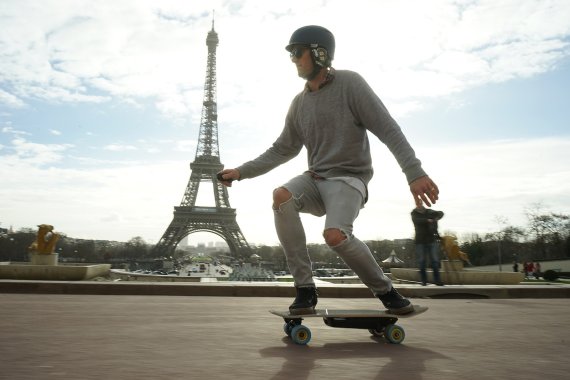 If you want to e-skate in compliance with the law, you'll have to fall back on private property. Hoffmann recommends Treptower Park in Berlin, and e-boarding is also allowed in Landscape Park Hachinger Valley near Munich. Only combustion engines are expressly forbidden on the runway of the former air base.
While e-boarders on asphalt mainly save sweat, the e-trend on the water has an even bigger advantage: It makes surfers or boarders completely independent of their respective resource. No wind, no waves? Not a problem for e-surfers! With the e-wakeboard you skip the entire motorboat you'd otherwise need to pull you along. However, the transitions between the two product classes are fluid.
Markus Schilcher is considered a pioneer in the e-boarding scene. He's been developing e-boards since 2009, and in 2014 he founded the company Waterwolf. What's special about it: He's the only manufacturer to rely on propeller propulsion – "a philosophical decision," he explains, because "you can't get that surf feeling with a jet engine." That means more maneuverability, the usual classic surfing steering through full physical effort, but a low speed, says Schilcher. He's asking between 11,000 and 12,000 euros for his board.
Lampuga also refers to its products as surfboards, even if they're equipped with jet propulsion. The Hamburg company primarily uses size as a differentiation. The inflatable, somewhat shorter and lighter Air version costs surf fans around 11,000 euros; the longer and heavier, but (with 36 mph) also somewhat faster Boost version is available for a solid 21,000 euros.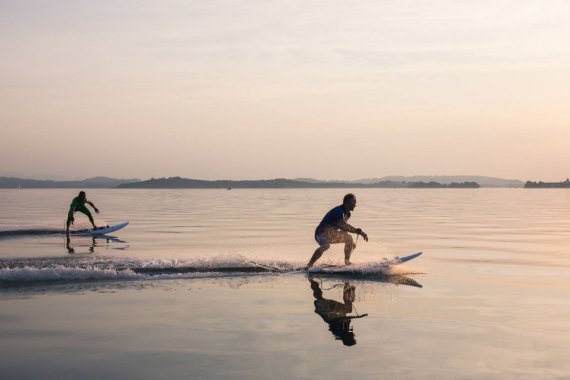 But above all, the jet propulsion is used by manufacturers like Curf (Germany), Awake Boards, and Radinn (both in Sweden) to simulate the classic wakeboard or jet ski feeling. Curf describes their board accordingly as a jetboard, with the purchase price between 13,000 and 21,000 euros. The boards are sometimes considerably shorter than the surfboards. The jet propulsion at the rear end of the board mainly provides thrust and high speed – but at the expense of range. The compact GX2 model by Radinn is already available for 10,000 euros. The price tag of the Rävik wakeboard by Awake is a hefty 19,000 euros with comparable dimensions.
The thing all variants have in common is that the battery is currently the limiting factor, both in terms of price and performance. The batteries already have to deliver about eight times the power of an e-bike battery, take up about half the total weight of a board, and contribute around 3,000 euros to the cost. According to Schilcher, only lower battery prices or production in larger quantities could push the price down, but not in the near future.
Currently the only possibility to glide over the water at a lower price: e-SUPs or e-hydrofoils. For stand-up paddling, a significantly weaker engine with a maximum speed of 6 mph is used, which reduces the purchase price to around 2,000 to 5,000 euros. Retrofit kits are even available for 500 to 1,500 euros.
The focus here is on gliding, not breaking speed records. According to Schilcher, hydrofoils also require considerably less energy due to their "floating" state – this also saves on batteries and, ultimately, costs. The first commercial products like the eFoil are available for just under 10,000 euros – but they don't offer that typical surf feeling due to the lack of direct water contact. Obviously, it is still fun, though.
The one bit of bad news here, however: The legal requirements in Germany are similar to those on land. e-Surfboards are only permitted with license plates, and the corresponding approval from the Bavarian authorities has only been granted for Waterwolf – above all because propellers are significantly quieter than jet engines. Things are more lax in the south of Europe or on the open sea.
In terms of electrification, things are still relatively quiet on the ski slopes. In the search for e-snowboards, you'll only come across ambitious hobby projects – but those usually end in spectacular crashes. Snowboarders currently have no option to be pulled up the slope or pushed along the logging road by an e-board. Markus Schilcher does admit to having already thought about a snow version of his Waterwolf – but because batteries are extremely sensitive to cold, they probably wouldn't be much help in winter anyway.
If you at least want to get the feeling of snow under the edge, you could take a look at Leiftech's V2 e-skateboard. The manufacturer promises – and numerous customers confirm – that the motion sequences are strongly reminiscent of classic snowboarding.
This is made possible by straps for the feet and two extra wheels in the middle under the board, on which the boarder essentially balances. Cost point: Roughly 1,400 euros for a 12 mile range at up to 23 mph.
Looking at and touching is important for prices like these. Most e-skateboards can be tested directly at the manufacturer or at trade fairs.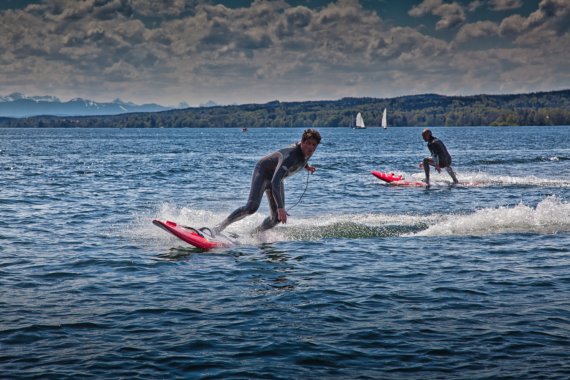 Test drives are also possible for the e-surfboards and e-wakeboards.
Waterwolf has two test center

 established: On Lake Starnberg (in Leoni, near Gastl Boote boat rentals) and Lake Garda (Newschool Kitesurfing in Brenzone).

A comprehensive list of test locations is also offered by the company Jetboard Limited, which both tests and sells models from various suppliers. In Germany, for example, those interested can book a one-hour training course in Heilbronn for 150 euros per hour. If you want to try it out on vacation, you can get on the e-board in Barcelona or Benidorm – for 50 to 150 euros per hour, depending on the manufacturer.