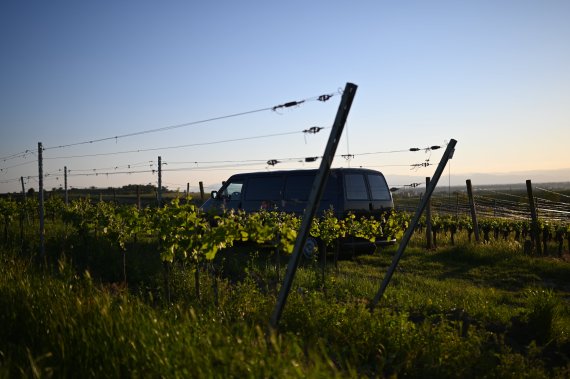 ISPO.com: You live and work in a bus, why?
Merlin Gröber: For me as a freelance journalist, this way of life is ideal: For many assignments like telephone interviews and research, I don't need an office. And when I'm doing reports, I'm out and about anyway.
What kind of bus do you use?
I drive an old T4, built in '96, long wheelbase, equipped only with the essentials: bed, five boxes for clothes, outdoor equipment, food, cookware and electronics. No kitchenette, no couch, no fairy lights. I use a camping stove to prepare food, the bed is 70 centimetres wide.
Why so minimalist?
The minimalist equipment means that the bus can be used with maximum flexibility. Friends are moving? No problem. Loosen four screws and the bed is out, then the bus offers a loading area that is just under three metres long. What's more, the minimalist equipment means I can take lots of sports equipment with me. In winter snow shoes, cross-country and touring skis, in summer folding kayak, mountain bike and racing bike. The sports equipment is important, especially when you are travelling alone.
What do you mean?
If you travel alone in a bus, you have to be disciplined, especially when it comes to sports. On the road, there's no gym to work out in or friends to accompany you on a jog. Every day is different, there's no routine. The more sports equipment I have with me, the more sport I do.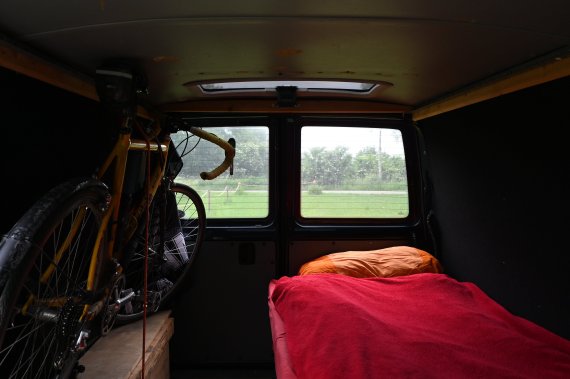 How do you work on the bus?
Often I don't work on the bus, but look for a quiet spot in the countryside. Then I sit down at a table with a bench or chill under a tree in a parking lot for hikers. In the car I have a small camping table and pilot seats that swivel. So in two easy steps I can build my own little office in the bus. A powerbank and an inverter supply the electronic devices with power. In the medium term, I'll add solar panels and a second battery.
Doesn't life on the bus get boring at some point?
No, not if you're on the road with a specific goal. That could be hobbies, a certain place you're heading to, or friends you haven't seen in a while. Last fall I spent weeks in the east of Germany watching cranes, currently I'm in the Black Forest and bike every day after work. Later in the summer I want to go to Scandinavia to paddle a folding kayak. Just being on the road in the bus to be able to say you're doing vanlife, that gets boring in the long run.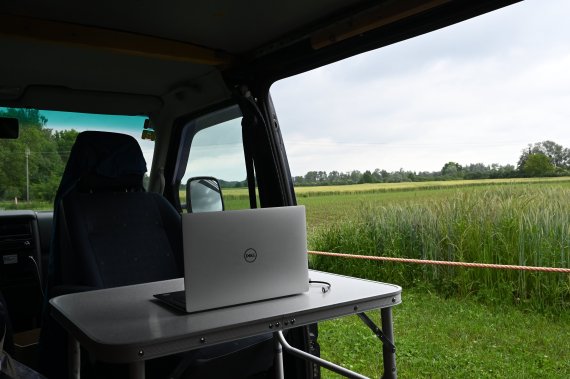 What does a day on the bus look like?
That depends a lot on the weather. If the sun is shining, I get up very early, go for a walk at dawn and start working. At lunchtime I usually find a lake or river to cool off and wash up, take a long lunch break and then get back to work. After work, I unpack my mountain bike or road bike and go for an after work ride or explore the area on foot.
Where do you stay on your bus?
That depends on where I am. In Northern Europe, you can basically stay almost anywhere for the night. In the Netherlands it's actually forbidden to sleep in your car. I usually knock on houses and ask if I can stay nearby. So far I have never been refused. Quite the opposite: the other day I helped a farmer in the Allgäu with the stable work, was allowed to charge my laptop and mobile phone and then spend the night in the meadow behind the farm.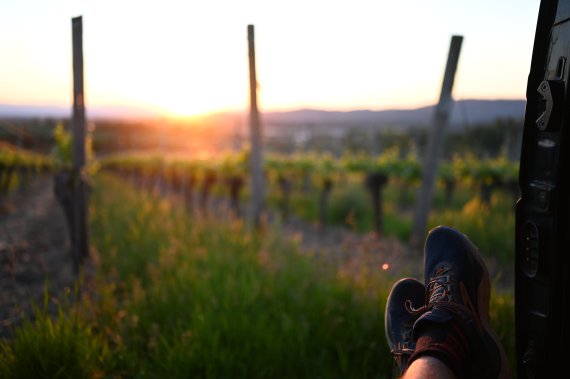 What should not be missing for you in the perfect vanlife car?
A bicycle. It's more than just a piece of sports equipment. Especially in larger cities, I usually park outside and cycle the last few kilometres into the centre. No need to search for a parking space, no problems with the environmental badge and exercise. If I'm in the countryside, I can explore the area by bike or go shopping in the next town.
What tip do you have for beginners?
Start small, think carefully about what you need. A lot of buses, especially in pictures on social media, are fancy upgrades but not very functional for someone who prefers flexible travel. And don't quit your homes and jobs just yet. Maybe you don't like vanlife, in which case you have a problem. And leave the fairy lights at home, no one needs them.