Bike racks that are mounted on the roof of the car are still popular. However, mounting the bikes on the roof rack can be a tedious affair depending on the height of the vehicle. More comfort is promised by bike racks that are attached to the tailgate or a trailer hitch. On these, the bikes can be mounted much more comfortably and even by one person alone without any problems. With roof racks, depending on body size and mounting system, this is not always quite so easy
A prime example of a well-designed tailgate carrier is the Thule OutWay Platform 2, which is securely attached to the tailgate with padded double hooks and steel cables. The platform for attaching the bikes is slightly raised so that the bikes do not cover the tail lights or license plate during transport. To open the tailgate, only the bikes need to be taken down, not the carrier itself. When the bike carrier is not in use, it can be folded flat and stored to save space.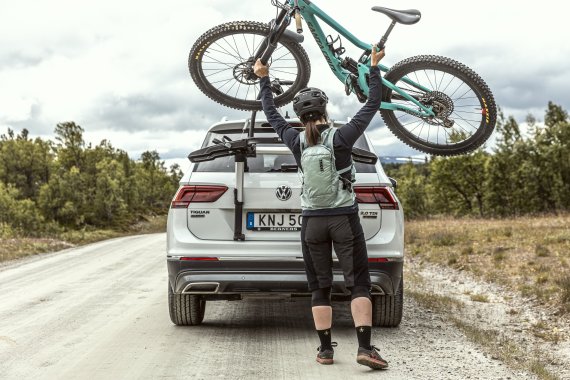 If you have a trailer hitch on your vehicle, you can transport your sports equipment even more comfortably with a carrier from the Thule EasyFold XT series. The carrier offers space for up to three bikes and its low platform makes loading the bikes a breeze. Freeski pro Roman Rohrmoser, a passionate mountain biker who also works as an MTB guide in the summer, also appreciates this: "The bike carrier is super practical. It is easy to mount and remove. Thanks to the folding mechanism, it is nice and small and doesn't take up much space in the garage. The attached rollers are also clever, as they  make it easy to move the folded carrier from the garage to the car."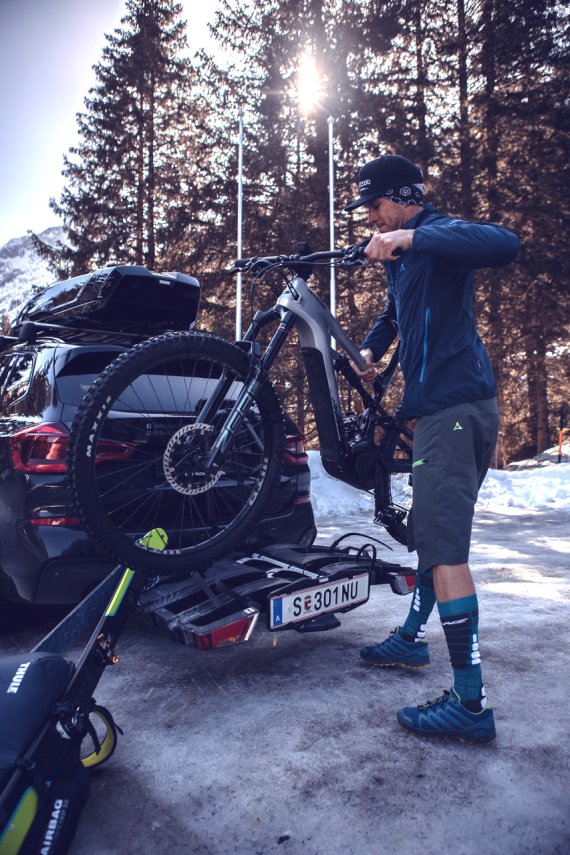 Touring bikers swear by lightweight, compact and weatherproof transport bags, which can easily be mounted and dismounted on your bike. The bags can either be attached to the handlebar, the saddle or a rack on the front and/or rear wheel. With the Thule Tour Rack, the Swedes have developed a rack that can be mounted on the front or rear of most bike types. This way, every bike, from mountain bikes with full suspension to everyday and road racing bikes, can be turned into a bike for the next bikepacking adventure in no time.
Thule has panniers in its range for all types of attachment. We have summarized the highlights of the Thule bike bags in this picture gallery:
For short day trips and after-work tours, many bikers now rely on small, compact hip bags. These have two big advantages over the backpack: Firstly, they offer better freedom of movement at the arms and shoulders. Secondly, the back is free and always well ventilated.
The Thule Rail Hip Packs are available in three different versions, ranging from 0.5 to four litres in volume. A 1.5-litre hydration bladder is integrated in the large hip pack with a packing volume of four litres. Particularly practical: The clever tube fixation on the side of the Hip Pack ensures that the drinking tube, after you have pulled it towards you to drink, simply fixes itself to the side of the bag. So it is always easily accessible on tour.
On longer day tours, mountain bikers want to be protected from possible weather changes. Inevitably, you have to take a bit more equipment with you on the tour. There is hardly any way around a bike backpack that offers more storage space for tools, a change of clothes, windbreaker, rain jacket, first aid kit and food. Like the Thule Rail Backpack with a packing volume of 18 litres. It offers many interior and exterior storage compartments, a removable back protector and a 2.5-litre hydration bladder. For e-bikers, it has a specially stabilized battery storage, in which a spare battery can be carried safely. But the compact, well-ventilated backpack is also perfect for mountain bikers who, like Roman Rohrmoser, like to ride light.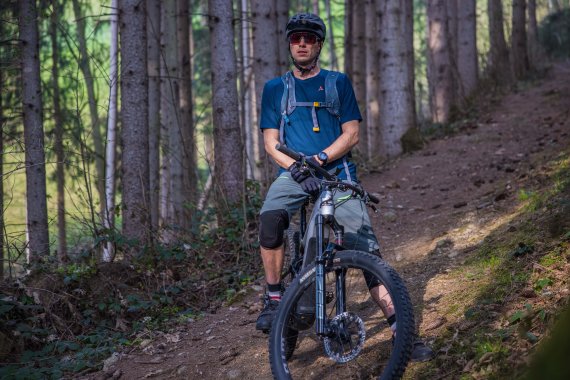 "When mountain biking, I try to carry as little equipment as possible, because I don't like riding with unnecessary weight on my back. That's why the small and handy Thule Rail Backpack with its practical outer pockets is perfect for me. It has a removable hydration bladder, but I don't use it. I prefer to carry the bottle on my bike - it also means less weight on my back", explains Roman Rohrmoser. You can find the complete collection of Thule bike backpacks here.
More information about all carriers, bags and backpacks for cycling can be found on the Thule website.