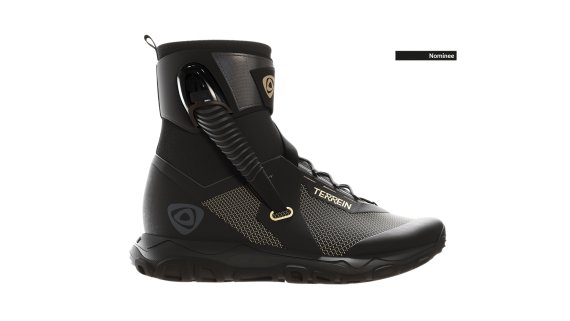 Ankles are the most frequently injured area for hikers, accounting for 40% of all bodily injuries. Steep hills, slippery fields, precipitous woodland and unfamiliar terrain increase stress on ankle anatomy and elevate the risk of painful twists and tears.
Designed for outdoor adventure sports, the TERREIN Ascent hiking shoe features an innovative adaptive ankle protection system which engages only when needed - protecting the ankle from twisting.
Engineered with BetterGuards patented technology, the boot combines the natural freedom of motion with effective joint protection. It integrates a mini-piston, also referred to as an "adaptor", which guards against dangerous twisting forces acting on the ankle. Should the ankle face dangerous twisting forces, the adaptive protection system engages three times faster than human anatomy can, blocking further motion, and allowing you to regain level footing.
This is made possible by an intelligent fluid system that stiffens within a few milliseconds if critical movements are made too quickly and then immediately returns to its flexible initial state. In this state, the system offers almost complete freedom of movement.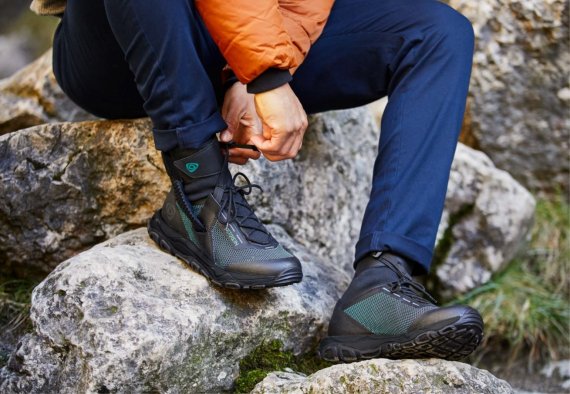 The shoe's sock construction allows full freedom of movement, while the adapter is encapsulated in highly abrasion-resistant fabric for durability, increased comfort and breathability. The Velcro closure provides a custom fit, and the outsole of the shoe is made of an extra grippy rubber compound for maximum control during ascents and descents. In addition, rounded corners and edges provide a smooth placement of the foot, while the wide platform improves traction.
The multi-patented technology for sports, leisure and work is equally suitable as joint protection for prevention and rehabilitation.
"TERREIN is a game changer in the outdoor footwear sector. By merging BetterGuards patented technology with in-house footwear and sports design expertise, TERREIN has developed a boot which focuses on joint protection and performance enhancement, without sacrificing natural movement. We were absolutely fascinated throughout the boot's design process by the promise of BetterGuards to allow wearers the freedom to enjoy sport without the worry of injury. Similar to safety belts used in vehicles, the hydraulic mechanism installed in Terrein boots has a sharp braking effect which mobilises based on speed and stiffens only in cases of dangerously critical motion in the ankle. We want wearers of Terrein to take in the true beauty of hiking, enrich their experiences of nature and ensure they are not only focused on their feet, but their beautiful surroundings as well."
Francois Tabard, general manager at TERREIN
Using exclusively European suppliers and manufacturers, TERREIN has been produced in sensible numbers, tailored to the local demand. By manufacturing locally and responsibly, the brand is developing a shorter, less complex supply chain which is ultimately more environmentally friendly by reducing its carbon footprint.
The boot launches in June 2022. It is available for men and women and made on specific mens' and womens' lasts. It is produced in two unigender colorways: Black/Sand & Black/Turquoise.
About BetterGuards: Berlin-based BetterGuards Technology GmbH is pioneering adaptive footwear technology, specializing in developing and manufacturing products that help people minimize the risk of injury during sports.
Effective adaptive ankle protection (BetterGuards Patented technology)

Natural freedom of motion

Engineered for variable weather conditions

Proprietary outsole with high grip rubber compound and specific lug design maximizing grip for ascending and descending on the trail.

PU midsole featuring responsive cushioning

Hybrid sock construction delivering optimal fit