Until now, lightweight, highly functional sports underwear has often consisted of petroleum-based fibers. But it doesn't have to stay that way. The innovative baselayer set UYN® Evolutyon Biotech consists of 100 percent regenerative, bio-based materials.
UYN's choice of materials is probably unique in the sports industry: Kapok, Biolight yarn, Flexicorn and Natex. Kapok, the lightest natural fiber in the world, makes the underwear ultra-light, soft and thermoregulating. When combined with Biolight yarn, which is derived from the cellulose of beech trees, the kapok fiber is made strong and durable. Biolight is also characterized by its breathable properties and its ability to retain moisture (twice as much as cotton). Thanks to its special structure, the Biolight fiber helps keep the skin cool and dry. Flexicorn is the sustainable alternative to spandex. This innovative yarn is derived from corn that is not used for human consumption and glucose fermentation. Fourth in the bunch is the bio-based high-tech yarn Natex, which is derived from the castor plant. Natex is particularly lightweight, reducing weight by 25 percent, and the clothing dries up to 50 percent faster than comparable nylon clothing. In addition, the fiber is more elastic and has a bacteriostatic effect that minimizes unpleasant odors.
Combined with the patented Hypermotyon construction for maximum freedom of movement and the Coolvent system for optimal ventilation, this baselayer set is not only highly innovative in terms of sustainability, but also highly functional and especially comfortable on the skin.
Thanks to the materials, UYN has been able to reduce energy consumption and CO2 emissions. UYN's goal is to replace synthetic textiles with materials that come from nature but are sustainably produced in the laboratory. These biomaterials overcome the limitations of natural fibers and exhibit superior performance, the company says.
The set will be available for men and women in different colors from fall/winter 2023.
100 percent bio-based

Particularly lightweight

Fast drying

Odor-resistant

Reduces energy consumption and CO2 emissions

High functionality thanks to the combination of bio-based high-tech fibers and innovative knit construction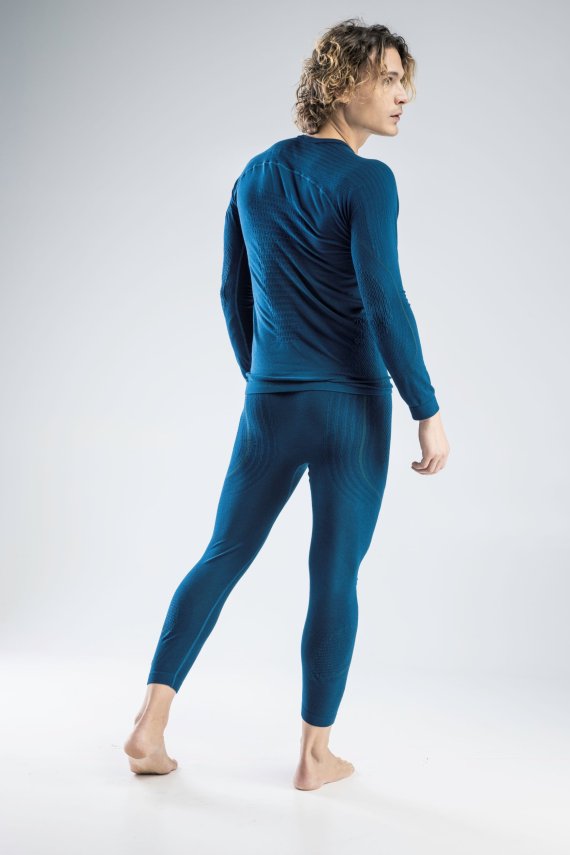 "Nature, biotechnology and science are the values that have inspired our 'Biotech' revolution, which marks the end of fossil fuel-derived synthetics and the beginning of a new era in sportswear. To reach this goal we developed new materials derived from nature and empowered via biotechnology to achieve superior performance in strength, drying speed and breathability. We are committed to a Greener World and we also want to help everyone to unleash their nature and potential: thanks to this innovative line we are sure that we have made one step further to reach our mission." Marco Redini – CEO
"This innovative material combination of bio-based fibers shows that alternatives to petroleum-based synthetics are no longer dreams of the future. The material feels great and the knit combination impressively shows that knit is a technology of the future. Last but not least: the price is also excellent." Jury ISPO Award