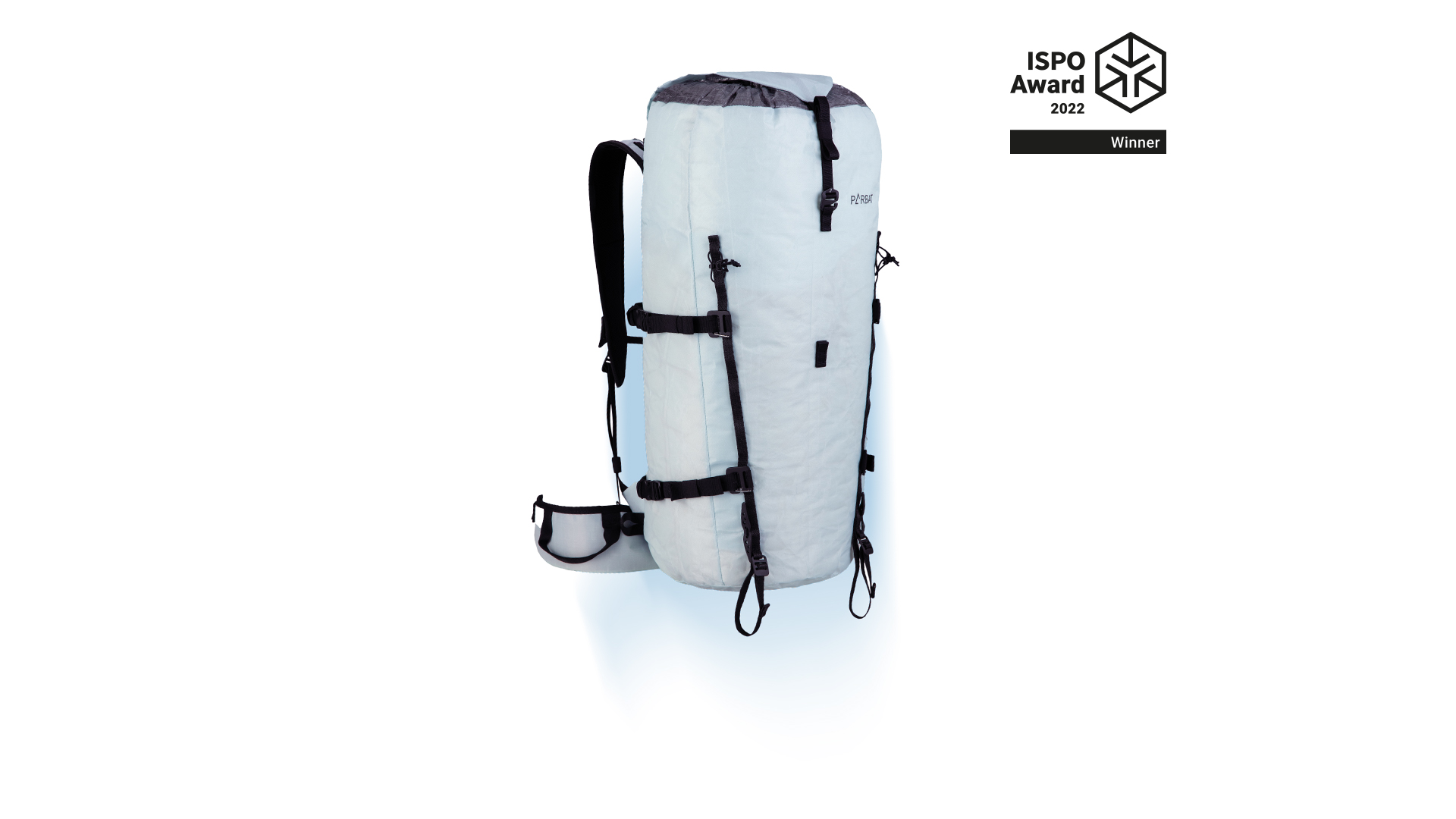 Dyneema combines unique characteristics: lightness, durability and ease of repair. Optimal features for a technical product where every gram of weight matters. And also to extend the life of the product. The simple functional elements of the backpack also reduce the chances of fractures and wear, as a complex product has more chances of wear. The A4M, similar to other Parbat® products, has few fixed elements and many interchangeable and replaceable elements.
Alpine backpacks often have additional functions of low technical importance, such as additional internal and external pockets. These are sometimes filled with useless objects or are simply dangerous external dangling holds during mountaineering crossings. For this reason, Parbat® opted for a simple design reduced to the essentials. The A4M closes with a roll-top system and has two daisy chains along its front side. At the bottom, an ice axe holder and two loops to fixate the skis are integrated. On the sides, the pack has four compression straps to adjust and shrink it in size, when it is not full. These are removable though, to take off, when you do not need them.
Along the front, there are also two clipping possibilities, to fix the top flap, depending on how much gear is in the pack. A waterproof zip in the back lets you stow a car key or other smaller belongings in a small pocket. The pack also has two adjustable shoulder straps at a high density and low volume, as well as a removable hip belt with a loop for carabiners and gear. The hip belt can be taken out though, and you could leave it at home, in case you want to go without.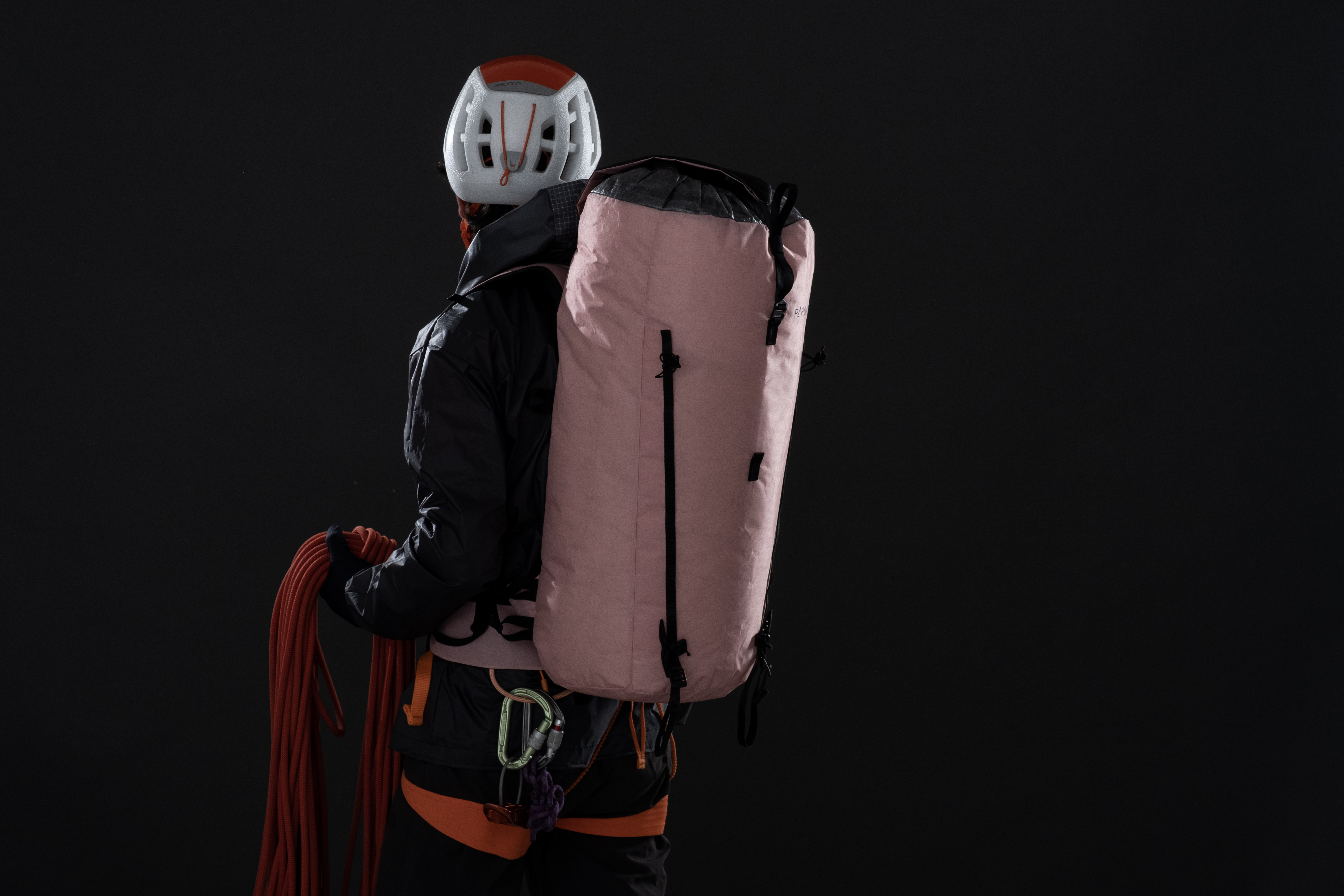 Each element of the lightweight backpack has been designed for high repetitions of use, even in extreme conditions. Even if products made to last, there is inevitable wear when you use them. This is why the brand offers free repairs in their studio, where they also produce each of their products. This also prolongs the life cycle of their pack to make it more sustainable.
The simplistic design is inspired by the concept of ice, rock and crevasses. Observing their colors during sunrise and sunset, the brand developed three backpacks in three different shades. The smaller Parbat A4M comes in a blue with 33+2L packing capacity. The second 38+2L size comes in an ice blue as well as in a rose shade.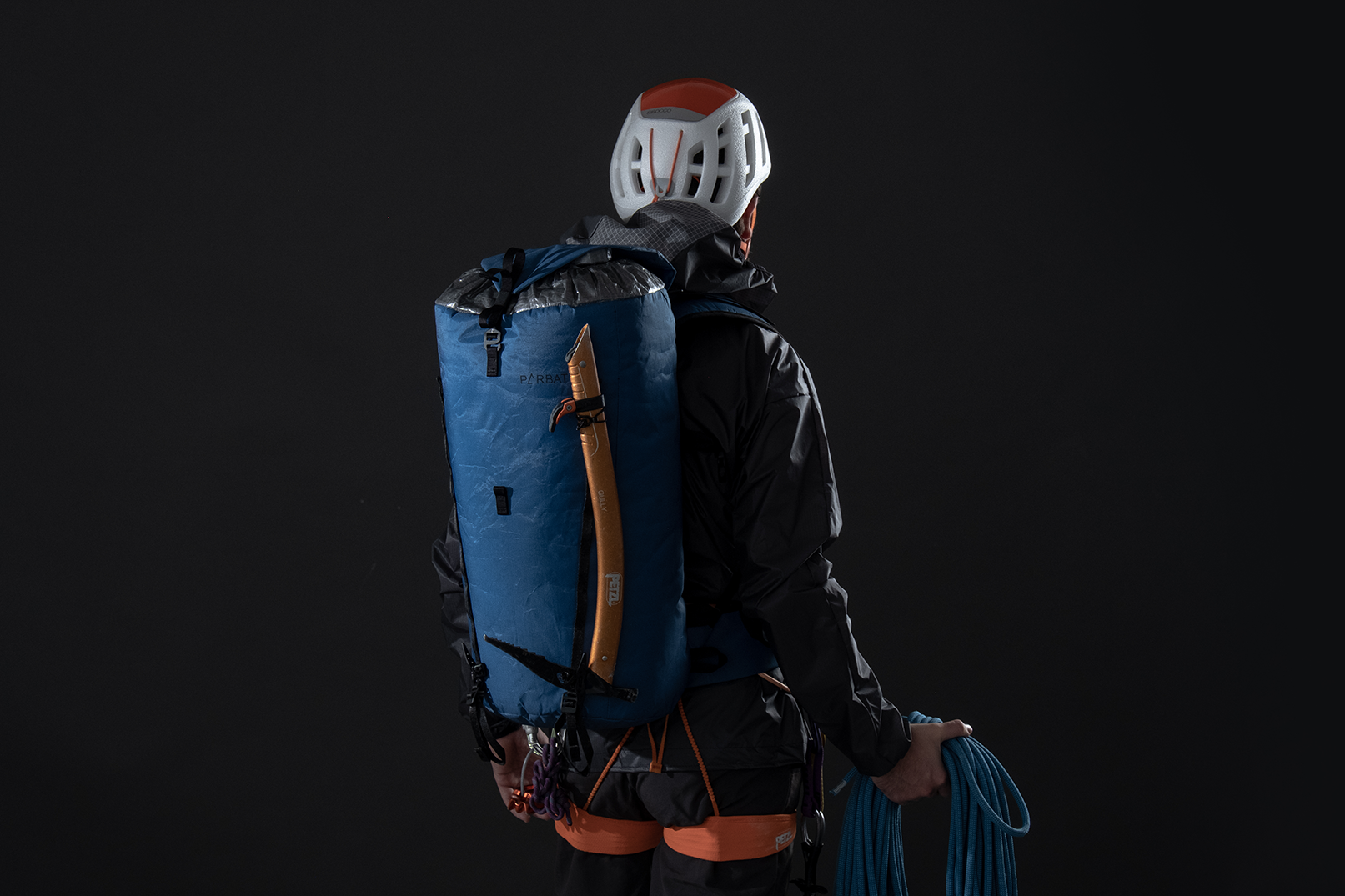 "What I really love about the backpack are all the dynamic aspects of it. It can be adjusted to have a clean design and can be a really fast and light backpack." (Daniele Ciurleo, owner and manager of the Parbat Brand)
"The minimalist design of this backpack is well-balanced: it's modular, so it can be adapted to be super lightweight. As it is made entirely from Dyneema, the Parbat A4M is really durable and a long-lasting buddy for all sorts of alpinist adventures to come." ISPO Award Jury
made from long-lasting Dyneema® to be abrasion and cut resistant

long product life cycle

made for light and fast alpinism style ascents

waterproof, seam taped main compartment 

modular, yet minimalistic design
Product Specs:
Volume: 35L or 40L

Dimensions: 66 X 35 X 20 cm

Weight 490- 670g

Back length: 46 cm

Colors: blue (35L); ice-blue, rosa (40L)

RRP: €400 (33+2); €450 (38+2)

Available from November 2022