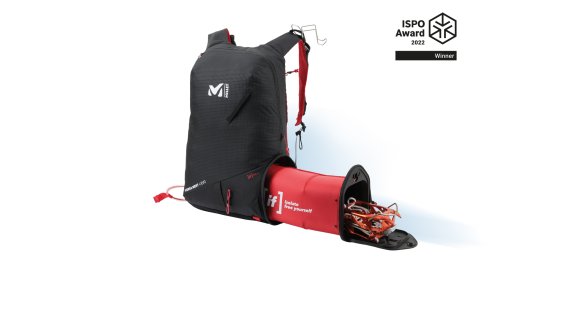 In competitive ski mountaineering, crampons are indispensable, both for performance and safety. However, it is not uncommon for athletes to lose a lot of time during the race to stow the crampons in a flexible backpack compartment. Often, its closure is also not easy to operate, or it can't be closed in a secure way. The result: some competitors even  lose their crampons along the way and can no longer safely continue the competition.
With its Pierra Ment EVO backpack, French outdoor company Millet now offers a solution for this problem – and the members of the ISPO Award jury honoured the sophisticated invention with the coveted award when they recently met for the fourth round of the 2022 ISPO Award.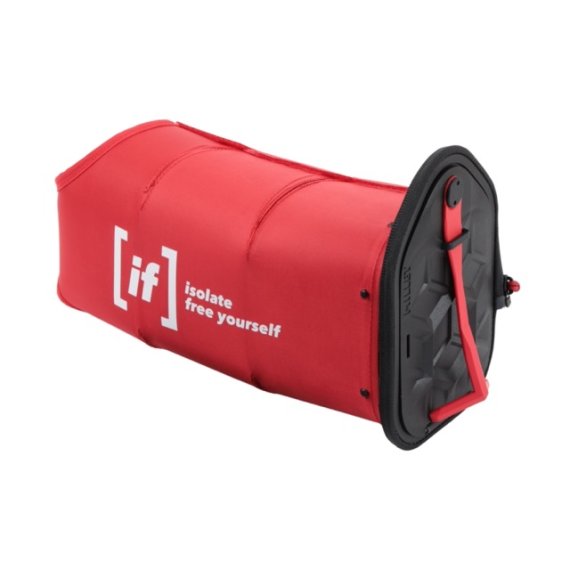 The Pierra Ment EVO backpack is a ski alpinism backpack dedicated to intense activities and committed ski mountaineers. In addition to loads of well-conceived features, it especially optimizes the handling of crampons through an innovative add-on named "IF – Isolate Free Yourself". Millet developed this new concept based on the feedbacks of their technical advisors in an extensive 2-year product development process. In the course, it was tested again and again in the field and proved itself in practice for this intensive mountain sports activity.
Conventional backpacks mostly only offer soft compartments with hook-and-loop fasteners that don't always guarantee easy handling and a secure pocket closure. The Pierra Ment EVO provides an answer for these challenges. The extractable IF Isolate Free Yourself system improves access to the equipment and offers superior security for carrying the equipment that is essential for autonomous and safe progress in the mountains, such as crampons, or skins.
The semi-rigid plastic container does not crush stuff, fits the user's back, and follows his movements. Its plastic door with a magnetic Fidlock loop closure provides high closing security and a semi-automatic closing system, another guarantee of closing. The container is completely removable from the bag, so the backpack can also be used during competitions or training sessions where crampons are not necessary, or when the user wishes to favour extreme lightness.
The design concept of the Pierra Ment EVO is centred on the asymmetry of use and linked to the key functions of the bag: while the IF sits on the lower right side of the bag, there is also a diagonal ski holder on its left side. The handle of the IF is highlighted by its red colour, as all the functional elements of the bag must be quickly identifiable during activities.  The Dyneema material of the backpack is abrasion and cut resistant. It features a PFC-free permanently water-repellent impregnation. The backpack also features a Softflask holder on the shoulder strap, ice axe holder, interior pockets for shovel and probe, as well as a signal whistle. These details for alpine use combined with the innovative IF container made the Pierra Ment EVO backpack worth an ISPO Award 2022, the jury decided at their meeting.
"With this backcountry backpack by Millet, small details make all the difference. Every ski tourer will appreciate the smart solution for safely stowing the crampons." ISPO Award jury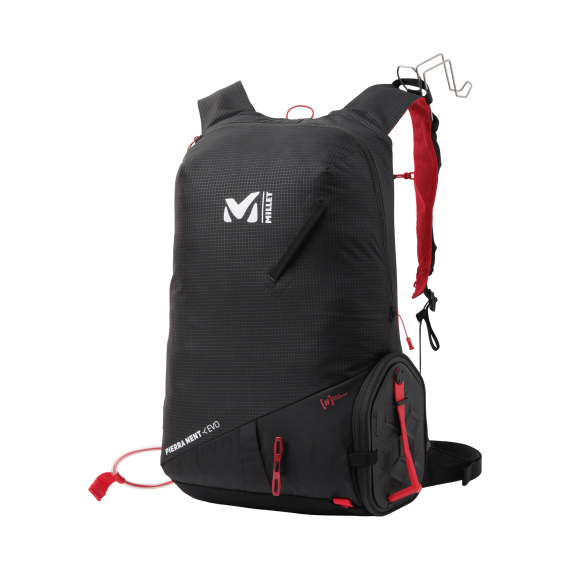 "For more than 10 years, Millet has been truly committed to support ski-mountaineering athletes. By pushing the limits of their equipment, our technical advisors are constantly improving the weight or the efficiency of our products. This specific project has started about 2 years ago when Frenchman Joris Perillat-Pessey came with the idea of getting rid of the velcro on his crampons compartment. It seemed simply not safe enough for him. As a consequence, the concept of a rigid door came up and was quickly linked to a magnetic closing system. The Millet backpack team was very enthusiastic about this project and it took us a lot of prototypes and field tests to make it happen. When the concept was further developed, we also involved our other athletes from Switzerland and Austria to get their feedbacks. Now we are very proud to present this new backpack that will improve safety and performance for many skiers."

Clément Farcy, Millet Footwear & Equipment Manager
Innovative Funktion für

Skitourengeher zur sicheren Aufbewahrung der Harscheisen

Schneller Zugriff

Cleveres & sicheres Magnetverschlusssystem

Abrieb- und schnittfestes Material

Herausnehmbar
Key data:
Colour: Blue

Price: 249.99€

Available: October 2023