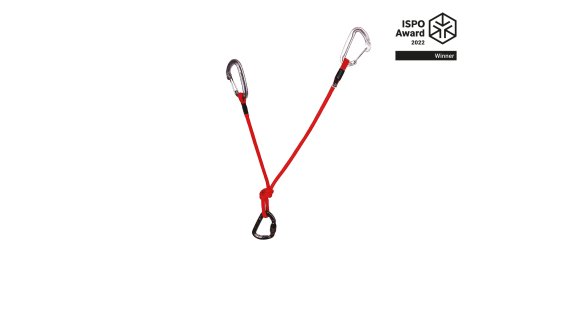 With the Blue Ice Alpine Runners, Blue Ice took a stab at developing belay accessories that are efficient to manage and handle. As climbers, we probably all struggled, to extend a quickdraw in an awkward position at some point, or had a knee caught in a sling dangling from our harness because we didn't fold it back properly. From this point of view, Blue Ice designed a single strand sling to ensure practicality and high performance.
"Our Blue Ice Alpine Runners offer a really simple and ergonomic way to make extendable quick draws. It makes it a lot simpler to fold and extend and a lot easier to understand for a more beginner climber", Maxime Turgeon, Blue Ice Softgoods Technical Director, explains. So they are ideal to use as extendable quickdraw and for anchor slings when venturing on first multi-pitch and alpine climbing adventures. As they can be handled quite intuitively and won't need a long time to untangle, the risk of staying in a compromised or more dangerous position for longer is also reduced.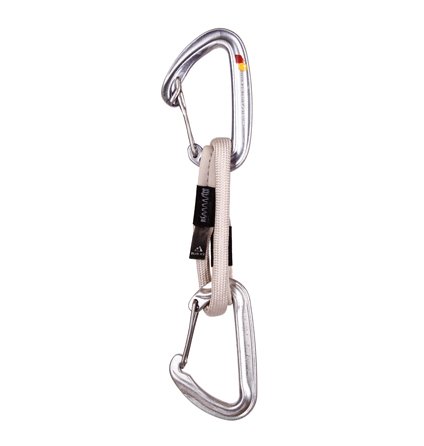 Blue Ice Alpine Runners are simply a coil of ultra-high tenacity yarn that is dressed up with two protective sheaths and covered with a single braided sheath. This way, the Alpine Runners create a strong link that doesn't rely on any stitching for strength. They were also made ultra-resistant to UV and abrasion and come in four different lengths that are also color-coded for even easier handling. The 35 cm and 55 cm slings are ideal to use as extendable quickdraws. Being single strand makes them easier to handle when folding and unfolding, so they are quick to set up or stow away again on your harness. The longer ones, with 90 cm and 110 cm length, are perfect to build equalized anchors. With two independent end loops, you can have two carabiners preset with the runners or adapt the sling how you like.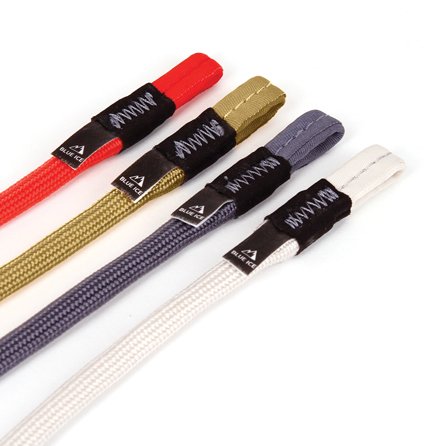 "When I first used the Alpine Runners in multi-pitch climbing, it made me feel a lot safer in extended mode as a quickdraw. Being single stand makes it a lot less prone to tangling and for the carabiners to get cross loaded", is what Maxime Turgeon, Blue Ice Softgoods Technical Director told us when asked to share his own experience with their product.
The abrasion and UV resistant single strand slings have a wrapped UHMWPE core and a HTPE braided sheath. Its single strand design greatly improves its portability and ease of use compared to a traditional closed loop sling. This makes the Blue Ice Alpine Runner also a great add-on and ideal for seasoned climbers and mountaineers looking for lightness and simplicity when doing multi-pitch or alpine routes.
"The alpine runners are not inventing the concept of a single strand sling with one loop at each end (runner) but their innovative construction makes them supple enough to be used ergonomically as extendable quick draws and belay slings. The stitchless UHMWPE yarn wrapping system is protected by HTPE protective sheet. That makes it durable and UV and abrasion resistant. It is not going to replace regular slings for a climber, but gives a really nice addition to your climbing equipment." Maxime Turgeon, Blue Ice Softgoods Technical Director
"The extension of webbing slings when climbing and especially untangling actually annoys many climbers. Great job that Blue Ice has found a new solution here." ISPO Award Jury
easy to fold and unfold

less prone to get tangled up

cross-loading of carabiners less likely

easier to understand for a beginner 

Lightweight addition to the existing climbing equipment
Product Specs:
Materials: UHMWPE core and HTPE braided sheet

Available in different lengths from autumn 2022: 35, 55, 90 and 110 cm

1 color per length

Weight: 35 cm = 14g / 55 cm = 20 g / 90 cm = 32 g / 110 cm = 38 g

Price: €11 for the 35 cm /€12 for the 55 cm /€15 for the 90 cm /€16.5 for the 110 cm