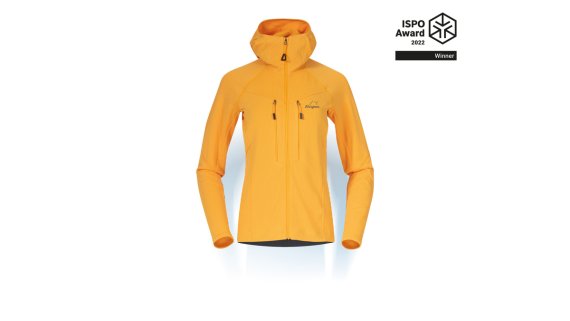 Ice, snow and storms - especially in the mountains, you need a reliable partner. A partner you can rely on. No matter how stormy or icy the weather conditions are. A partner who warms and protects you, who doesn't leave your side and doesn't suddenly disappear. Bergans has developed just such a mountain companion. However, it is not a mean biped, i.e. a human being, but a piece of clothing - a jacket: the Y MountainLine Wooltech Midlayer!
It combines sophisticated technologies, robust materials and a lot of comfort. "We wanted to make a durable midlayer that you wear whenever you need an extra layer of warmth in the mountains," says Thea Holo, who handles design at Bergans. 
Used is a highly technical knitted Technostretch material with ceramic print for extra protection. This fabric is a blend of Cordura and merino wool, which means it's warm, durable, breathable, and incredibly soft and flexible. The all-ceramic finish also increases the fabric's wear resistance. Offset shoulder and side seams reduce friction when wearing the pack. The so-called raglan seams are also reinforced with tape. Spacious "Napoleon pockets" on the front provide space for items such as a smartphone, GPS or keys without interfering with the climbing harness or the hip belt of the backpack. A special neck warmer in the hood chases away the cold and keeps you comfortable.
"The Y MountainLine Wooltech Midlayer Jacket is part of our latest collection of highly technical clothing for mountaineers, ski tourers and climbers," Holo says, emphasizing, "During development, active users from our Bergans team as well as mountain guides contributed their needs, demands and experiences." They tested, modified and retested the new model over a long period of time, she says. "To make sure the jacket really serves its purpose."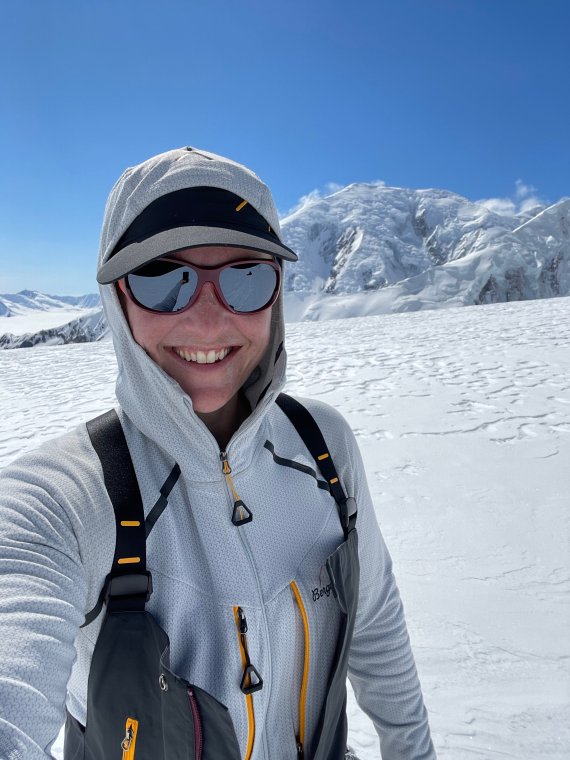 The Y MountainLine Wooltech Midlayer Jacket's integrated neck warmer serves a very important purpose. "We worked a long time to figure out the right size and placement in the hood," Thea Holo tells us, "that the neck warmer works well both when worn around the neck and over the face and when not in use."
Ice, snow and sub-zero temperatures should not affect the function and comfort of the midlayer. So, in the technical mountain and ski category at Bergans, Thea Holo always works closely with product developers and pattern makers, as well as product testers, to ensure that every aspect of the product, appearance, fit and function, meet the requirements of each model.
Holo has been with Bergans for over four years. She started as an intern as part of her studies as a digital pattern designer. After graduating, she worked as a product developer for a year before moving to the design department. So she knows production quite well, has extensive insight into the overall subject matter. "My job as a designer is to design something," Holo says, "that users like so much that they'll use it again and again, appreciate it, and fix it when they need to."
Since Bergans was founded in 1908, Thea Holo says the outdoor specialist has taken risks, explored the unknown and defined new technologies. How? By trying to succeed, but also by failing. Because that's the only way, she said, that when you hit seemingly insurmountable limits, but don't give up and keep going, new spaces and opportunities suddenly open up. "This is how we find the best solutions for every equipment, every activity and every condition," Holo says. "Also, since day one, we have maintained a deep respect for nature.  We define nature by the elements that touch us." According to the motto: Believe in tomorrow, explore today! And that's just fine with the Y MountainLine Wooltech Midlayer Jacket - in ice, snow and storms.
"The ISPO award means a lot to me personally as a designer and of course to the whole, great team that developed this product together. We put a lot of development and testing work into this jacket. The fact that this has been recognized by the ISPO jury is of course very gratifying both for the team and for Bergans as a company. With all the great competition in the market, it is always very exciting to see if you win. We trusted that we had created a really good product. We are very happy to receive this award."
High-tech knitted technostretch material

Ceramic print

Durable, breathable and incredibly soft and flexible
Product specifications:
 Colors: Dark Shadow Grey, Mango Yellow, Pearl Grey.

 Price: 250,00 Euro

 Available: August 2023
"A very practical and functional midlayer. The thin hood can be worn under the helmet. A balaclava or a thin beanie as additional protection against the cold for the head becomes superfluous."