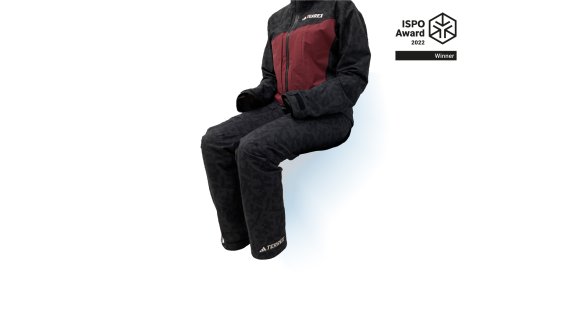 The specially constructed monoski jacket and pant made from elasticated, Warpknit Rain.RDY fabric and sustainable Flooce lining has been made to support her needs while being out and about on the monoski. The Warpknit Rain.RDY. Material gives the pieces durable performance features and offers flexibility of movement. It is waterproof as well as breathable. The Flooce lining is a more sustainable answer to fleece and keeps you warm, thanks to its unbrushed construction.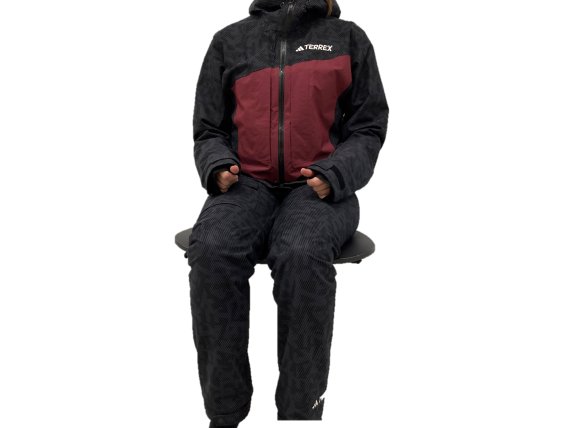 Both jacket and pants adaptive solve the issues of a person monoskiing who is paralyzed from the hips down. This person has no feeling in their legs, which means, that any wrinkle or pressure point can cause bruises or wounds on the skin. There are, for example, fewer cuttings and seams. Ventilation zips were also left out to make the jacket more comfortable when moving.
The jacket is shorter in the front for less bulk during activity while sitting in the monoski. The pant is higher at the back since normal pants are not high enough. Additionally, there are added pockets at the lower backside of the jacket, on the chest and on the arm sleeve in order to give easy accessibility to personal items like cellphone, lift pass or keys. The leg hem is constructed in a way to avoid frostbite from snow coming in.
Most visibly and highly important, the pants have a special toilet zip opening. Quinn has worked on a special toilet opening zip construction with adidas Terrex that makes it easier for paralyzed people to use the toilet. The zip is opening all around from front to back side and is made without causing any pressure points. It is also waterproof at the same time. Besides that, the pants also feature adjustable ankle closures.
After the adidas Terrex Techrock monoski set was crowned an ISPO Award Winner, we also asked Quinn about point of view on the product. "My statement is just how groovy (and easy) it was on my end to do this process. Measurements, staff listening to needs and nuances. Production, testing. Repeat. Yes. It's time and resources and I am thankful for that. But it is also a community that will greatly benefit from a product that is yet to exist for females in this way — let alone adaptive athletes." She summarizes, very clearly, how important it is to include different perspectives in product development to make the outdoors more accessible, inclusive but also enjoyable for everybody. The great attention to detail as well as the inclusion of state-of-the-art technologies makes the monoski set a deserved winner of an ISPO Award.
The jacket has been made for the female Terrex athlete Quinn Brett and will not be sold commercially.
"The Terrex Monoski outfit is the most inclusive ski outfit that we have ever made. We spent a lot of time working and testing with Quinn Brett to make sure the products do not have any bias from healthy people. With our Warpknit Rain.RDY material technology, it also enables the jacket and pant to be extremely stretchable without compromising on durability. Terrex Monoski is literally made with and for inclusivity in mind". adidas TerrexProduct Creation Team consisting of Amara Martin Hidalgo (Product Marketing), Dorothea Schmuck and Mei Ye (Design), Hrideta Sawontee and Corinna Doty (Development), Christine Suesser (Pattern)
"Ski apparel made for healthy people is not working for monoskiers. This adaptive ski outfit is highlighting how a brand can create more inclusive solutions by meeting the needs of an athlete and additionally using more eco-friendly materials."
ISPO Award Jury
shorter front and lower back of jacket, allowing better range of movement

pant constructed for seated position with fewer cutlines

Toilet zip opening for easier handling

Cutline and construction made for female bodies, e.g. slightly fitted jacket

use of eco-friendly yet highly performing materials
Product Specs:
Elasticated, Rain.RDY warpknit fabric

Warm Flooce lining

RRP: €900,00

(The jacket has been made for the female Terrex athlete Quinn Brett and will not be sold commercially).