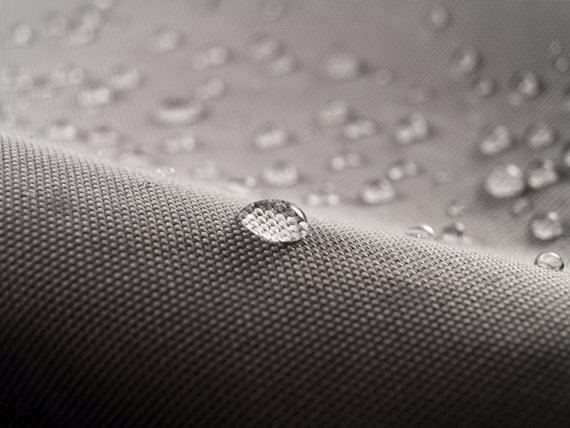 Gore-Tex's story begins with a Teflon frying pan. It's the mid fifties, and the US chemist Bill Gore is given an idea by the plastic coating on pots and pans, invented long before by his employer, DuPont.

He wants to develop the heat-resistant material into electric cable insulations, which at that time are needed in the still young computer industry.

Gore sees so much hidden potential in his concept that he hands in his notice, and in 1958, he and his wife Vieve start their own business in the cellar under their house in Newark, Delaware. Their son Robert, one of five, is studying chemistry at the time, while conducting further experiments on the plastic.

He warms up and gradually stretches the PFTE (Polytetrafluorethylen). The result is an incredibly fine lattice through which no water drops can pass. Steam, however, can.

And so, the basic idea for Gore-Tex was discovered. And yet it will still take some time before the membrane is to be used as a textile.
Pioneering invention is a by-product
The company Gore initially remains focused, as planned, on cable insulations. But it is son Robert, nicknamed Bob, who breaks new ground with his discovery for insulating electric lines with artificial Polymer tapes during his second year at university.

Mum and Dad use it to develop insulated wires in their cellar workshop, and in 1960, they receive their first big order: 7.5 miles of cable for the city of Denver.
The first factory is built. Bob applies for his first patent for the multi-conductor cable and more Gore cable companies are established.
NASA catches on
In 1969, Neil Armstrong connects his lunar lander to seismographic devices with cables manufactured by Gore. Bob meanwhile continues to research on earth.

His stretched PTFE (ePTFE) is now also being used for seals and filters. In 1972, a fiber called Gore-Tex is introduced to the market for the first time, and Gore uses it to build and coat implants for surgery – artificial joints, blood vessels and heart valves.
A quantum leap for functional clothing 
In 1976, the innovative Gore-Tex fibers are ordered for the first time by a textile producer for their waterproof clothing. The membrane is used as a layer between the outer shell and inner lining.

In 1979, Gore applies for a patent for the multi-layered material's welded seams, that is, the "laminate" made from Gore-Tex fibers – at long last, the manufacture of all round waterproof clothing is now possible.

NASA immediately incorporates Gore fibers into their spacesuits, while numerous sportswear manufacturers from around the world commission the breathable membrane from Gore for their outdoor clothing ranges.
Gore is "guaranteed to keep you dry"
Hundreds of brand manufacturers for outdoor clothing (http://textrends.ispo.com/de/) have since been using the "laminate" from Gore-Tex as their core technology for waterproof, windproof and breathable products.

The bar has been raised, and the entire industry is expected to deliver the same standard. With Sympatex, Powertex, Hyvent and Texapor from Jack Wolfskin, many rival products are emerging on the rapidly growing market.
Gore-Tex under scrutiny
Environmental protection and sustainability being hot topics, it is not very long before eco-friendly alternatives to Gore-Tex are sought and found.

In order to save face, the W.L. Gore & Associates respond, and since the end of 2013, report that all of their factories worldwide have removed problematic PFAO chemicals from production, as they are not biodegradable.
Above all, this step makes the much desired contribution to environmental protection by increasing the sportswear products' lifespan. Many customers are happy to hear it. 
Four Gore sites in Germany
Gore has 10,000 employees worldwide, in the electronics, medicine, textiles and industry sectors. In 1966, a subsidiary company was founded in Putzbrunn, not far from Munich.

It is the biggest of four sites across Germany, with a total of around 1,500 employees. The functional textiles are primarily manufactured in China.

In Germany, the main products manufactured are electronics, medical fabrics and membranes, as well as seals, ventilation technology and filters for the automobile and chemical industries.
Discuss: When did you buy your first Gore-Tex coat?