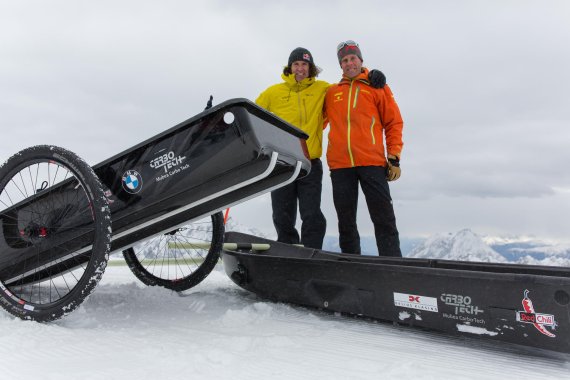 At the end of May 2016, two extreme climbers Stefan Glowacz (51) and Robert Jasper (48), along with photographer Klaus Fengler (53), are setting out on a four-week climbing expedition to Baffin Island. Following their philosophy of "by fair means," the trio is doing away with technical aids through the exclusive use of mobile safeguards, and not just when climbing. Even the journey to the wall base will be managed with their own effort.
From Clyde River, a small Inuit settlement on the northeastern coast of the island, what awaits the adventurers is a 150 kilometer-long march through the icy wastes before they reach the object of their desire, a rock face on the Sam Ford Fjord towering a sheer 1,000 meters up into the heavens.
A specially designed multi-function sled developed for this expedition is to solve logistical problems that, to date, have seemed insurmountable.
Extreme climbs await Stefan Glowacz
For transporting equipment and provisions, all climbing expeditions on Baffin Island to date have had to resort to snowmobiles, kayaks, or hunting boats –depending on the time of the year. Stefan Glowacz, who's familiar with the region from two past expeditions in 2001 and 2008, has knowledge of its special challenges: "During the winter months, it's theoretically good to the reach the Sam Ford Fjord on a closed ice sheet using skidoos. Then the low temperatures, with peaks of -40 degrees, still prevent a free climb on the wall." Those who set off into the region in the comparatively mild summer, with -4 to a max of 41 degrees Fahrenheit, will be confronted with other problems, namely water. After the snowmelt and the nascent ice breaks, they would primarily travel on boats or kayaks.
No team has yet to succeed on their own power in reaching the big walls on the east coast, rutted with numerous fjords, in the ideal climbing season of late spring or in the summer.
Stefan Glowacz and Robert Jasper consider themselves modern adventurers. Their aspiration in this expedition: reducing to a minimum necessary for survival. That means: a small team, as light equipment as possible, no outside help. "Those who want to be on their way for weeks, self-sufficient and isolated, have to overcome numerous logistical challenges," said Glowacz at the press conference last week on the Zugspitze, "The multi-functional sled specially developed for this expedition is our key to success, and the result of cumulative experiences from past expeditions."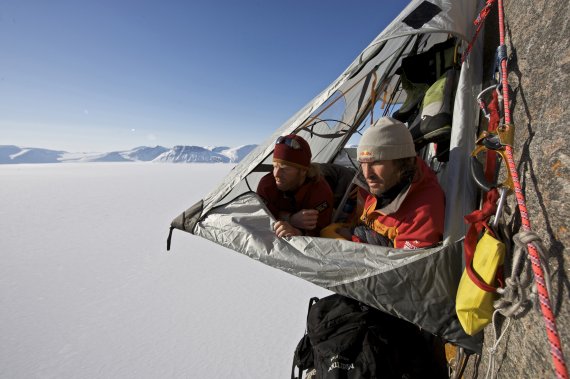 The Carbotech sled on Baffin Island
One year ago, Stefan Glowacz followed a recommendation by his long-time partner Red Bull to contact the company Carbotech. Harald Bernsteiner, who has worked as Project and Sales Head for the Salzburg-based company for 15 years, has supervised the process from concept up to production of the sled. "In the company I'm primarily responsible for racing and industry, but also for custom builds. Stefan approached us with the desire to build a sled that can do everything." It took 12 months from concept to prototype. Eight people total – Glowacz and constructors included – were involved in the development and production of the sled. The unusual request represented a welcome change for the Carbotech office. "We mainly build monocoques for McLaren road and racing vehicles, produce trim parts made of carbon for series cars, and are world market leaders in this division," says Bernsteiner, "Working for a mountain climber to develop a modifiable sled was a first for us."
The result is impressive. The miracle sled has – if desired – fantastic measurements: it's 2.5 meters long, 90 centimeters wide, and is truly lightweight at 12 kilograms. The versatile slide has much more to it than just gliding steadily on snowy ground. By fastening on light metal rims and a train with tires, it can be used as a type of rickshaw. The sled replaces a hanging tent on the rock face, and can even be used as a raft on the water.
"The rickshaw version stands up particularly well to hard frozen or rocky subsoil," explains Robert Jasper at the conference on the Zugspitze, "The fact that we don't need to drag an extra portaledge when we climb, but rather can also use our pulka as a sleeping platform on the rock face, is an enormous relief." The beginning of the snowmelt awaits the adventurers on their way back at the end of June, which is why the versatile carbon hull also has to be floatable. On the Eibsee lake in Bavaria, the trio impressively presented how the three sleds can be joined into a raft in next to no time. Additional inflatable floats produced by the company Paddle People provide for more stability and prevent tipping of the heavily laden float in a light swell.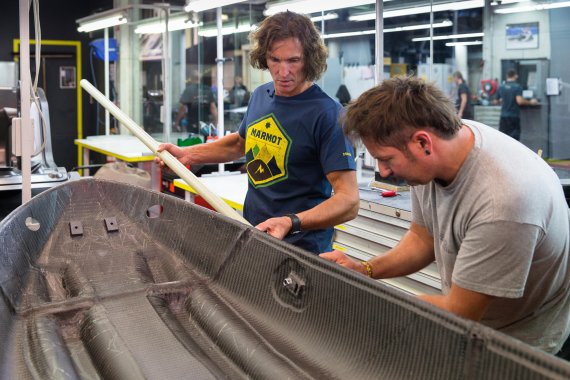 Light-weight carbon as the perfect outdoor material
Why is the carbon sled so light? "Normal pulka sleds are mainly made out of fiberglass," explains Harald Bernsteiner of Carbotech, "Our sleds are based on lighter carbon fibers. During processing, we work under a vacuum at a pressure of 6 bars." And that means? "We strip the material of air and resin, which involves an enormous reduction of weight." In addition the material used, which is hardened at 248 degrees, is extremely tear- and shatterproof, and would therefore also be used in the production of bulletproof vests. Bernsteiner's superior at Carbotech, Florian Strobl, isn't entertaining ideas of a series production of the multi-functional sled: "The demand for a niche product of that type is much too low. But should another adventurer contact us, we'd be happy to produce a couple of copies of this high-tech sled for them."
Despite miracle sleds, the four-week expedition remains a nerve-racking, strength-sapping, and dangerous undertaking. In addition to crevasses, treacherous weather, breaking ice sheets, fluctuations in temperature from 41 to minus 4 degrees, and rock falls on the wall, a serious threat is also represented by the largest predator living on land, the polar bear. In order to protect themselves from attacks, the mountain climbers who bivouac in a three-man tent at the wall base will erect a bear fence, which will set off an alarm using motion detectors and hopefully rout the unwelcome guest. In order to be able to fire off a warning shot, the adventurers will also carry a gun. In extreme cases, should it come to an accident, they won't be able to count on rapid help with a satellite telephone. Halifax, where the closest helicopter base is located, is 3,000 kilometers away from base camp.
This is Baffin Island
Baffin Island, the fifth largest island in the world, lies north of the province of Quebec and west of Greenland. With an area of 500,000 square kilometers, the island, which belongs to Canada, is larger than Germany, but just about 11,000 people live in the Arctic desert. On the eastern coast, which is dotted with countless fjords, buttes up to 1,000 meters high jut straight up into the heavens. A Mecca for extreme climbers. On the wall which Glowacz and Jasper get on, await the two climbers difficulties at the 9th and 10th level.