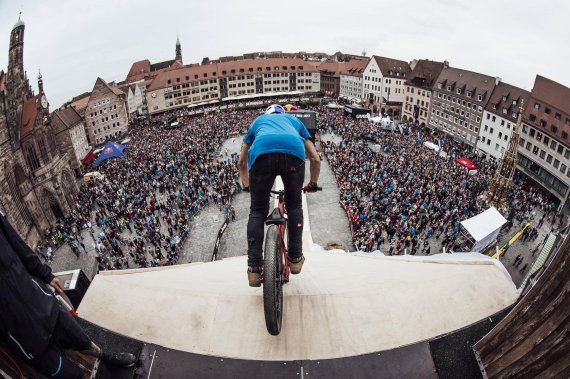 If there's one thing you definitely can't accuse the action sports giant and drink manufacturer Red Bull of, it's a lack of creativity. The District Ride in Nuremberg is one such example: There, sixteen of the world's best mountain bike freeriders meet in front of roughly 80,000 spectators, on a spectacular course cutting through Nuremberg's Old Town. Why? Because it works – and it's fun, as is documented.

The spectacle took place for the fifth time on September 2 2017, and was simultaneously the final for the FMB Diamond Series. And it was worth the hype.
The US American Nicholi Rogatkin secured the victory in a top-class event with an unprecedented 1440 - a four-time 360.
Athletic Director Rasouli talks about the development of the event, as well as of the entire industry.
Jump out of the Nuremberg mayor's office
Mr. Rasouli, a mountain biking event in the middle of the city? Seriously?
Tarek Rasouli: That was precisely the idea: We'll bring the sport out of the mountains into the city, to the audience! Every three years, we achieve that with the District Ride. It goes down from the Kaiserburg Castle through Nuremberg's Old Town, over all kinds of obstacles, past the Memorial to the Peasants' War, into city hall, up four flights in the elevator, through the mayor's office and a kicker out his window, down 15 meters to the central market. The jump is already 4.5 meters, and the landing another 7 meters.

How did this idea come about?
Once in 2004 I organized an event in Meersburg with a Canadian friend, the "Ride to the Lake." Red Bull was already an important partner back then; they though the event was great, even though it was pretty chaotic and crazy. I also didn't have an agency at my back yet then, just a couple of interns. Nevertheless, one year later, the Red Bull District Ride was the result.
The riders are constantly working on their latest tricks

With steadily climbing numbers of spectators. Has the audience gotten broader over the years?
Definitely. Naturally we're trying to make all of it more transparent, from the judging to the conferment of awards. But things have gotten much more specialized in terms of rider ability. Look at the first District Ride: There were still downhillers at the starting line! These days it's all highly specialized slopestylers, who don't do anything except work on their latest tricks. Some even have their own routes. Now that's progression! It's not about faster, further, higher, but rather about turns. Of course, you can regulate a lot through the course construction.
You've experienced first-hand what kind of consequences a major crash can have. Has much changed in terms of safety in the past few years?
Absolutely. We always build the safest, largest landings possible, so it's difficult to jump too far. Serious accidents happen when you jump too far and land in the flat areas.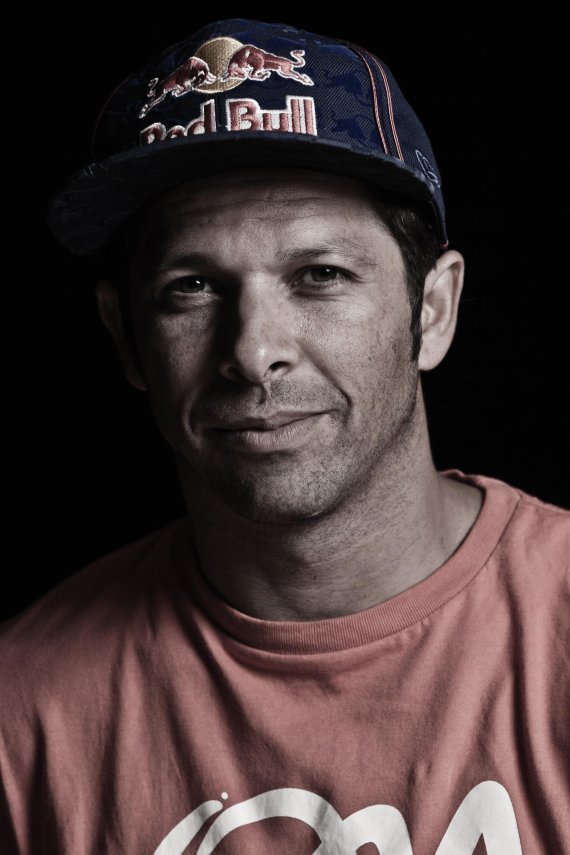 "I made a dumb mistake in the accident"
After becoming paralyzed, you absolutely wanted to remain in the scene. Why is that?
Because the scene supported me, and I was so crazy excited about this sport. I just made a dumb mistake in the accident, went past my limits. With the experience I had, that didn't have to be the case. I was managing myself back then, I was up to my ears in work and had far too little time to train. These days riders see to it that they train above all else. Otherwise you'll have problems, even at the events.

Have the riders become more prudent?
Yes, because unlike before it's not about higher, further, faster anymore, but rather about tricks and turns. Of course, the training requirements are better now. Back then we didn't have foam pits or air bags. It used to be pretty dangerous. I also never did any backflip jumps. Across the world there were only two or three people who did backwards salto jumps on a mountain bike. These days, a backflip won't automatically qualify you for the District Ride. You probably have to do it as early as the start drop. That's practically the standard already.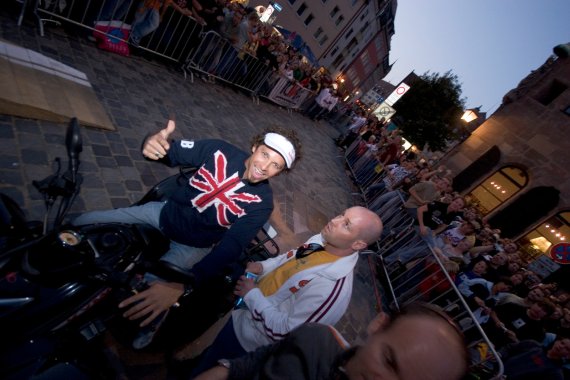 You've also been an event organizer since 2005. How have the events changed since then?
There's the FMB World Tour, and for a couple of years, a kind of World Cup in the Diamond Series. There didn't used to be this kind of categorization. Back then you watched videos and contemplated, 'Who are we inviting?' Now you take a look at the world rankings and have 100 percent the world's best riders at the starting line. Quite a lot has already happened in that regard. Then we founded the FMB Association in 2010, where I'm vice president and take care of marketing. We take care of several other topics in my agency, however, like tourism.

Growth potential for mountain biking in Germany
Mountain biking does seem to be getting more and more popular in the mountains.
Definitely. I was just back in Whistler, Canada. Mountain biking is huge there! But not just there. By now there's big business for destinations like Saalfelden/Leogang, Saalbach/Hinterglemm, Serfaus/Fiss/Ladis, Livigno, and Lenzerheide, where the World Championship is now taking place. Things could be even better in Germany.

How strongly are sponsors and organizers jumping at mountain bike events?
It depends. Very well for the big events like the District Ride. If you're innovative and offer a proper platform, you'll succeed. Nevertheless, even more brands outside the biking scene could join in.
In general, the topic of biking is getting bigger and bigger right now...
It's also always a crazy important means of transportation. Who would rather ride on a bike than in a car, at least for short trips? Everyone wants to be physically active. And these days you have more and more opportunities in the mountains: better trails and lifts that are adjusted for mountain bikers. A lot has definitely evolved there.

"Grandma and Grandpa out in the alpine pasture – with e-bikes"

Where the hardcore bikers probably only rejoice over the many e-bikers conditionally, right?
Naturally, many people are critical of it. But that can't be avoided unless bans are announced. Otherwise, Grandma and Grandpa will be coming up to the alpine pasture – but that's just the great thing about the e-bikes. Now the people who otherwise would have just been able to use the gondola can have that natural experience in the mountains again. Many people are happy if they can get on their bikes once a week – naturally, you're not going to make it up any decent mountain that way. But the erosion and wear of the trails is also an issue for e-bikes. Here on the cobblestone pavement in Nuremberg, I have a wheelchair with an electric motor for the first time – otherwise I wouldn't have a chance on the inclines here. 
Spectacular sports at ISPO MUNICH