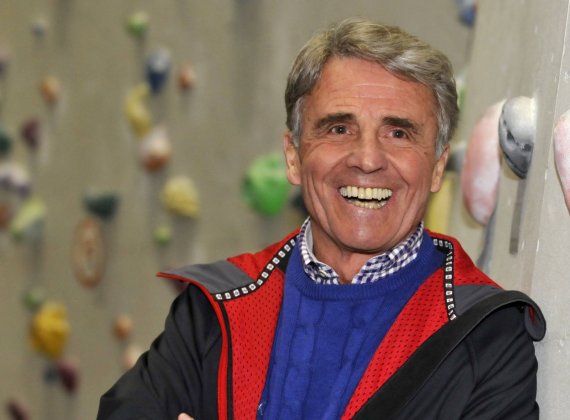 Just before his 75th birthday, Habeler conquered the Eiger north face on the Heckmair route. That made headlines for the mountain climbing legend. He's had those in droves, especially in the 1970s. As early as 1975, for example, in addition to scaling Everest in 1978: Messner and Habeler conquered the Hidden Peak, and thus the first eight-thousander in Alpine mountaineering.
But at the International Mountain Summit in Brixen, the mountaineer was also happy to talk about the great climbers of today and his friendship with Messner.
You and Reinhold Messner were an absolute mountain climbing dream team. Are you still friends today?
Peter Habeler: We meet up again and again. We have a very good relationship, it's wonderful. We talk a lot about private, family matters, about friends, and sometimes even about politics. Naturally, every so often we recollect our mountain tours together. But not often. Talking about mountain climbing gets on my nerves a bit.
Has mountain climbing been talked to death? Did you have it better in the 70s?
I sometimes also discuss that topic with Reinhold and a few others. And each of my contemporaries says that we had a fantastic time. And it's true. We still had white patches. We were the only expedition on Everest or Cho Oyu. Now it's all completely overrun. We were still able – it sounds so stupid – to climb virginal walls. I wouldn't want to miss my time. Back then it was all a little bit easier – no so "overly sophisticated."
Of the current generation, you are in close contact with David Lama...
He did his first climbing with me when he was five years old. And the things you learn from your teachers in your early years, you'll draw on that the rest of your life. You're shaped in your childhood. Of course I'm proud of David there. We'll be hearing even more from David, because he's doing the most challenging things: He's attempting to summit the huge, extremely difficult walls. It's logical that he'll founder from time to time. Together with Adam Ondra, he's one of the high flyers of the current age.
How would you rate the performance of Adam Ondra?
At the moment, he's the best climber. There's nobody better, and yet he's still down to earth. For example, he says that he won't climb free solo, that he doesn't want to. He says that, sooner or later, he's going to fall. I find that very interesting. In that, I'd put Ondra even one level higher than the free solo specialist Alex Honnold. When I watch Ondra climb, my jaw just drops.
"Free solo – without any safeguarding – that's a gamble"
Alex Honnold has also become famous outside the climbing scene for his free solo projects, that is, free climbing completely unsecured. How would you rate this type of climbing?
I really couldn't care less, let every man seek happiness in their own fashion. But free solo – without any safeguarding – that's a gamble. The rocks can begin to crumble, anything at all can happen.
I have done several solo ascents, but somehow or other I always tried to have some kind of safeguarding. Alex Honnold is going to keep going further, keep climbing something even more difficult. And that's where the light goes out for me. I believe that, someday, that will go awry.
When you think about climbing and mountain climbing in the coming years, what does the future look like?
It's interesting here what Ueli Steck still had planned prior to his death. He wanted to go the Lhotse-Everest traverse. Something like that is the future. Then there are still certain walls, for example on the Lhotse, where there are some crazy goals still open. Naturally, the difficulties will continue to intensify in the free climbing sector, as well. I wouldn't be surprised if they climb on glass walls in the future. (laughs)
Today's climbers have such enormous finger strength and agility. It's just the nature of the matter: The people are better trained, it's easier for them to hold onto the cliff face, they switch off their brains, and that way they can do things that we only dreamed of.
At the same time, there's more and better mountaineering and climbing equipment...
It's all getting more complicated, and really not much easier. When you go through the corridors at ISPO Munich, the range of offers is just unbelievably wide. It's incredibly difficult for the industry to invent a piece of equipment that's completely redesigned. There are roughly 20 different devices for securing. But what fundamentally applies: There simply can never be enough securing equipment.
The development of friends and nuts was great. We still didn't have that. A lot has also been done with regard to ice climbing equipment. With the good shoes from Scarpa, Lowa, La Sportiva, and co., we're seeing that it's all very simple and very lightweight. For me personally, however, the development of the equipment is a bit too far. The great mountain experience gets lost in all the fine-tuning.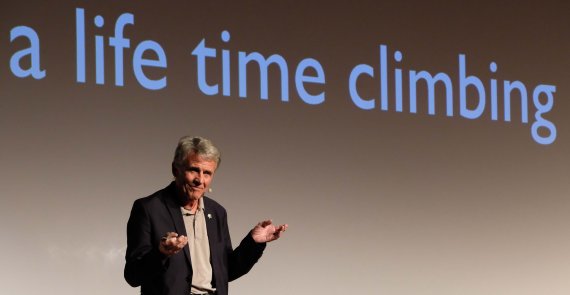 How did it actually come to be that you, at age 74, decided to climb the Eiger north face with David Lama?
I've often made those kinds of decisions over a glass of wine. That was the case this time, too. The climbing in and of itself isn't that difficult on the Eiger, and the memory of the Eiger north face is extremely positive for me. That north face is simply spectacular. We had it a little icy, that's wasn't so funny. But I'd climb any devil's wall with David. The entire story was a spontaneous desire. There I don't think about age. Naturally, when I contemplate that I'm 75 years old, I get a bit down. Then I push it back down and think to myself that it could have been 65 years from fitness.
How have you stayed in such good shape?
I've always tried to watch my weight, and thankfully that's never been difficult for me, either. I'm still around 132 pounds. If I were to walk around with a gut and weighed over 200 pounds, that wouldn't be good. I believe that a simple life, a simple diet, and low stress help a great deal.
The outdoors destress you. No matter whether it's on the glacier or the Grasberg. The outdoors are calming. The modern person is wiped out by the evening when they sit in front of their computer. I think those people should maybe go walking for an hour at the end of the day.
Exercise is important, but I don't have to chastise myself and drag myself through the wood for six or seven hours every day. And I should take breaks. The motto is hot and cold: work hard, then take a break again. Luckily, as an alpine guide, I was also never part of that professional rat race. I believe that makes you older faster, too.