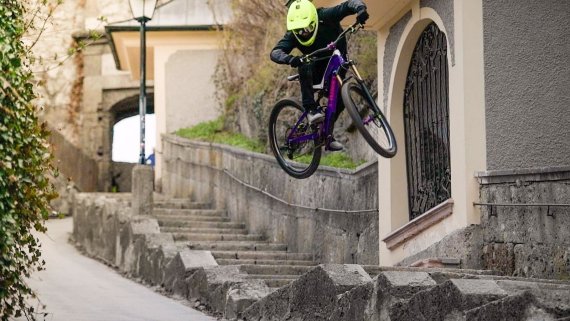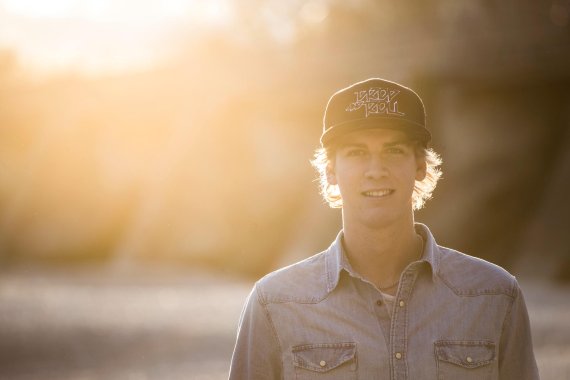 Be it on a trial bike, BMX, MTB or downhill bike – Fabio Wibmer uses his videos to show off tricks that could be straight out of a computer game. The 20-year-old's clips also convinced the jury of the German WebVideo Award: In 2015, Fabio Wibmer was crowned winner of the "Best Sport Video Award" category.
Fabio Wibmer: It comes down to the story
ISPO.com: Mr Wibmer, why do you think your videos are so successful?
Fabio Wibmer: It's important to make the whole thing entertaining. There are countless videos that just show one clip after another. In most cases, that's really quite boring and monotonous.

Things get much more interesting when you can build your tricks into a storyline. I prefer making videos that have a story, and I think my fellow YouTubers prefer it too. That's why I always try to be creative.  
It sounds so easy when you say it. Where do you get the ideas from?
They come quite spontaneously. Sometimes it's actually quite funny: For example, I came up with the idea for the ladies bike video on my way through town.

When I saw people with such a bike, I decided to use one in a downhill video. So my ideas tend to come to me in everyday situations.
It seems as though you have nailed a recipe for success in going viral with your videos. What defines a good YouTube video in terms of action sports?

1. Skills: Of course athletes need to be up for crazy tricks, in my case on my bike. That's an essential part of the video.
2. Story: The whole thing should be incorporated into a gripping and thrilling story – as you can see in my police video.
I think those are the two most important criteria that pave the way to viral success.
Fabio Wibmer is convinced: creativity opens doors
You depend on partners to create these videos. How difficult is it to find them for such crazy activities?
In principle it is quite difficult, you're right, especially because creating such extreme videos with a storyline is much more complicated and requires a lot more effort. Meanwhile, however, the whole process has become a lot easier.

Companies can see how creative I am, how I stand out from the crowd, and this perception makes it easier for them to cooperate with me. My creative streak opens quite a few doors.
Has YouTube become indispensable for sports brands when it comes to influencer marketing?
I agree that companies benefit greatly from YouTubers, especially when theirs is a young target audience. This includes working with product placements, equipping YouTubers with their products, and providing them with financial support.

This often helps companies reach a huge range of target audiences. It is almost impossible for television to provide such tailored marketing.

Companies should select and stick with specific YouTubers, ones that match their target audience. Conversely, such cooperation is fundamental for YouTubers to being make a living from their activities.
What would you have done without YouTube?
I'd definitely say that without YouTube, I and several other bikers would be doing something completely different. That's because videos are the lifeblood particularly of the trial community, given that there are only very few competitions in this area.

So it's important to differentiate yourself from others and to see that your videos go viral, so that you can make a living from your passion at some point.

I think YouTube is an especially good platform in this sense. In particular when you see how many people are now able to make a living from their YouTube channel.
The YouTube success story isn't a very old one, but the videos keep coming. Attracting attention to yourself has become increasingly difficult. Do you think the requirements for a successful video will change?
Of course the situation will continue to develop. New people will set new standards and bring fresh approaches with their ideas and videos. At the same time, I believe it will probably become more difficult to stand out from the crowd. People will have to be even more creative. YouTube's development will continue at a face pace. Of course it's also my aim to produce even bigger, better, and more creative videos.