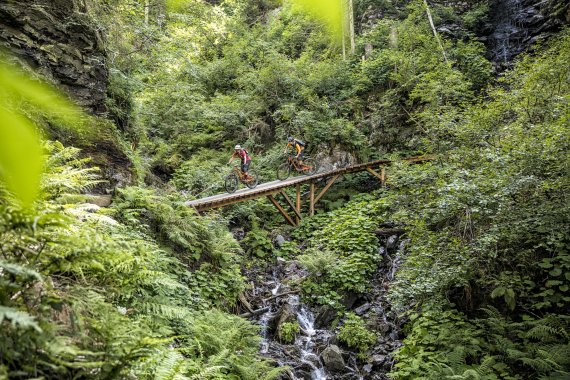 "Now the morons are driving through our beautiful nature with their motor" - such verbal attacks against e-mountainbikers are not seldom heard. Many still yearn for the time when summit experiences were only possible thanks to one's own muscle power.
A backward, one-sided thinking, because E-MTBs cannot be whined away anymore. And what's more, their triumphal procession is a blessing for everyone: not only for the bike industry, which profits massively from the high demand for electrified bikes. But also for the environment.
This may sound strange at first sight, because of course e-mountainbikes are not a sustainable product at first. Rare earths and energy are used for the production of the battery. And the fact that thanks to the electric motor even more people are riding through mountains and forests is undoubtedly harmful to the environment.
But if you take a closer look, you will quickly see that the environmental benefits outweigh the costs. In practice, e-mountainbikes are increasingly being used as a substitute for cars.
"My E-MTB is my SUV", says André Schmidt, editor-in-chief of the magazine MountainBIKE. "I use it in everyday life as a car replacement, hang up the children's trailer, use it for shopping and I have also installed a light that is in keeping with the city."
In fact, more and more people are also using the E-MTB as an everyday bike. Not only in mountainous areas. "With my E-Mountainbike I always ride at the same speed, even if the wind comes from the front," says Schmidt. This is an important advantage, especially in the windy north.
What commuters from the outskirts of the big cities also appreciate: On an e-mountain bike you feel safer on your way to work even in winter, even if the cycle paths have not yet been cleared. Experienced e-mountain bikers plough over hill and dale, and even over ice and snow, with the massive tyres and comfortable suspension.
Meanwhile, the "bio-bikers" (the term has become established for cyclists without e-drive, editor's note) are sitting in their cars - or in the best case still on buses or trains.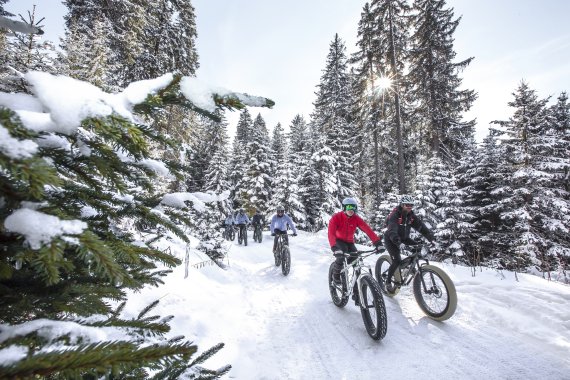 ​​​​​​"We used to jump in the car to get to the climbing rock. Today I take my backpack and my e-bike and ride off quietly and calmly." These sentences come from none other than Thomas Huber.
The eldest of the "Huberbuam" is representative for many mountain people who use the e-mountainbike as a mountain sports feeder. So you arrive at the climbing wall in a sustainable and relaxed way - and in winter you even see more and more e-bikers with ski touring equipment on their backs.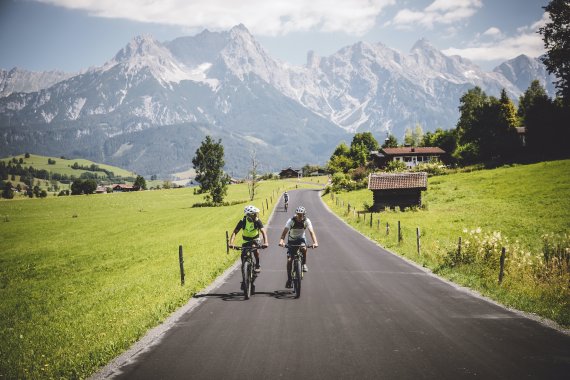 Of course, "bio-biking" is always more sustainable than an e-bike. The whining that "e-mountainbikers use electricity instead of muscle power" is ultimately unfounded. Let's just do the math:
Most E-MTBs have a range of between 25 and 50 kilometers per battery charge (depending on battery capacity and stress). Conversely, per kilowatt hour they can travel between 50 and 80 kilometres. A great overview is available on emtb-news.de (German).
So if someone commutes every day with an e-mountain bike to his or her work ten kilometres away (assuming 220 working days per year), he or she will only consume between 55 and 88 kWh per year. Given an average annual electricity consumption of 4,000 kWh (four-person household), this is a joke.
So are the costs: with electricity costs of 31 cents per kWh, the cost for the E-MTB commuter does not even amount to 28 euros.
And even compared to an electric car, E-MTBs perform super: The new ID.3 from Volkswagen travels about six kilometres per kilowatt hour and in the above example (20 km per day, 220 working days) consumes around 748 kWh - i.e. 8.5 to 13.6 times that of an e-mountain bike. The charging costs for commuting with the ID.3 amount to about 232 Euro per year.
And those who produce the electricity themselves with a photovoltaic system or use green electricity really don't need to have a guilty conscience about their e-mountainbike.
The statistics are clear: e-mountainbikes are used much more often than "bio-bikes". Also because riding is even more fun for many.
"So many people get into motion here," says Thomas Huber, "they come out into nature and can get to know this incredible treasure that needs to be preserved. After all, this sensitization is also transferred into everyday life."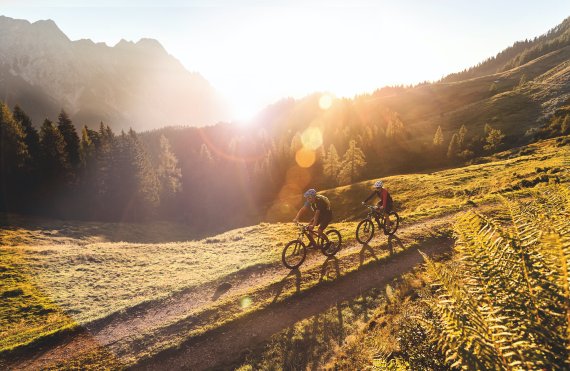 All family members can easily agree on sun, beach and sea. On the other hand, spouses and children rarely feel like going to a "bio-bike boat camp".
This has changed fundamentally with e-mountainbikes: Instead of flying to the south by plane (which is difficult in Corona times anyway), more and more families are switching over and travelling - often even by train - to the nearby mountains, where they enjoy a great, shared experience of nature thanks to gentle e-support. The children talk about the daring descents for weeks on end.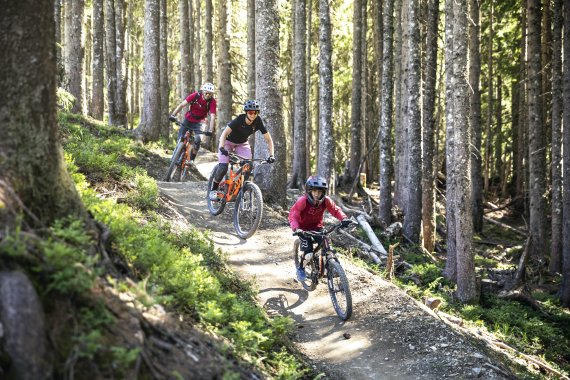 Of course, the arguments of the e-mountain bike critics can be understood. Because there are also ruthless e-mountainbikers who harm flora and fauna and frighten other mountain sportsmen. And there is a good argument about the sense of E-MTBs for children.
However, the overall calculation allows onlyone conclusion: not only as a replacement for fossil means of transport do e-mountainbikes make an important contribution to more sustainability.
Or as Thomas Huber puts it: "For me, the e-bike is one of the most beautiful and sustainable forms of transportation.