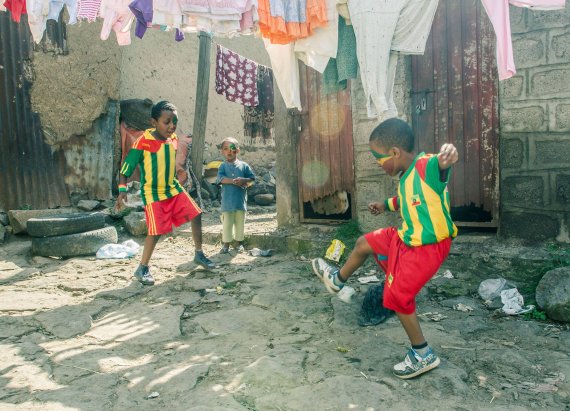 Of course, the work of the international children's charity Right To Play has changed as a result of the Corona pandemic. What has remained the same, however, is the idea of protecting, educating and empoweringchildren and young people a better life through sport and play.
At the moment, the top priority is to get children through the crisis healthy and safe, learning and mentally strong. A "hand washing game" can help just as much as playful hints on how to still say hello despite social distancing.
For more than 20 years, the non-profit organization once founded by Norwegian Olympic speed skating champion Johann Olav Koss has been caring for disadvantaged children. It is currently active in 15 countries in Africa, Asia and the Middle East thanks to the financial support of donors and authorities.
"Sport and play can universally help create future prospects for children, whether in a refugee camp in the Middle East or a small village in Africa. Whether through playing team sports together, contributing to reading and writing or preventing diseases such as corona, HIV or malaria through play-based activities inside or outside the classroom", says Sven Schröder, Managing Director Right To Play Germany.  
The malaria game developed by his organization, for example, is intended to help save children's lives. It all starts in the classroom with an explanation of what actually makes the disease so dangerous. This is followed by a game of tag. Two children form a roof with their hands. Whoever comes to stand under it at a signal is safe. This is intended to teach the kids in a playful way that they cannot be bitten by mosquitoes under a malaria net and therefore cannot fall ill.
Those who don't make it under the hands-net have to simulate symptoms of malaria like shivering. In this way, vital information is passed on in a playful way, which the children can then pass on to their relatives and friends.
In the same playful way, Right To Play drives change in key areas such as quality education, gender equality, child protection and peaceful communities. In countries like Tanzania, even governments are now supporting Right To Play's successful efforts to bring about sustainable change.
In Jordan, the organization educates children in pandemic times with digital sports sessions. The aim is always to help people help themselves. That's why local Right To Play employees train teachers and coaches from partner organizations in game-based teaching methods.
The approach is very successful and sustainable: especially where poverty, illness and war otherwise determine everyday life, sport and play are effective means of giving children a bit of normality and a start to a better future.
"We use sport to play for change! Sport has a unique power to transcend boundaries, inspire, instill positive values and level the playing field for girls", says Schröder.
Right To Play is very excited to share its message of social responsibility through the power of sport at the ISPO Munich Online (February 1-5).
The international children's aid organization is one of the three honorary partners in the campaign "Voices of Sports". In keeping with the headline "Friday for Good", the team from Right To Play will hold a keynote on the closing day of ISPO Munich Online.