Fun, games, excitement and chocolate - the recipe for success of surprise eggs also applies to mountain bike tour planning with children. While sporting ambition is often enough to motivate parents, children want one thing above all: experiences and fun! So plan your MTB tour in such a way that not only your sporting ambition is awakened, but also the kids fall happily into bed in the evening. Make sure there's plenty of variety and think about stops along the way. A hut, a lake, an animal enclosure or the ice cream parlour as a destination. Exciting tour (stopover) destinations keep things interesting, increase motivation and encourage the kids.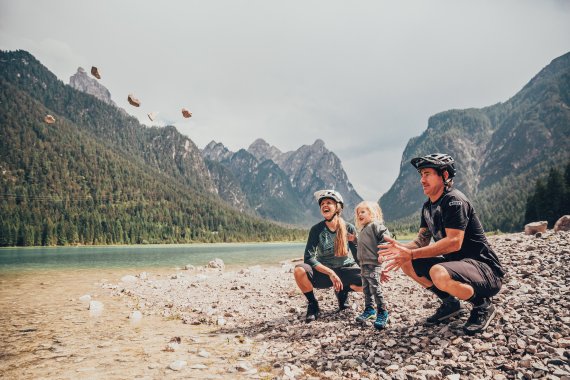 Let's be honest: Would you like to see only the sweaty backs of your fellow riders on a bike tour or even have your backpack pressed into your face? Surely not! Instead of a child seat behind the saddle, we recommend a model where the child is in the middle of the action. An exciting model for this is the brand new Pro seat from Kids Ride Shotgun. It can be mounted on the bike in just a few steps and gives children their first impression of the fascination of mountain biking. The package is perfectly rounded off with the Mini handlebar, which was specially developed for kids.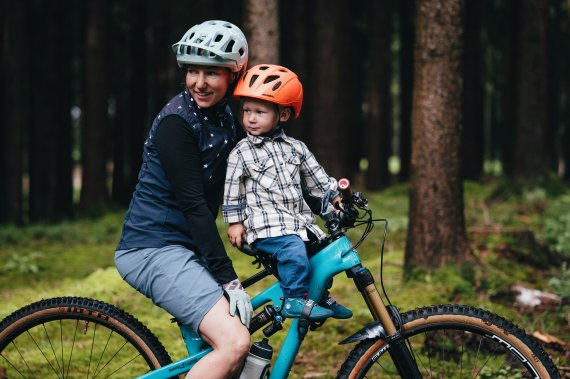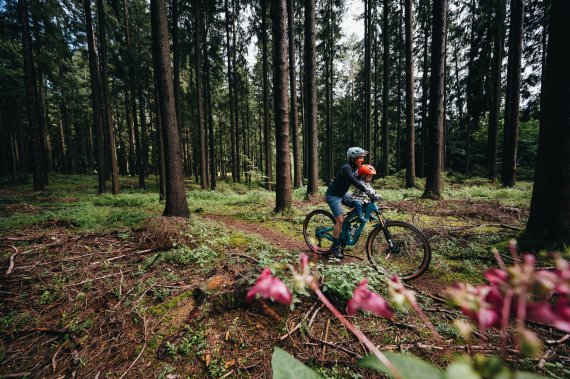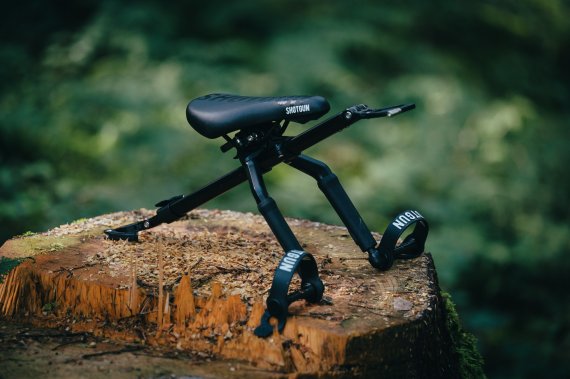 Whether in the city or in the forest: a helmet is mandatory when riding a bike. This applies, of course, and especially for the offspring. Depending on age and sport, the requirements for a helmet for children differ. Especially for small children, who often still stumble and fall forward, a large front area is important. When children are able to ride uphill under their own power, good ventilation is important. It is important that the children like to put on the helmet. After all, the best helmet is no use if it doesn't sit on the head. Bontrager increases the motivation of the youngsters by providing the JET Wavecell Child helmet with a sticker kit for child-friendly individualization. After all, a child prefers to wear a beautiful and above all self-designed helmet than a dull off-the-peg part. Smart features like a magnetic Fidloc closure and the easy-to-use dial for fine adjustment of the fit make the helmet an all-round carefree package.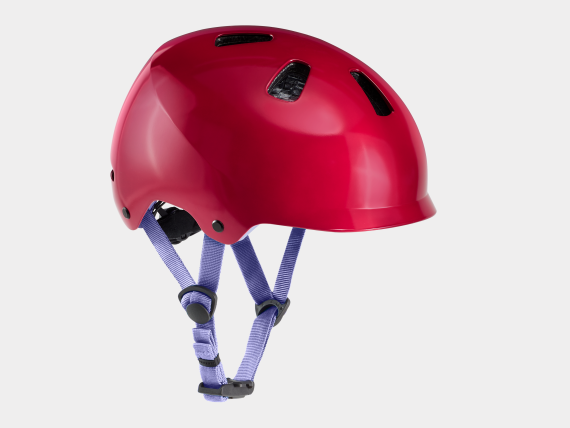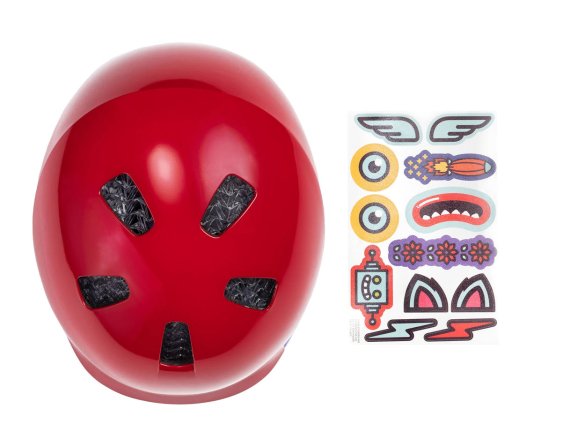 However, a helmet is not the only protective equipment when mountain biking. Especially the eyes should be protected against dust and branches with goggles. Gloves are also recommended - as well as elbow and knee pads for kids who are already riding their own MTB trails independently. If the kids are going to the bike park, they should also invest in a back protector and full-face helmet. There are attractive models from IXS, among others.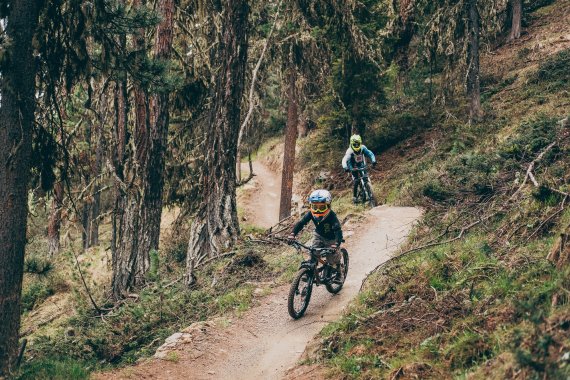 The choice of children's bikes has never been greater. But what only very few manufacturers have worked on so far is the weight of the bikes. Many are still far too heavy. If you put the 15-16 kg body weight of a three-and-a-half to four-year-old child in relation to the 7.5-8 kg total weight of a suitable 14-inch wheel, the bike weighs exactly half as much as the rider. For adults, this would mean: for an 80 kg man, the bike would have to weigh 40 kg - unimaginable. When buying a children's bike, you should therefore look for the lowest possible weight. The lack of choice on the market led biking dad Andy Loveland to found his bike brand Early-Rider in 2005. In the meantime, the brand has an extensive product portfolio for children of all ages.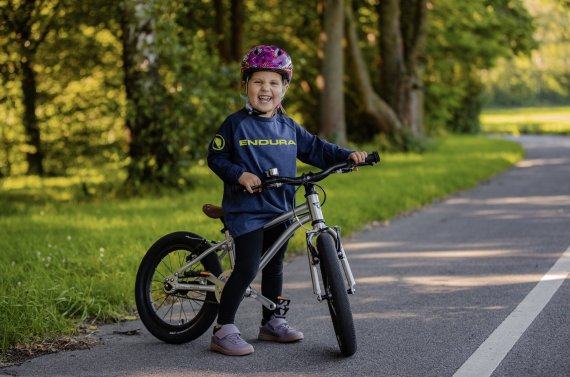 Children's moods can be fickle. But there's one thing that always lifts them up: when there's something to nibble on. So our tip is to pack snacks. Because if nothing else works in the middle of the forest, snacks help to get the little ones to keep going. Guaranteed! And of course, don't forget to drink.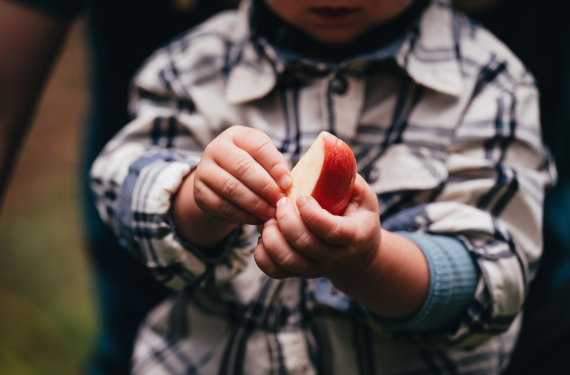 What is annoying for some adults is a real horror for many children: riding uphill under their own power for a long time. So that the tour doesn't become an ordeal for kids, it's worth packing a tow rope like the Kids Ride Shotgun Tow Rope. The rope is even optionally available with a practical hip pack for the youngsters. This way, the little biker transports his rope himself and can actively ask for help when needed.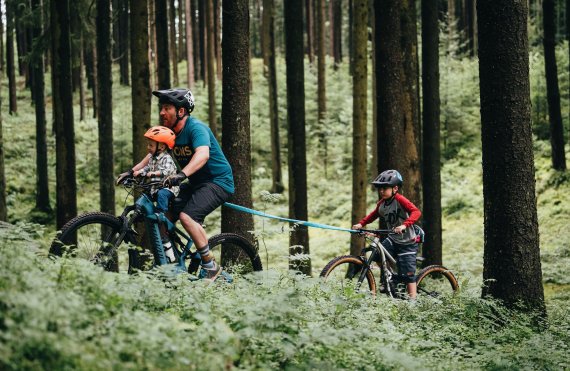 The last and decisive tip at the end. Don't take on too much! Touring with your kids isn't about breaking your own records and going all out athletically. It's about having a good time as a family. About experiencing nature, being active and seeing the little ones' eyes light up. So relax, put your needs in the background a bit and above all have fun with your kids on the bike!