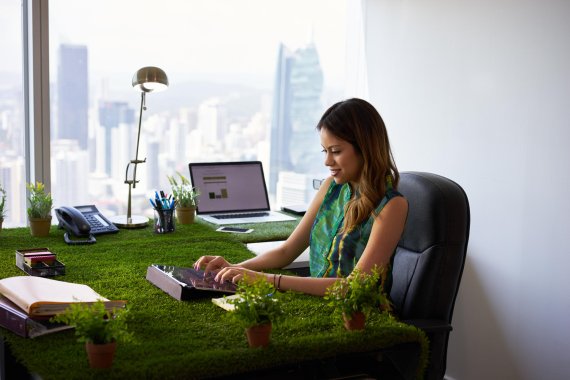 Members of FC Bayern and Real Madrid wore jerseys made from recycled plastic waste pulled from the oceans. Manufacturers such as Adidas have also included shoes made from such recycled materials in their sports range.
Certain outdoor manufacturers and stores have decided to only sell clothing that is fair trade and fairly produced. Sustainability is on the rise. Naturally, this opens up new opportunities for applicants with the right mindset – from a recycling background to experience in environmental marketing.
It means that these days, a campaign manager at Greenpeace is more likely to get a job in a sports company than a Coca-Cola® brand specialist. We at ISPO.com have compiled all the information applicants for a job in the sports industry need with regard to the new requirements and which eco profiles are likely to impress HR the most.
1. Ecological footprint is in demand
In 2011, according to the sportswear manufacturer Puma, the company was the first worldwide to create an ecological income statement (Environmental Profit & Loss Account, or EP&L) – or as many know it, "ecological footprint."

The aim is to reduce the company's environmental impact, for example through a reduction in the amount of harmful substances emitted during production or using less paper in the office.
Quote from Puma: "Our sites and supply chain depend on nature, for drinking water, clean air, a healthy biodiversity and fertile earth. Puma's EP&L is the first global attempt to measure just how greatly a company taps into such reserves and the actual cost of a company's impact on the environment."
External public accountants will also be included in this process. That means: this is where business economists and controllers come into play, who must take these new factors into consideration with regard to company practice. So: Providing solutions in order to reduce costs will stand you in good stead as an applicant. If you can top this by offering calculations and strategies to reduce the company's ecological footprint, you will shine! Not only with Puma.
Looking to get started in the sports business? Find the best jobs here at ISPO JOB MARKET >>>
2. Recycled materials: This demands engineers
As previously mentioned, Puma rival Adidas is surging ahead with its use of recycled materials. The end of 2016 saw the Bayern jerseys closely followed by the first sports shoe made from waste pulled from the oceans. By the way, the midsole was created using a 3D printer. So here, we have new challenges and opportunities for engineers in the development and production divisions.
Ideal for textile engineer applicants who know a thing or two about these materials and their properties. That's because the idea is for these new products to become just as much a part of everyday life as conventional sportswear and shoes. Another topic will be how well this sportswear itself can be recycled – after all, they are not eventually supposed to end up on the garbage dump, but should rather be either biodegradable or have the capacity to be recycled.
So here we have another field just waiting to be filled by both new specialists and those already responsible for development and production who are looking to jump on the bandwagon (destination: future!). Those who can play the recycling card in their applications are definitely pushing at an open door!

3. Eco producer: Outdoor trend creates jobs

Sweaters made from pure lamb's wool, bags made from hemp or jute – for many years, the traditional eco manufacturers and retailers such as Hessnatur have specialized in everyday items. However, they haven't remained ignorant of the potential in the sportswear and outdoor clothing markets and have been producing pure organic quality goods for this purpose.
Hessnatur, for example, has this to say: "The breadth of our sportswear and outdoor clothing ranges is enormous. Discover, among other products, high-quality, functional running gear made from organic cotton and organic new wool, GOTS-certified cagoule made from organic cotton..."
Thus, a serious rival to traditional sportswear and outdoor clothing manufacturers has been born. Good news for applicants who have included sports and environmental awareness in their CV and have been thinking about development opportunities outside the traditional sports business box. That's because "eco warriors" have long since become part of the mainstream and are looking for marketing-oriented sports specialists to help them expand.
Read here: Here's how ecological communication works in the sports industry
4. Mail order business: Eco sportswear as an opportunity
In addition to the classic eco companies, the market is being flooded with an increasing number of new online shippers such as Greenpicks, offering and vouching for a range of sustainable sports products by various manufacturers.
Avocadostore.de, for example, requires each supplier to provide information on how their products fulfill certain sustainability criteria, such as fair trade, CO2 reduction, or conservation of resources. Such websites are frequently attracted to products by trendy start-ups or exotic yoga followers. Seals of quality such as GOTS (Global Organic Textile Standard) play an important part in this business and are used as a marketing technique.

This opens application doors for sports specialists who already have experience working in fresh, trendy eco companies, or for e-commerce and marketing experts who have a flair for using their own design language and usability to attract specific target groups online. Also in demand are visionaries with a knack for identifying new eco trends.
Read here: Get an overview of the eco label crowd – these are the most important labels >>>
5. Sustainability reports: Rethinking PR
In 2014, EU members adopted a new policy on the expansion of reports provided by large companies. The policy requires reports to include information on environmental, social, and employee concerns, as well as on measures put in place to respect human rights and fight corruption and bribery.
On September 21, 2016, the Federal Government published the corresponding government bill. The bill lays down the requirement for such companies to provide reports for each financial year after December 31, 2016.

That means: In the future, similar to traditional business reports, especially listed companies with more than 500 employees must disclose their efforts towards greater sustainability.
That's not only good news for sustainability in finance, but also for PR experts in the sports sector who have already been dealing with sustainability issues or even reports on social responsibility (Corporate Social Responsibility, CSR).
Vaude is a trailblazer in this area. In 2011, the manufacturer was the first in the outdoor sector to create a DNK (German Sustainability Code) compliance declaration. Those communicators and PR experts who have, on the other hand, been broadcasting "only" pure financial information should start looking for CSR training...
Looking to get started in the sports business? Find the best jobs here at ISPO JOB MARKET >>>