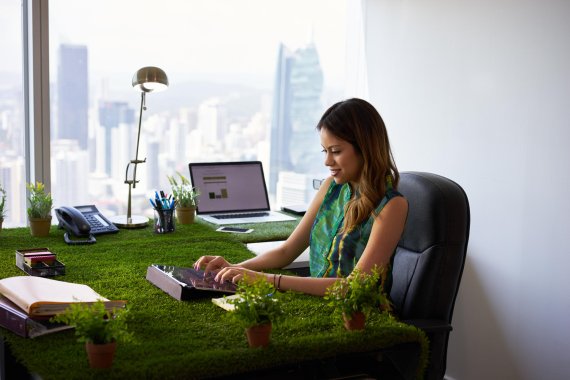 FC Bayern and Real Madrid players wore jerseys made from recycled plastic ocean waste. Manufacturers like Adidas offer shoes made from these fabrics in their sports stores.
Some outdoor manufacturers and stores now only sell clothing that has been fairly traded and produced. Sustainability is on the rise. This, of course, opens up opportunities for candidates with appropriate awareness - from recycling backgrounds to environmental marketing experience.
A campaign manager from Greenpeace, for example, often has better chances with sports companies today than the brand specialist from a cola manufacturer. ISPO.com has compiled a list for applicants for jobs in the sports industry of exactly what the new requirements are and which profiles with an eco background go down well with recruiters.
1. ecological footprint is new requirement
In 2011, sporting goods manufacturer Puma said it was the first company in the world to create an Environmental Profit & Loss Account (EP&L) - better known as an "ecological footprint."
The aim is to reduce environmental impact, for example by emitting fewer pollutants in production through to fewer paper printouts in the office.
Quote Puma: "For drinking water, clean air, healthy biodiversity and productive soils, our sites and supply chain depend on nature. Puma's EP&L is the world's first attempt to measure the immense benefits of these services to a business and the true cost of a company's impact on nature."
External auditors are also used in the process. In other words: this is initially a topic for business economists and controllers, who have to "calculate" with these new factors in the company. So: Anyone who can reduce costs as an applicant is good. Anyone who can also reduce the ecological footprint through their calculations and strategies is better! Not only at Puma.
2. recycled materials: engineers are in demand
Puma competitor Adidas is now forging ahead with recycled material, as already mentioned. At the end of 2016, after the Bayern jerseys, the first sports shoe made from ocean waste was launched. Incidentally, the midsole for this was made using 3D printing. So here the engineers in development and production have new challenges.
So it's good to be a textile engineer, for example, who is familiar with these materials and their properties. Because in everyday use, these new products should of course be just as stable as conventional sportswear and shoes. Another issue in the future will be the recyclability of the sporting goods themselves - after all, they should not ultimately become waste again, but should be either biodegradable or recyclable.
So it's a broad field for specialists who are newly hired, as well as for classic developers and production managers who have to adapt to the additional requirements. Anyone who can play the recycling card here when applying is preaching to the choir!
3. eco manufacturers: outdoor trend creates jobs
Cardigans made of pure sheep's wool, bags made of hemp or jute - for a long time, classic eco manufacturers and retailers like Hessnatur specialized in everyday needs. But for some time now, they too have discovered sports and outdoor clothing as a rapidly growing market and offer the products for it in pure organic quality.
At Hessnatur, for example, it says: "The range of our assortment in the area of sports and outdoor clothing is enormous. Discover, among other things, high-quality and functional running clothes made of organic cotton and organic virgin wool, GOTS-certified rain jackets made of organic cotton..."
So here has grown up a serious competition for the classic sporting goods and outdoor manufacturers. This is good for applicants who have sport and environmental awareness on their CV and are looking for development opportunities outside the classic sports business. After all, "the ecos" have long been mainstream and are looking for marketing-oriented sports specialists for their expansion.
4. mail order: eco-sporting goods as an opportunity
In addition to the traditional eco companies, more and more new online mail order companies such as Greenpicks are entering the market, offering sustainable sports products from several manufacturers and putting their hand in the fire for their reputation.
At Avocadostore.de, for example, each supplier must prove for its products in what way certain sustainability criteria such as fair trade, CO2 savings or resource conservation are met. Here, products from trendy startups or exotic yoga disciples are also gladly included in the offer. Quality seals such as GOTS (Global Organic Textile Standard) play a major role here and are used for marketing.
So this opens up a field of work for sports specialists who have already gained experience with young, trendy companies with an eco-touch, for eCommerce and marketing professionals who can address very specific target groups with their own design language and usability, especially online. Preferably forward thinkers who also recognize new eco-trends.
5. sustainability reporting: rethinking PR
In 2014, EU member states adopted a new directive to expand reporting by large companies. This involves information on environmental, social and employee issues as well as respect for human rights and the fight against corruption and bribery.
On September 21, 2016, the German government published a corresponding government draft. This is intended to introduce a reporting obligation for fiscal years beginning after December 31, 2016.
This means that in the future, listed companies in particular with more than 500 employees will have to disclose their sustainability efforts, similar to the traditional annual report.
This is not only good news for sustainability in business, but also for PR professionals in sports who have already had to deal with sustainability issues or even corporate social responsibility (CSR) reports.
A pioneer in this regard is Vaude. In 2011, the manufacturer was the first company in the outdoor industry to prepare a declaration of compliance with the DNK (German Sustainability Code). In contrast, those who, as communicators and PR experts, have so far "only" disseminated purely business information should, in perspective, look around for training opportunities for CSR...