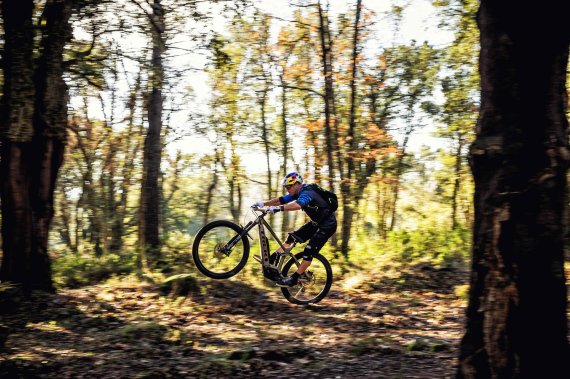 Electric motor or not? And apart from this question, things are happening. Particularly when it is a case of gear shifts, for Hardtails and Fullys alike. High-quality children's mountain bikes are continuing to gain ground.
E-MTB also reaches non-bikers
The demand for e-MTBs is on the rise. Firstly because many mountain bikers choose to have an additional e-MTB, former cyclists are getting back on their seats, and because e-mountain bikes attract a very different group of buyers than classic mountain bikes. According to figures by the Association of the Bike Industry (ZIV), 15 percent of e-bikes sold in 2016 were mountain bikes.
At the same time, many MTB experts understand that a whole new type of sport is developing here. There are new race formats and lots of motocross racers are interested in e-MTBs. Particularly when it comes to the uphill technology, e-mountain biking cannot deny its influences from motocross. 
Good e-MTBs cost upwards from 2,500 euros
And customers are prepared to pay that much for one, says Urs Keller, Sales Manager at Trek. A price tag of 2,500 to 3,000 euros is completely normal. There are usually some very high-quality e-MTBs available from this price range at most providers. Components like suspension elements and brakes are very finely tuned to the more powerful forces that are active on e-bikes.
For example, Sram completely redesigned the brake "code" and adjusted it to the new requirements of e-bikes. The four piston brakes offer a stronger brake performance and stability. New special developments for e-bikes are always appearing. For example, there are seats that have a raised rear end, so that steep uphill climbs and high acceleration are still comfortable for the rider.
E-bike battery hidden in the frame
The batteries will be even better integrated in the frame in 2018 and this is convincing sceptics who previously found the design of electric bikes underwhelming. The new Bosch Powertube battery (500 Wh capacity) can now be completely incorporated in the frame.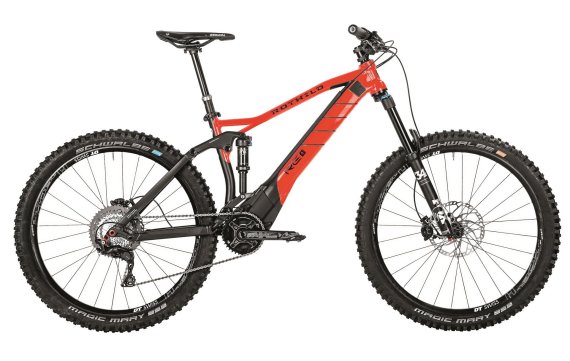 Bike manufacturers can choose whether it is removed from the downtube in an upwards or downwards direction. In the latter case, there is even still room for a bottle holder. But other manufacturers, for example Brose – see below the Rotwild MTB – are finding more and more elegant ways to integrate the battery and motor. 
The good price-performance ratio that e-MTBs offer and their high efficiency are putting classic MTBs under pressure. Sales figures for conventional MTBs are stagnating. Urs Keller from Trek: "We need to pay close attention to the price of normal MTBs again." 
How much can a MTB cost?
Gunnar Fehlau from pressedienst-fahrrad (a German publicity company for bicycles) says: "If you compare an e-MTB and a MTB you'll see that the majority of e-MTBs are not that much more expensive." The consequence at Trek: For the model year 2018 they are trying to put the price back in focus in order to give customers the best possible price-performance ratio.
Very high-quality MTBs for 4,000 euros upwards are going to become a niche product according to Fehlau. "These are going to be for special companies who can be successful with a low quantity of bikes." 
Test the products of the future with ISPO OPEN INNOVATION and give the manufacturer direct feedback. Register here for free >>>
Simple gear shift to be established in 2018
From a technical point of view, the single power unit will become established in 2018 – for more expensive bikes too. Front derailleurs belong to the past. Sram has been offering its Eagle vector group with a chain ring in front and 12 pinions to the rear since the middle of 2017, not just in the high-price segment but also from 500 euros.
Competitor Shimano will have to follow suit in this respect. The Eagle gear shift offers a transmission range of 500 percent and therefore works on steep ascents and fast descents. 
Mountain bikes for children
"The first and second generation mountain bikers are having children," says Gunnar Fehlau from pressedienst-fahrrad. These parents don't want to offer their kids standard bikes – there should be something special about the bikes, and that can cost a bit. In the children's area there is also an ever increasing offer in terms of mountain bikes.   
Instead of a withdrawal of these bikes, there are two brakes and geometry which is oriented to the area of application. In this way, Canyon introduced children's MTBs in 2017 which have a larger front wheel than rear wheel so that children sit up more straight on the bike. They then have a lower center of gravity and can ride more safely downhill. Tire manufacturers are going along with this and offer tires with highly-profiled MTB treads in smaller sizes.