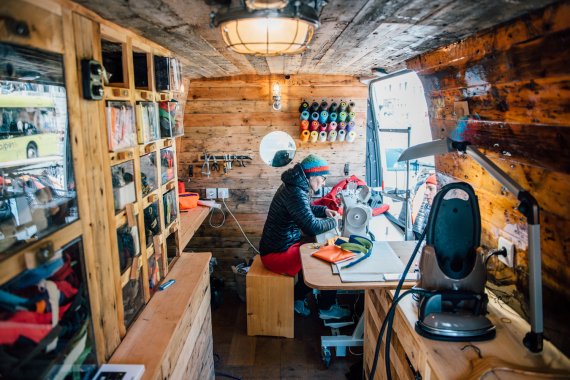 For a long time, the industry saw the greatest environmental impact in the production of clothing. We now know that use and disposal also have an impact on the environment. The logic is simple: When a piece of clothing is worn longer, less is produced and less is thrown away. If you use your clothes just nine months longer, you can reduce your ecological footprint by around 20 to 30 percent, according to a paper by WRAP. The non-profit organization is developing strategies for faster change towards a sustainable industry.
"In our sustainability strategy, product longevity is one of the most important things," explains Åsa Andresson, Sustainability and Quality Manager at Peak Performance. In order to guarantee this, the company has defined processes for the entire supply chain and selects suppliers and production partners very carefully. The concept is based on the cooperation with the Sustainable Apparel Coalition (SAC) The coalition developed the popular Higg index, which offers standardized measures for a more sustainable value chain.
"Life-prolonging measures" are also being incorporated into the planning of the garments. The products should be easy to repair. Slightly wearing parts such as zippers, cords, and push buttons are available as spare parts. Many companies offer a repair service – and some even promote them:
- Vaude joined the online platform ifixit to develop repair instructions, and thus encourage consumers to DIY it.
- As part of the Worn Wear Tour, Patagonia is touring through European skiing regions in a bus. Consumers can have their wear defects and damaged cloths repaired on site free of charge. The sustainable use of functional clothing is also explained in additional workshops.
The promotion of the second-life strategies is proving successful. In an interview in the 'Süddeutsche Zeitung' newspaper, Melody Harris-Jensbach, CEO of Jack Wolfskin, was asked why her brand wasn't focusing on environmental topics like repairing pieces clothing. Her answer: "We've already had a repair service for more than 20 years now. But we never shouted it from the rooftops and turned it into a marketing campaign. That was clearly a mistake."
For many people under 30, ownership is no longer a form of consumption. Depending on the function and occasion, clothing is shared, exchanged, and rented. The industry's second life initiatives are building on this attitude.
The name stands for measures that give products a second life. Companies take back used clothing from their customers. Depending on its condition, it is recycled, resold, or donated to charitable associations.
Since October 2018, the sporting goods retailer Decathlon has been offering an online platform for the resale of sporting goods by customers. At so-called Trocathlons, it is also possible to buy and sell used goods in the chain's stores similar to a flea market.
Vaude and Houdini are pioneers in the rental of outdoor clothing. Both companies offer rental of shells in their own stores. Houdini started its service back in 2013. The Swedish manufacturer wants to offer its customers alternative options to consumption – and sees a good alternative to new purchases in rentals.
Vaude is also involved in the resale of used clothing. In cooperation with eBay, the company set up an online shop that consumers can use to sell their used Vaude products. The company is neither the operator of the platform, nor does it earn anything from it. Hilke Patzwall, CSR Manager at Vaude, adds: "The second-use website is one of many life-extending measures for our products. We're getting very positive feedback for it."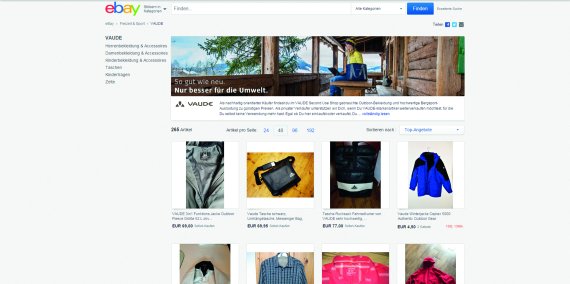 The outdoor retailer Steppenwolf in Vienna organizes a flea market twice a year – and has done so since 1992. The guiding theme is the "less is more" principle of Patagonia, one of its main brands. It also wants to offer its customers added value, explains Michael Lanmüller, founder and owner. Interest was very high in the early 1990s, then waned with the Internet, only to increase again in 2008.
Michael Lanmüller: "Through Facebook, the flea market has become a happening place, fueled by media issues like zero waste, upcycling and recycling, and the Patagonia Worn-Wear Tour. Our audience is young, predominantly female, and most of them come in groups."
At Patagonia, resale is done through their own US online store. The outdoor manufacturer presented the initiative in Berlin in December 2017: in a one-day pop-up store. It was a major success, with the proceeds going to three German environmental organizations. Ryan Gellert, Patagonia's General Manager EMEA, appeared excited by the creative energy in Berlin that made the success of the progressive project possible. The next Worn-Wear pop-up store is planned for fall of 2018 in Milan.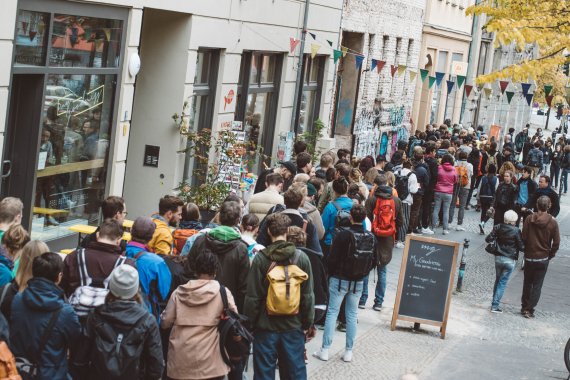 In Burton's sustainability program, returns are the focus. In the past, many parts were replaced. Now the snowboard brand aims to do more repairing. Christine Egger, Senior Softgoods Manager Europe: "We're working with professional partners like shoemakers, and thus can conduct more repairs. We want to reach a quota of 40% by 2020."
The background: A series of companies destroy or dispose of scarce commodities, and are sharply criticized by environmental organizations for doing so.
The North Face offers returned goods and items with production defects in their own US online store – at reduced prices and with a one-year guarantee on wear and tear. James Rogers, Head of Sustainability at The North Face, sees resale as an important measure "to reduce the ecological footprint and open up new markets."
When used pieces of clothing no longer meet the requirements for resale, all that remains is environmentally friendly disposal, upcycling, and recycling. Houdini is one of the companies that sets up recycling boxes in its sales outlets and collects its customers' sorted-out polyester clothing. Customers can use the containers with a clear conscience. Houdini guarantees professional recycling.
According to Greenpeace, profitable recycling isn't possible in many cases, as most clothing consists of different basic materials and is not homogenous. Recently, recycling was limited to the outer fabric. The attention was accordingly great when Jack Wolfskin presented its Texapore Ecosphere jackets at ISPO Munich 2018. The outer fabric, as well as the membrane and inner lining, are made of completely recycled material. In the winter of 18/19, shells, fleece, and hybrid models will also appear in fully recycled materials.