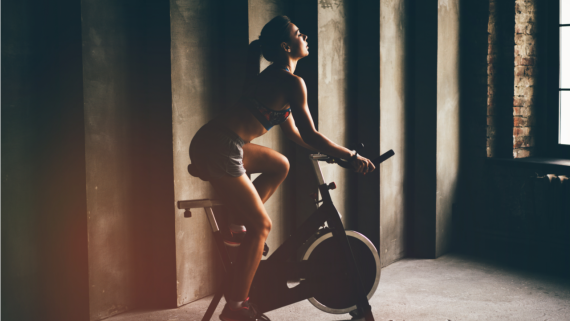 Booming bass, wheezing classmates and cheers from the coach - what for many is indispensable motivation during spinning is a real horror for others. They prefer to get on the saddle in the comfort of their own home rather than at a spinning class. So why not get yourself an indoor bike?
More and more spinning enthusiasts seem to think so, as the demand for spinning bikes continues unabated. It's actually no wonder, because if you pedal at home, you save yourself the annoying journey to the gym, and overcrowded classes and set training times are also a thing of the past with your own bike. Last but not least, the financial factor can also play a role. A good spinning bike is not exactly cheap, with prices starting at 600 euros, but if you save on the gym membership fee, the purchase is usually amortized after about two years.
For all those who regularly get into the saddle, a spinning bike is definitely a purchase worth considering. But what do you actually have to consider when buying one?
In order to make the right choice from the huge selection of spinning bikes, you should know beforehand exactly what you want to demand from the bike. How often and how intensively do you expect to train? Are there any special wishes? What is your height and weight like - after all, the maximum load limit is about 120 kilograms. All these points should be clarified in advance so that the bike meets your own requirements. The type of training also plays a role in the selection: Weight reduction, increase in fitness, muscle building - not all bikes are the same and if you want to train efficiently and do something good for your health, you should keep an eye on the small differences.
If you are aware of your own requirements, nothing stands in the way of buying a bike. But how can you recognize a good spinning bike? First of all, you should not be tempted by the all too low prices - a good spinning bike has its price: If you want to get something out of your purchase for a long time and train effectively, you should keep your hands off offers below the 600 euro mark.
An indicator for a high-quality bike is, among other things, the problem-free adjustability of saddle, handlebar and feet - only in this way can the optimal seating position be guaranteed. Likewise, the typical spinning turntable should not weigh less than 20 kilograms in order to allow for a smooth and steady pedal. The stepless adjustment of the intensity is also indispensable for an optimal workout and should be easy to control. Last but not least, you should also take a look at the saddle, pedals and little extras such as the drink holders.
Spinning is one of the gentlest ways to increase your fitness and do something for your heart health. However, the workout on the indoor bike is only healthy if you pedal within your own limits. In order to be able to objectively assess your performance and always keep an eye on important bodily functions such as heart rate, recording various data such as speed, distance, calories burned and heart rate is standard.
If you want to plan your training precisely, you should also look for a spinning bike with an integrated personal training program. Many modern bikes now have such functions, with which you can train specifically in the areas of endurance, strength endurance and fat burning.