Improve your skills & visit a bike workshop
Invest in protective equipment
Show Consideration for Others
Take care of your bike
Choose the right wheel
Adjust the route accoring to your level
Always (!) look where you want to go
First the basics, what is a bike park anyway? While many smaller spots, which are operated by clubs, for example, have the bike park in the name, the classic bike park is characterized by some special features. It consists of a network of downhill trails with varying degrees of difficulty. The way up is usually by lift or shuttle. In addition, there is other infrastructure around the track: there are rental stations, a bike store, parking and sanitary facilities, but also, for example, signage on the trails.
Mountain bike pro Jasper Jauch has already seen a few bike parks, gives riding technique courses for young riders and his tutorials are also popular on YouTube. With his tips on everything from riding technique to equipment and behavior, even beginners can get started in the bike park. And even as a frequent rider, it doesn't hurt to remember the most important things.
If the opportunity exists, workshops are a great thing. Especially if you've maybe never been on a bike before. "That way you don't learn the wrong methods right from the start. You're a blank slate, so to speak, and if you learn it right from the start, you won't have trouble getting mistakes out again later." Most bike parks offer beginner workshops where you can learn the right riding technique. But there are also special offers with pro riders for park-experienced riders who want to improve tricks and jumps to raise their own technique to a new level. Now, whether you prefer to ride in a group and meet new people or do one-on-one coaching is up to you. "Personally, I always find learning in a group cool and can only recommend it. But one-on-one coaching works just as well, of course. Some people just don't like to bare their heads in front of others, are afraid and don't want to hold up the group either," says Jasper Jauch.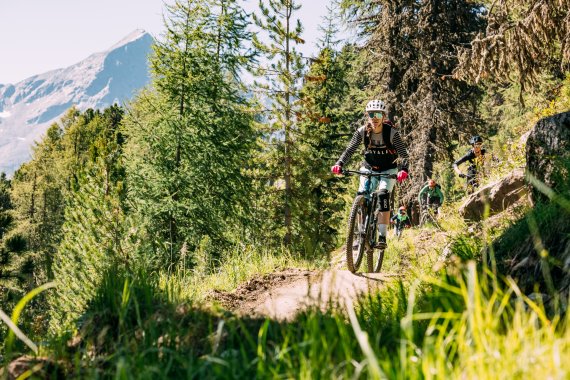 As always, when you're out and about, safety comes first. And the faster it gets, the more important measures become to avoid the worst in case of an accident. Of course, a helmet is the be-all and end-all when mountain biking. In the bike park, it may even be the full-face helmet, which also protects the face in case of falls. It continues with pads for elbows and knees as well as protector shirts and pants.
"Again and again you see people renting an e-bike and then cycling up and down somewhere in hot pants, T-shirt and half-shell. Often, that's when nasty crashes and injuries happen that keep them out of mountain biking forever because they don't feel like it anymore after that," Jasper Jauch tells us.
"No one is born a professional and everyone has started at some point," which is why protection is always important, but especially in the beginning. But you should also be aware with a little more experience that mountain biking always involves certain risks and falls happen. The risk of driving home with knocked out teeth is much lower with a full-face helmet.
Bike parks can get a bit busy on popular routes. Thinking that you've paid for the ticket and therefore virtually leased the route is the wrong approach, regardless of whether you're a beginner or a pro. Mountain biking, he says, thrives on its community, where consideration for one another is an important cornerstone.
"If you notice there's someone behind you, you should let the other person pass in a safe spot. I think the community thing in mountain biking is extremely important, and that includes showing consideration for each other and talking to each other. After all, we're all doing the same sport." At workshops and camps, you also get to know like-minded people, can pick up tips, and at the same time become part of the mountain bike family.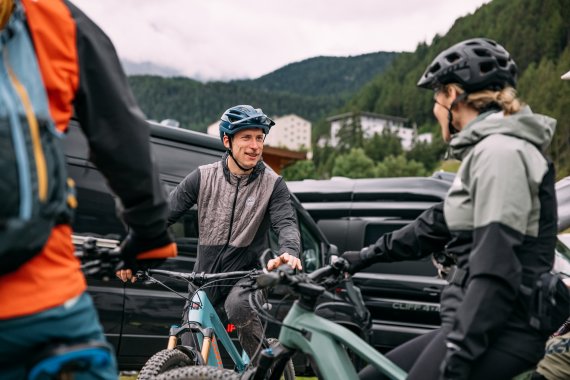 Otherwise, Jasper advises that the bike should generally be in good shape to have fun with it in the bike park. "The rebound damping should not be set much too fast. That means the suspension elements shouldn't rebound much too quickly once they've been compressed, because that usually amplifies the shocks from below or you feel like you're going over the handlebars and getting levered out." If you're unsure, it's best to have a professional look at the bike to make sure everything fits.
"You can also try the first ride in the bike park with your own bike. But it should at least be a mountain bike," says Jauch. So in general, it would be possible to try it out on a hardtail first. The less the bike dampens, however, the more actively you have to ride. It becomes technically easier and more fun when the bike is more forgiving and supports its rider. Locally, many bike stores offer rental bikes to try out, the fees for which can then be credited toward the purchase of a new model.
If you invest in a new bike for the bike park, above all the size should be right and that it is the right mountain bike for the area of use. Here it is also not bad to deal with suspension travel and thus different bike categories to find out which mountain bike fits best for their own use.
"Rather pay attention to size, fit and the right category, than it must have a really expensive equipment. As a beginner, the most expensive or pro equipment is usually not the most useful and it's better to buy the right size and mountain bike model for your riding ability and the trails you ride." Otherwise, important invests are still helmet and gloves and, as already mentioned above, suitable protective equipment.
As always when you're learning something new, you should start easy first and then work your way up to the harder stuff. In the bike park, this means starting with blue trails and measured speed, and not jumping straight over the biggest kickers and jumps. Like ski slopes, the trails in the bike park are laid out according to different levels of difficulty. The classification is the same as in winter from blue/green (easy), through red (medium) to black (difficult).
Loose Einfahren and warm-up at the beginning is of course just as valid for the pros to get in. At the same time, you shouldn't dare to take on the most difficult course at the end of the day when you're already tired. "There is also no last descent. Always say the second-to-last one and then just stop," Jasper gives another tip so that your head doesn't shut down before you're even off the mountain at the bottom.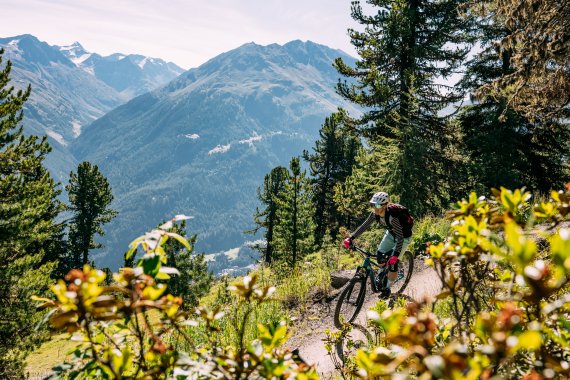 Also, as far as driving technique is concerned, there are some hacks that make all beginnings easier, but which the pros also make use of. "Always look far ahead. When entering a curve, it's best to already have the exit of the curve in sight, and when exiting a curve, to already have the next entrance to the curve in sight. This makes it easier to drive the curves round." Because the wheel always goes where you look. So it's better not to waste a glance at the slope.
Another good tip for beginners is also not to go too far back, to keep the arms too stretched and the legs too bent. This creates a lot of risk. "It's better to keep shoulders forward and tend to stretch the legs more than you're comfortable with," Jauch advises. That way you have a more central position on the bike and are able to act even in stressful situations, because you can correct mistakes better. You can then gradually adjust your riding technique, moving the bike more under your body.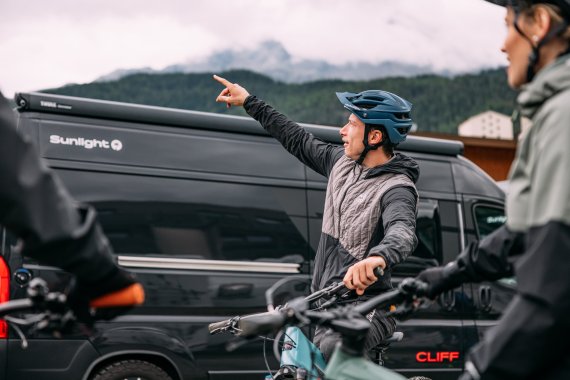 More tips from Jasper Jauch about mountain biking: