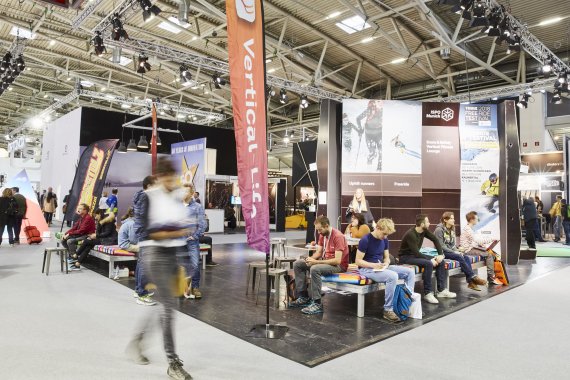 Our practical experts Andy Gugenheimer (head of sportyjob.com and cooperation partner of the ISPO JOB MARKET) and Gunther Schnatmann (recruitment consultant and job coach) give the crucial tips.
It goes without saying, but doesn't bring much in itself: Naturally I'm going to invite an interesting contact I got to know at a trade fair or some other industry event into my social networks. First and foremost on the business platforms LinkedIn and Xing, membership in which is obligatory for anyone who wants to network in the industry in the long term and thus also get to job opportunities outside the usual application channels. Such an invitation would hardly be refused by anyone with whom you'd established a good connection.
After the successful linking is when the real work begins, however: Only the people who share interesting topics on LinkedIn + Co. or give their two cents on current developments in the industry will linger in their new contact's memory when this news pops up. In that respect I have to go around the networks, searching for topics and regularly posting something. "If you still haven't done that yet, you should do so as soon as possible after getting to know each other and linking with interesting contacts, so you can stay fresh in their memory," says coach Gunther Schnatmann.
Once you've kept that valuable contact "warm" through social media and made your interest in current events known, you can now also discreetly talk about your own successes. If possible, always following the first conversation and – important! – definitely nothing about your current employer's internal affairs that are subject to secrecy. So, for example, you can talk about your own sales successes in the industry or about great campaigns whose origin stories you discussed back then. Or about new tasks of your own at your company. Or, for students or entry level workers, about successful school theses, degree studies, and research results.
How do you communicate these kinds of messages about all the good that you've done? "Definitely old-school," job coach Andy Gugenheimer says. "Via email and with interesting info like studies attached. Decision-makers classically work through email, because that's where the internal information converges. Sending things to their personal address will get you more attention than a social media notification that will soon get buried."
Discreet self-praise is one thing. Praise and even criticism of the activities of your new contact's company is another. Giving detailed discussion on new trends and products by your trade fair conversation partner, even weeks later, will show your deeper interest in the company. Something like, "I really like the new design of your new functional clothing, because.... But I wonder, which markets do you see the best opportunities for now? Because competitors...."
The direct path of email should also be chosen here, too. The contact is likely to enter into an exchange of views, at the latest with well-founded comments, which will deepen the entire business relationship and create a certain sense of familiarity. Gugenheimer: "Young people in particular rarely dare to give critical opinions to a potential employer. But nearly every company expects precisely that – that people with their own opinions and lots of new ideas and goals will seek out contact with them!"
Personal contact also needs to be "lived." Not just virtually, but live. So if there's an opportunity, I should try to meet back up with the person I was talking to and swap ideas over a coffee in their office. This takes time and effort, but it's often the key to success, because you can talk about industry topics face to face and thus get better impressions of the company you really would like to work for.
So: If I have things to do in my contact's area anyway, I can call or email them saying that I have some extra time and would like to drop by for a cup of coffee. Because we had such an interesting conversation at the trade fair or event, and both they and I have a lot of new things we can talk about. Obviously, busy executives won't always have time right away, so you should offer generous time slots or try it a second and third time. Personnel consultant Schnatmann: "You can also mention the fact that you'd like to change jobs in the medium term. Or, instead of explicitly mentioning the desire to change jobs, you can simply deepen contact while also hearing what's going on in the company in the process. And don't start the application offensive until after."
The final step is, naturally, the direct application. If your new contact still hasn't recognized by themselves that you're interested in a position in their company or if the topic wasn't directly addressed in a personal conversation over coffee, that is. In any case, it's a great advantage that I have a direct contact in the company with whom I'm networked and who knows me personally, at least from a first impression, and who may even be able to make a rough estimate of my suitability for a position. Even if this insider isn't the direct decision-maker about an application or a human resources manager.
But they could at least be an advocate – and those are often the deciding factor in applications for candidates to at least be invited to the interview. So: I have to keep an eye on my contact's company job offers on their website and on industry job platforms like ISPO JOB MARKET and sportyjob.com. And if a new offer suits me, parallel to the application via the portals, I can also email my contact to let them know I've just applied for this special job. I can couple that with the question of how they view my chances – with the hope that they'll then make a recommendation to their key colleagues.
The follow-up maintenance of initial contacts is the be-all and end-all for job searches. In practice, the paths to your dream job after a first meeting on the sidelines of a trade fair or event are many and varied. Anything can happen at any stage. Either, you're recruited directly from the fair. Or it happens after connecting, further contact, or a direct application via that new contact. What counts here: The more iron you have in the fire, i.e. the larger your network of contacts after each trade fair and event, the more your chances for a great job in the sports business increase. The key is that famous "vitamin R," as in "relationships."