The Urban Culture megatrend: Sport as part of and driver of urban culture
Sport drives culture. Culture drives sports. In a dynamic and impressive interplay, they create impulses for a modern lifestyle. Sport is the most important driver of our world and we show how it influences cultural life and shapes our coexistence.
Perhaps even cooler than marveling at the Eisbach surfers is meeting them in the subway, clad in neoprene: Action Sport meets Urban Culture in an almost surreal form. For her photo of Eisbach surfer Andi Müllner on his way to Munich's Eisbach wave, photographer Carolin Unrath triumphed in 2021 at "Red Bull Illume," the world's largest competition for adventure and action sports photography.
In an interview with ISPO.com, Andi Müllner explains the fascination of his urban action sport: "I can live out my passion for surfing in combination with the urban. I only have to cycle there for 10 minutes and can practice my sport completely energy-neutral. In every season, I enjoy a different surfing experience."
He can surf a wave here at any time, Müllner enthuses, who is desperately waiting for just that during the telephone interview on a Portuguese coast. At most, he has to wait for his next stint at the Eisbach. "But in return, I also get to know many like-minded people at the Eisbach. The community there is great."
Action sports as a collective term unites a variety of sports in which a maximum of physical effort, creativity and risk-taking form a symbiosis. Urban surfing is just as much a part of it as, for example, skateboarding, BMX, snowboarding, base jumping, freeskiing, bouldering or parkour - the list is getting longer and longer. Many of these disciplines have their roots in other sports or activities, but evolved and refined over time for the purpose of new challenges and innovative styles.
The term manifested itself in the nineties, but the scene has its roots in the 1960s and 1970s, when skateboarding, surfing and BMX riding became more popular. The leap into mainstream culture came through major events such as the X-Games, which made action sports accessible to an international TV audience. Aces like Tony Hawk, Shaun White and Travis Pastrana became worldwide idols of their disciplines.
This also applies to snowboarding, which celebrated its breakthrough in the 1980s. Splitboards are now the trend - snowboards split down the middle that can also be used for ski touring. Gravel biking is also hugely popular, a symbiosis of road bike and mountain bike. For many fans of the latter, this is a useful update, because a gravel bike is much more agile and nimble on gravel paths and trails. It's clear that lighter materials and e-bike variants continue to set new standards in most two-wheeled topics.
The renowned action sports photographer Lorenz Holder, once a passionate snowboarder, still sees the classic action sports as top dogs in an interview with ISPO.com: "I don't see a whole new sport coming. Skateboarding and BMX are timeless. No matter where you are and how the city also changes, you can always reinterpret the places. I notice that cities are responding more and more to action sports with their developments. When I was young, there were maybe one or two skate parks within reach for me. Today, every village has one. That's very valuable for kids and young people."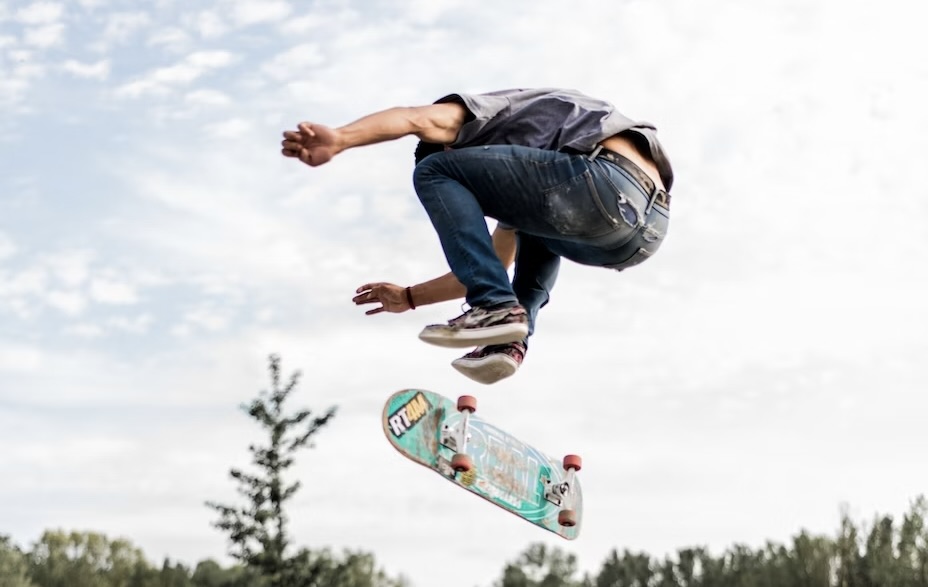 Action sports are getting a lot more public funding these days, observes Holder, whose award-winning photos have been published in magazines such as National Geographic, Red Bull Illume and Sports Illustrated. "More and more places are being quieted down so you can do action sports there. In the past we were evicted, whereas today they are trying to attract the subculture to the cities. These urban planning developments are very interesting.
For him, California, with its streetball courts and muscle beaches, is leading the way. The surf and skateboard scene originated there and has been able to grow for decades. For me, it's the Dreamland of action sports, simply because you can find so many different opportunities here."
He cites Kelly Slater and his "Surf Ranch" as an example. The x-time world surfing champion and first person to manage a 540-degree turn on a wave also demonstrated an entrepreneurial pioneering spirit. His wave facility in Lemoore, California, was one of the first artificial surf pools to constantly produce the perfect wave.
Standing waves are not only hot in Munich, they are currently spreading in many European cities such as in Berlin, Vienna or Zurich. "Now we're getting one in Munich, too," says a delighted Lorenz Holder. He means the "Surftown MUC" in Hallbergmoss in the north of the metropolis. There, a 20,000-square-meter artificial surfing facility is being built that is unique in Europe. Environmentally friendly and individually adjustable waves will offer a unique surfing experience for families, beginners and professionals from the opening in 2024. This would be - besides the ISPO trade shows - an occasion for a visit to Munich, Robby!
Laax, Switzerland: Once a classic ski resort, today the site of one of the world's largest snowboard parks. In summer, the bike park is also an attraction. The freestyle academy offers trampolines and much more - Laax has developed into a top action sports resort.

Los Angeles, USA: Famous for its skateboarding scene, L. A. is home to some of the most iconic skate spots in the world, such as the Venice Beach Skatepark or "The Berrics".

Barcelona, Spain: Host of the annual Extreme Barcelona event, one of the best festivals for action sports and urban culture.

Sydney, Australia: known for its thriving action sports scene and beaches perfect for surfing, kitesurfing and wakeboarding. Hosts the annual Australian Open of Surfing.

Squamish, Canada: climbing and mountain biking paradise north of Vancouver.

Queenstown, New Zealand: small town on the South Island of New Zealand, known as the action sports capital of the country. Those who love bungee jumping, skydiving, paragliding or snowboarding will feel right at home here.

Innsbruck, Austria: wide range of action sports opportunities, hosts one of the largest freestyle skate facilities in Europe.