Action sports such as skateboarding, snowboarding, surfing or kite surfing seem to have one thing in common: The athlete stands "crosswise" on his board, with which he performs the most diverse tricks and maneuvers.
And: In each of the disciplines mentioned, athletic creativity plays a major role in a successful athlete. This is expressed, for example, in a wide-ranging repertoire of tricks. It is also noticeable that quite a few board sportsmen develop creatively as artists even without their board under their feet.
Californian Ed Templeton grew up in Huntington Beach, where he was infected with the skateboard virus in the 1970s. He has been skating professionally since the age of 18 and founded his own skateboard company Toy Machine at the age of 24.which he still manages today. Parallel to his career as a skateboarder, Templeton developed a talent for photography, graphic design and painting. In all three areas, the now 48-year-old has made a name for himself even without formal training.
For two decades, Templeton has traveled the world showcasing his art and photography at numerous exhibitions. Despite international fame and various awards, his unwavering passion is designing Toy Machine skateboard decks. As an artist, he has also collaborated with numerous skateboard labels such as RVCA, Sheep, New Deal Skateboards, eswic and Emerica, among others.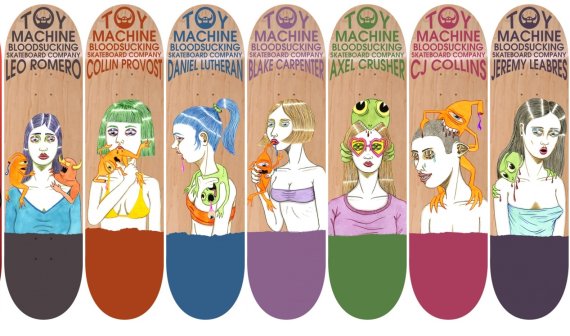 Pete Cabrinha is an all-round waterman who first enjoyed international success in windsurfing in the 1980s. The Hawaiian is also considered one of the pioneers of tow-in surfing, kitesurfing and foil boarding. After the end of his professional career, the versatile water sportsman founded his own company for kitesurfing products, Cabrinha, which is now one of the market leaders.
Parallel to his passion for board sports, Pete developed an interest in photography and painting. Over the past three decades, the now 59-year-old has experimented with various artistic techniques. In his current mixed-media artworks, he combines his skills as a photographer and graphic designer with eccentric painting techniques. Cabrinha draws inspiration for his artwork both from his many work-related travels and from encounters with and on Hawaiian waters.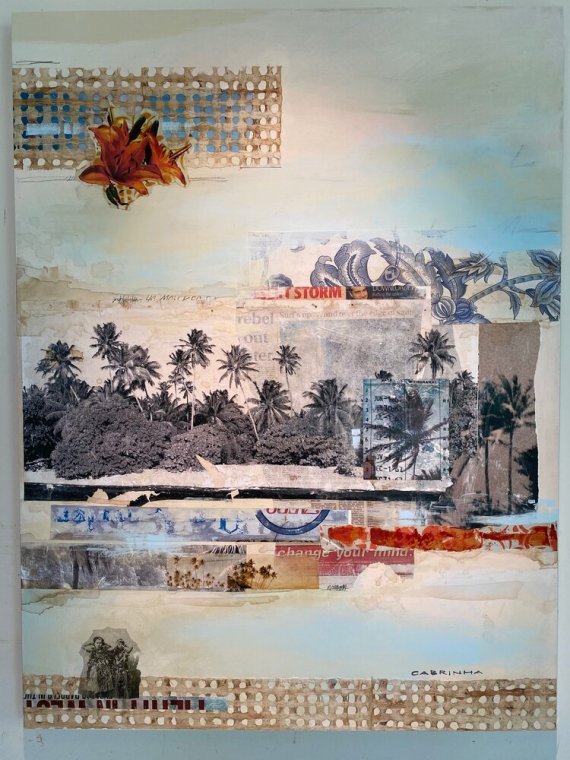 Jamie Lynn emerged on the snowboard scene in the early 1990s and became one of the leading players in the freestyle revolution of the time. His background as a skateboarder also enabled him to perform technical tricks on the snowboard that caused a sensation in the scene. His method airs, which he celebrated with his unmistakable style and which adorned the covers of various snowboard magazines of the era, are also legendary and will be remembered for a long time. His artistic side was revealed in the board designs of his sponsor Lib Tech.
In the partnership that has lasted for more than 20 years, Lynn designed a plethora of snowboard graphics for the American board company as an artist. Blue-skinned naked women, bizarre cats, undulating waves of snow and water - these are his trademarks that still characterize the look of Lib Tech Snowboards today.
Herbie Fletcher grew up surfing and skateboarding on Huntington Beach in the early 1960s. At the age of 16, Herbie left his parents' home and headed to Hawaii. Here he developed into one of the best and most influential surfers of the 60s and 70s. As a surfer and shaper, he founded his own company, Fletcher Surfboards, and later, together with his wife Dibi, the brand Astrodeck, which produced footpads for surfboards. Besides the surf business, his passion was filming. The successful surf film series "Wave Warriors" was his biggest success in this genre.
The 74-year-old has a long-standing friendship with New York artist Julian Schnabel, which has also led to joint projects such as the limited-edition "Blind Girl Surfclub" boards. As an artist, Herbie Fletcher now focuses on sculpture, photography and painting. An extensive exhibition of Fletcher's work was on view at Gagosian Gallery in New York in August 2019.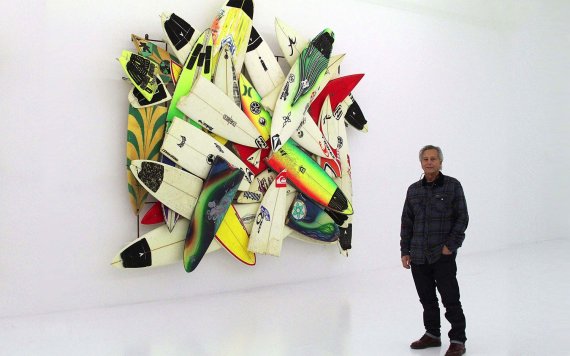 South Tyrolean Lukas Goller grew up skateboarding and snowboarding in Bolzano and traveled the world for many years as a professional snowboarder. He created numerous board designs for his then board sponsor Nitro Snowboards, including the pro model of Olympic champion Nicola Thost.
As a self-taught artist, he constantly developed his artistic style and, after the end of his active snowboarding career, devoted himself exclusively to creative work as a designer and illustrator. Today you can see his works on clothes, furniture, watches, snowboards and skateboards of brands like Adidas Eyewear, Burton, MINI, 55 DSL, Zimstern, Swatch, Gentic, Muckefuck and Bastard.