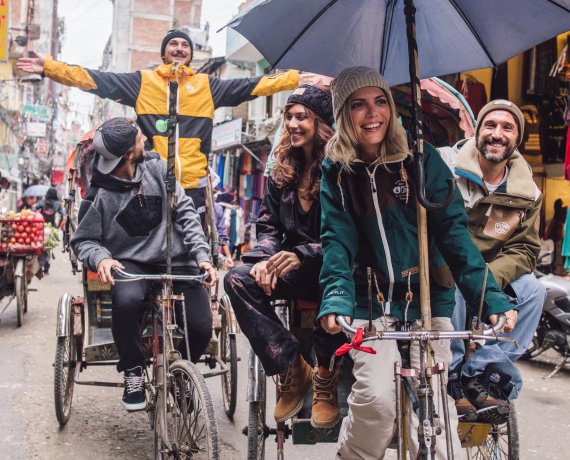 "Our company should be like Patagonia in terms of the company philosophy, and Burton for the way of mind", this is what Julien Durant, Co-Founder of Picture Organic Clothing, says about the starting point of the company ten years ago. Read here where this dedication led the brand and why reaching one million Euro was the wrong goal for him and his co-founders.
ISPO.com: 10 years Picture. What is the most vivid memory that pops up if you go down back memory lane?
Julien Durant: I wouldn't say there is one moment but the first day we reached one million Euro was very special. Because, we thought if the company reaches one million Euro we will be rich and we promised ourselves we tattoo the logo of the company on our body. But that wasn't the case at all, in fact, we were losing money. One million Euro was paying the rent for the ware house and gas for the car. There was too much investment. We got the tattoos anyway and just hoped that our company will be successful at some point so that we don't get reminded of something that died the next day.
How hard was it in the beginning to stick to your principles of sustainability colliding with the urge to make money?
Everything started with Jeremys vision, he is the mastermind. At the time we founded the company, he was building eco-friendly houses and we had the goal that our company should be like Patagonia in terms of the company philosophy, and Burton for the way of mind. 100 percent commitment to sustainability, an eco-friendly brand with all products made of recycled polyester and organic cotton.
We weren't sure how to do it but if it wouldn't go in that direction we won't start at all. Then, we started to research all possible suppliers, checked their certifications and made around 20 appointments. It was a challenge to find the right people, a lot of travelling and time spent but most of the partners we started with are still working with us. So, the work we put in in the beginning was very important to understand the industry and in the end, it payed of well.
Picture started its business during a period when snowboarding was in a kind of crisis. Can you describe the challenges to get Picture going in a difficult segment like snowboarding back then?
It was indeed a challenge in 2008, but rather than creating a snowboard or skateboard company we wanted to create a whole new segment: Action Outdoor. As I already mentioned, a cross between Patagonia and Burton, but with prizes like non-organic brands. So, we also developed a new economic model. Therefore, we had to work with a smaller margin which resulted in less money for marketing. We decided to have a very eye catching and different design – thanks to Jeremy – and then in the next step teach the consumer through our website and the retailers about our story of the Picture brand and why we believe in our products so much.
One of your core markets is winter sport, but with global warming and less snow every year, the winter sport industry relies heavy on artificial snow, more remote resorts etc. In the end, Picture is part of this industry, so how do you see the trend and your role as a company with sustainability as core principle?
I really think the outdoor industry tries to be more and more sustainable, especially compared to the other segments in the sports business. But of course, there is a lot more we can do. In our case, we are too small to have a real impact. The North Face, Patagonia or Burton for example are companies big enough to make a difference. What we can do, is to try to inspire everybody be living our philosophy and showing everybody that this way of doing business is possible.
Was there ever a point where the three of you had to reject a business offer or collaboration because your potential business partner didn't meet your standards?
It happened quiet often, especially factories from Bangladesh for example. They make really good quality products but we refused because there was not enough transparency in the value chain and with the subcontractors of the suppliers. Financially, it would have been a win but the possible loss of credibility was too much of a risk for us.
We decided to avoid certain countries where standards for employees are not met because for us the social or better humanitarian rules are as important as being eco-friendly and sustainable. Right now, the industry often sells dreams and behind the scenes it's a nightmare. So, we must educate the consumer, because they have the power to really change conditions with their choice in the store.
Where do you get your motivation and ideas from?
Let's put it that way: Jeremy is just different than us (laughs). His mind is wired different, he is so creative – and that's we he is with us. He gets his ideas from everything, building a house, being outdoors, every experience gives him ideas. We are only there to canalize him and his ideas, otherwise we probably would have ten different collections at once.
How much is crowd sourcing a part of your research for new products?
To be honest, this is a little bit more marketing than real life. If you are a real small company, maybe it's possible but normally the industrial part of your business is leading your activities. The main reason for actions like crowd sourcing is to strengthen the community and the relationship with the brand. There is nothing wrong about it, but in my opinion it is not helping a lot to get new products.
Having an idea for a new product is one thing, finding somebody who is producing it the way Picture wants it to, is another story. Can you lead the readers through the process finding the right producers for Picture?
First, you make sure which certifications are needed on the supplier side. In our case, we want Fair Wear Foundation, Fair Trade, Global Organic Textile Standard, Green Mark and Blue Sign. Then you cross check with the certification websites, connect with the companies, make appointments, create human relationships and then you connect the dots. It's more a question of time, that doesn't happen with one click and two e-mails. But it's worth it, we are very close with all our suppliers – with some we even go on vacation. And that is a big part of our success: human relationships.
Your company expanded a lot over the last couple of years. Aside from producing sustainably, one other big emphasis of yours is the carbon footprint. How big of a challenge is it to walk the line between expanding on a global scale and keeping it real in terms of the carbon footprint?
Let's start here: With our way of producing we cut the environmental impact in half compared to regular produced products. And even we, thanks to more money and therefore more possibilities, improved over the last ten years. In terms of shipping we always prefer container ships over train and airfreight, because it is always the smallest carbon footprint. Aside from transportation, the second big topic is packaging, because everything is basically waste and goes directly in the trash can.
So, all the plastic bags we use are bio degradable, but in the end, there is no perfect solution so far. Just an example: If you want to deliver a jacket to the US, you must protect it properly, because the product must arrive clean in the store. But there is one wrinkle, because customs must check the product and therefore the packaging must be transparent. So even if we wanted to use something like paper bags or anything else, we couldn't because of customs regulation.
Addendum: The video Shelter was published by Picture Organic Clothing together with Almo for the 2019/2020 season. The story is is also about snowboarding and keeping the CO2 footprint as low as possible. Here it can be seen in full length.
How crucial are awards like the ones you received from ISPO in the business and on the other hand in the outdoor community?
I think it is more important on the B2B-side, the consumer doesn't care a lot about awards. Maybe in Germany a little bit more, but in the US they do not. There, the story behind the company is way more important. But one thing is for sure, if you win an ISPO Award, it is a door opener in terms of interest by potential business partners. In the end that doesn't equal selling your product, because the industry is so marketing driven, but it is a good start. Through the ISPO Award you get the validation that your product is no bull shit.
Your recently released the first series of your neoprene free wetsuits. What will be the next big thing in the outdoor industry?
The big challenge for us as a brand is to get out of oil based products. Which, as far as I know, not a lot companies also try. If you really want to fight climate change, you must get rid of using fossil fuel. For the next ISPO MUNICH we are introducing our first partially bio based membrane, Pebax Renew, featured in the new Harvest outfit. Made from Castor Oil, this renewable technology is part of the process to end our oil dependency. The other big trend in the industry is to make the dying process cleaner.