One year after the business was founded, Picture Organic Clothing was incredibly successful at ISPO Munich 2009. This came as a great surprise to the young entrepreneurs and, at the same time, it really motivated them to stay on track.
Already back in 2017 the tiny start-up had become one of the most innovative outerwear brands out there and the company is still successful in 2022. 
Important information about Picture Organic Clothing: 
Four ISPO Awards and more prizes such as the ECOSPORT Award and the French Outdoor Award prove that technical innovation and sustainability are definitely not mutually exclusive. Back in 2017, ISPO.com interviewed the company's founder, Julien Durant, to try and discover the secret to his success.
ISPO.com: When the brand Picture Organic Clothing was founded in 2008, the topic of sustainability wasn't as popular as it is today. What was the team's motivation back then?
Julien Durant: We wanted to manufacture products that reflected our own identity. Jeremy already had experience of working on environmentally friendly building design in his family's architect's office, so he was our pioneer when it came to sustainability. We were united by a shared passion for the different board sports and we defined three unique selling points for our company: new design, a unique philosophy and a new kind of self-image.
Could you explain what you mean by that?
We wanted our design to be unique. Jeremy and his team hadn't worked in the area of fashion design, but their background as architects meant that they could implement our product design in a whole new way. From the beginning our philosophy was to manufacture all our products in the most environmentally friendly way possible and to use at least 50% recycled polyester and 50% organic cotton or other recycled materials. We see ourselves as an environmentally conscious actionwear and outdoor clothing brand that focuses on board sports.
Were there any brands that inspired you when you were starting with Picture Organic Clothing?
Patagonia was an inspiration from beginning, and it still is. But Patagonia as a brand appeals more to people my dad's age. We wanted to appeal to customers aged between 15 and 45 who appreciate our 100% sustainable approach. So we made sure that our designs would appeal to this target group.
We have the same values as Patagonia and our first winter collection was inspired by them.
Do you think that there was a lack of innovative and progressive textile brands back when you founded Picture Organic Clothing?
Definitely. All the brands seemed to be the same. They were all trying to stand out, but they were all doing it in the same way. I'm sure that one of the reasons for our success is that we're one of the pioneers in sustainably produced textiles for outdoor sports.
Were your products well received when you went to your first trade show in the US, as part of the SIA in 2012?
There was great interest in our sustainable company philosophy in the US, but our designs didn't match the expectations of the US market whatsoever. So it was a lot more difficult to persuade buyers to consider our products there than it was in Europe. But when sales started to go well, we managed to win over these skeptics.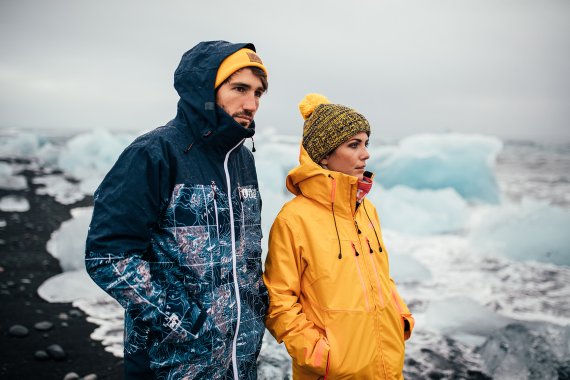 Is there a difference between the American and European markets when it comes to people's acceptance of sustainably produced textiles?
The regulations are much stricter in Europe than in the US, so European companies have to meet more stringent requirements. It seems to me that US companies put a lot more energy into perfecting their marketing than into a serious attempt to manufacture environmentally friendly products.
What is the Picture Innovation Camp and how does it work?
With every collection we want to provide our customers with the most environmentally friendly, sustainable and innovative products possible. So for two years we have been actively including our customers in the development process for new products. They come up with lots of great ideas, and this feedback inspires us in many different ways.
How does it work in practice?
Our customers can go to our website and fill out an application for the camp. Then we select between 15 and 20 people and invite them to the camp for two days. The camps are always held in a very relaxed environment. In 2015, for example, we went to Les Arcs. It's an opportunity for our customers to meet the whole Picture team and to brainstorm and share new ideas.
This year (2017) you launched your first wetsuit. What made you decide to do that?
Jeremy, Vincent and I are both: snowboarders and surfers. Part of our philosophy is to develop products that we would buy ourselves as customers, so it seemed obvious that we should develop a suit for surfing.
After two years of research and development we found a way to use our NaturalPrene technology to create a sustainable material that could be produced responsibly. It's a real alternative to conventional neoprene, which is difficult to recycle and extremely harmful to the environment during the production process.
The market for surfwear is very competitive and the prospects for new products in this area aren't exactly great. How do you plan to make it?
Well, we have a completely new approach: Thanks to the NaturalPrene material that we use, our wetsuits are made of 85% natural rubber, which is harvested from a plantation in Malaysia, and 15% synthetic, chlorine-free rubber. We have also incorporated features from triathlon suits into our wetsuits to improve paddle performance. This makes them unique.
I'm sure you have a few more innovations planned for 2017. What are you working on at the moment?
That's right. We entered our newest development, the Iceland ProKnit Jacket, in the ISPO Award 2017 competition. This jacket uses a new, patented technology. It's a functional knitted jacket that is created using a single length of material, with different thicknesses for different areas of the body.
Using this process means that the jacket has far fewer seams and is much more flexible than other functional jackets made of knitted fabric. And we didn't make any compromises when it came to comfort and breathability. We were inspired by Nike's innovative Flyknit shoe collection, which uses a similar production process.
Finally, let's take a look in our crystal ball: Where do you see Picture Organic Clothing in ten years' time?
Well, we'll still be focusing on sustainable technical innovations, of course. For example, we are working on a jacket that is put together like a puzzle, using individual pieces that can be combined without creating any waste or offcuts. This jacket might not have any direct added value for consumers, but by reducing waste it is very beneficial for our planet.
In addition, we set the goal back in 2013 of making 100% of our products from recycled materials by 2020. At the moment we've achieved 40%, so there's still a lot to do, but we are on the right track.