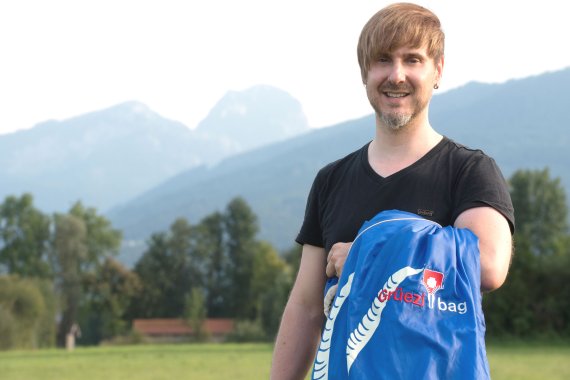 2014 was the year when Markus Wiesböck from Rosenheim began to develop a sleeping bag from sheep's wool under the label "Grüezi Bag". And this, even though down or synthetic fibre was usually the preferred material for sleeping bags. Wool was considered too heavy. But Wiesböck developed a solution to use the positive characteristics of wool, which acts like a natural air conditioner, for sleeping bags. He added corn starch and developed a light, washable sleeping bag in 2015: the Biopod Wool Zero.
Since then Grüezi Bag surprises with new models made of natural materials. The highlight so far has been the Biopod DownWool, which was awardedProduct of the Year 2019 at the ISPO Award.
But what is Wiesböck planning next? ISPO.com talked to the 48-year-old about this, among other things.
ISPO.com: Mr. Wiesböck, this summer you presented a compostable sleeping bag at OutDoor by ISPO. How dis the feedback from retail?
Markus Wiesböck: The retailers are thrilled because it hits the nerve of the times. We have to think about the future. I find it extremely important to think about where to put all the garbage we produce. Compostable materials are a solution. More and more are coming onto the market. I am convinced that composting and compostability will continue to increase.
You have only been on the market with Grüezi Bag for a few years. Are your sleeping bags generally well established - or are they still "exotic"?
We are becoming better and better known, and the specialist retail also knows us. We are now available throughout Germany. The expansion is also progressing well in the Benelux countries, Austria and Switzerland.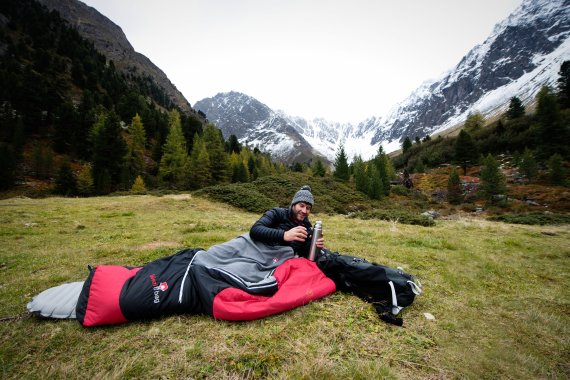 What are you doing to drive this process forward?
For me, product development is the most important thing. Anyone who buys a good product will pass it on. The sales people are also important to me, they are directly at the customer and can explain the advantages. Of course, we also need the press to become better known. It is the mouthpiece to the customers.
The development of a product including all tests requires a high effort, also financially. Are you in the black with Grüezi Bag?
To be honest, at the moment every Euro goes into development and stock building. You can't talk about winning yet. I'm all about making something happen. The profit thing will work eventually.
What do you think is the more important argument for Grüezi Bag among retailers and consumers: functionality, i.e. the pleasant sleeping climate, or the use of natural materials against the background of the major sustainability trend?
These are both important issues. But if you want to have fun travelling, trekking or camping, good sleep is essential. Only those who sleep well are fit for their next adventure in the morning. That's why we optimize our products for the best sleeping comfort.
Grüezi bag is a small company. How many people does your team consist of?
Yes, we are indeed very small. Including bookkeeping it consists of "three and a half" persons. We also have external sales representatives: all old hands who have been active for a long time. For marketing, we have a staff member who takes care of the retailers' needs. She prepares everything that is needed: from flyers, window decorations, blog texts, banners and hang tags to special customer requests.
You're a tinkerer developing your own sleeping bags. How did that happen, what's your background?
I did an apprenticeship in the sleeping bag department of a sports store and at some point started to work on my own. I have been working with sleeping bags for over 30 years now and have also developed for other brands. But the most important thing is direct customer contact. In my outdoor shop, which I opened shortly after my apprenticeship, I have always taken up many wishes and suggestions from my customers.
Which partners do you work with during development?
There are many, because I always do many projects at the same time. I am bursting with ideas, and everyone has to be tested to see if they can be implemented. Without trying and testing something new would never come into being
Where do you produce, or do you have production carried out?
Various materials come from Europe. But we do the sewing in China. Not because it is cheaper, but because the quality there is much better. We have already tried many European productions, but were disappointed. The reason is that we use very light, thin fabrics and that the Asians have specialized in them.
You already mentioned your outdoor shop. Are you personally still on site a lot?
I've handed it over to my staff now, and they're doing great. Grüezi Bag takes all my attention.
What visions or even concrete projects do you have for the next few years?
I'm in the process of developing several new fillings. New, skin-regenerating materials will also be used. I'm also doing some research on insulation jackets. And very important is the aspect of sustainability. I want to keep our ecological footprint in nature as low as possible.