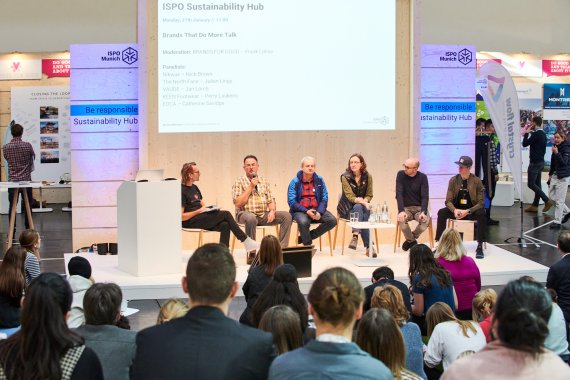 The outdoor brands Nikwax, VAUDE, KEEN Footwear and The North Face, which are already involved in EOCA, have joined forces to win the outdoor industry over to EOCA. How bundled brand power could bring more sustainability was the topic of a panel discussion at the Sustainability Hub at ISPO Munich:
Moderator Frank Lohse (Brands for goods),

Nick Brown (Managing Director Nikwax),

Jan Lorch (Head of Sustainability Vaude),

Catherine Savidge (Executive Director EOCA),

Perry Laukens (Sales & Business Development Director EMEA Keen Footwear)

Julian Lings (Sustainability Manager EMEA The North Face)



Sustainability has fully arrived in the industry. All brands are confronted with the issue - and rightly so. "What is important is concrete action - now! EOCA has already implemented many visible conservation projects. I am a big supporter of EOCA," says Nick Brown, Managing Director Nikwax.
Üore than three million euros has already been spent by EOCA on conservation projects around the world. In doing so, they are particularly committed to urgent global issues. Their current focus: plastic-free - from the mountains to the sea. According to EOCA, currently 300 million tons of of plastic are produced annually in the world, 8 million tons of which end up in the oceans every year. And: "The more members we have, the more we can do" says Catherine Savidge, Executive Director EOCA.
There was unanimous agreement in the discussion round: The industry should do even more sustainability work together. Nobody is perfect yet in terms of sustainable action, but the brands are ready for change and above all want to change! EOCA also brings companies together for active exchange. They can consolidate and spread sustainability information, insights and experiences. In this way, brands can benefit from each other - and the environment.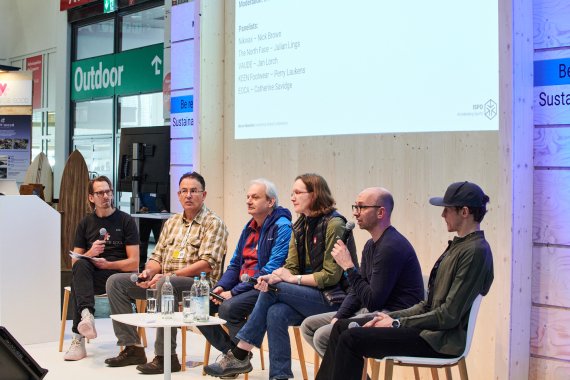 Here are two statements from Perry Laukens, Sales & Business Development Director EMEA Keen Footwear and Jan Lorch, Sustainability Manager Vaude.
Perry Laukens, Keen Sales & Business Development Director EMBA:
"There is no more business on a dead planet - for any of us. We'd better respond quickly. Between all the brands here, we're a mid-sized company. Like many other brands. Sustainability is highly relevant to all of them, but we don't have the budget on our own to push and explore all that is needed right now. If we join forces, we can do more. Much more. We can also consolidate knowledge. So we are faster in concrete action, we can protect nature sustainably faster and more efficiently. EOCA provides a platform for brands to exchange us and also to move forward together on conservation projects in a consolidated way."
Jan Lorch, Head of Sustainability at Vaude:
"Sustainability concerns us all. In the future, a successful, good brand should only be one that is also sustainable. After all, preserving nature is in our own best interest - and we outdoor brands ultimately thrive on the experience of nature. With EOCA, brands become part of an initiative that makes a concrete difference to nature conservation. 100% of the membership fees are donated to nature conservation. Members can promote projects in general through their membership or even claim projects for themselves and support them financially."
Read here how Norwegian brand Bergans wants to make the seasons a UNESCO World Heritage Site.