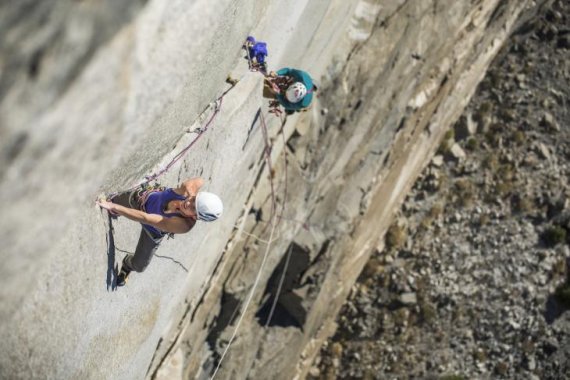 Alpine climbing, trad climbing, or big wall: Climbing has many faces. But what's hiding behind them? Climbers normally move from the halls onto the rock face: sports climbing in specially-built climbing parks is the next logical step.
Those  ambitious enough to climb peaks practice multi-pitch rock climbing. To give it a go and practice node techniques, it's worth trying out secured Plaisir climbing routes, where footholds and belays are installed. Pure alpine climbing demands additional safety in pre-drilled routes.
The real challenge, however, is trad climbing – traditional climbing where climbers secure themselves with their own mobile safety gear and camming devices. Big wall climbing, almost self-explanatory, is trad climbing on smaller routes: Rope teams climb high walls and secure their routes completely on their own. Projects can last several days – a night in the Portaledge on the wall then becomes the only option. 
ISPO.com asked five industry experts: Is high-alpine climbing being taken up by more people? 
Black Diamond: Stephan Hagenbusch, Vice-President of International Sales
Edelrid: Thomas Hodel, Brand Manager
Mammut: Andres Lietha, Head of Business Unit Hardware
Petzl Germany: Christoph Driever, Country Manager
Red Chili: Stefan Glowacz, co-founder
Black Diamond Equipment is a manufacturer of climbing, skiing, and mountain sports equipment headquartered in Utah. The company was founded in 1954, and also maintains global subsidiaries in Innsbruck, Austria and Zhuhai, China.
"It may be that alpine and/ or big wall climbing is getting increasingly more attention from the media – a real trend, which would be reflected in the sales figures of the corresponding product categories, is not visible though."
Edelrid is a German manufacturer of climbing and mountain sports equipment with headquarters in Isny im Allgäu, Germany. Founded in 1863, Edelrid has been part of the Vaude Group since 2006. The company has 160 employees.
The world's big walls will continue to be reserved for specialists and individualists. Despite that, this group is extremely important for us. After all, the trend towards halls only developed because of them. We gladly identify ourselves with the icons of the sport and try to emulate them. Only a tiny number of us would ever climb a big wall, though.
In the alpinism sector, a trend towards lightweight equipment can still be seen. Here, it's all about getting about as quickly as possible with as little equipment as possible, with speed also meaning safety in this case.
Our Canary Pro Dry with a diameter of 8.6 mm or our 19 g carabiner (the lightest carabiner in the world) are products that were specifically developed for such applications. Of course, these products also have their limits, and the market for them is rather negligible. Despite this, at Edelrid we work towards such developments because we want to completely cover alpinism. And our athletes appreciate that."
The Mammut Sports Group AG is a Swiss manufacturer of mountain and trekking equipment with headquarters in Seon, Switzerland. The company, which has 465 employees, was founded in 1862.
"The normal route is probably hall climbing or bouldering, sports climbing, alpine or trad climbing, alpinism. For Mammut, there is more potential in the hall and with bouldering."
Petzl is a manufacturer of climbing equipment, cave equipment, work tools, and headlamps headquartered in Crolles (near Grenoble), France. The company was founded in the 1970s by cave researcher Fernand Petzl, and employs 700 workers.
"As a brand strongly focused on alpinism, Petzl is best positioned here and has been one of the most innovative manufacturers for years. We are always searching for better products and solutions for these activities. In doing so, we stick to our motto: "Access the inaccessible." The products are becoming, as said, lighter on the one hand but also more multifunctional on the other."
Red Chili Climbing is a German company that produces climbing boots and climbing apparel. Stefan Glowacz is its co-founder. In 2017, Red Chili merged with Edelrid.
"Since fusing with Red Chili and Edelrid, we are observing and analyzing the market a lot more precisely and trying to figure out trends for our various product sections: climbing shoes, climbing fashion, ropes, climbing harnesses, and hardware. A few climbers at the top of the sport are continuing to change from sports climbing and bouldering to alpine and high-alpine climbing, resulting in highlights such as when Alex Honnold and Tommy Caldwell climbed the prestigious Fitzroy Traverse in Patagonia for the first time, through their unbelievable climbing ability alone.
The two of them climbed a majority of the rope lengths together. Speed and ease are important criteria with these activities. More and more difficult routes are also being climbed solo (where climbers secures themselves during the ascent).
These extreme forms are reserved for specialists and will definitely not become a mass trend. We already cover individual sectors such as multi-pitch, trad climbing, and big wall pretty well with our products. But, of course, we also develop necessary special equipment for areas reserved for specialists, because we need them ourselves."