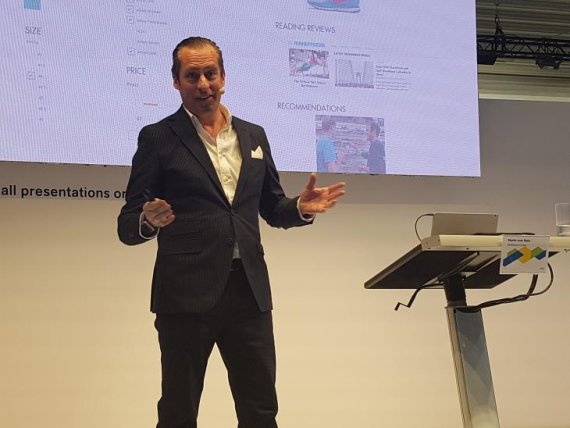 At the beginning of his talk, Martin vom Stein had his listeners in the DIGITIZE Arena at ISPO MUNICH 2018 jog in place and solve a complicated arithmetic problem at the same time. He wanted to make it clear that two competing hemispheres of the brain influence our decisions. This also applies to purchasing, of course, and vom Stein then came up with his idea of what role digitization can play in shaping the shopping of the future. The motto: "Digitized, but not digital."
Despite all of this digitization: Personal contact still remains the most important thing. "A smiling person at the register will beat the checkout at any online store," says vom Stein. Advice and consultation also remain the trump cards for in-store shopping.
Companies today need to be present on all (social media) channels to entice customers into the store. There, too, all available data on the consumer needs to be analyzed to be able to perfectly satisfy their buying needs. "If a customer has been in my store ten times and I still don't know them, I've done something wrong," vom Stein says.
The customer needs to have the opportunity to rate their shopping experience in the store: using different smileys on touchscreens, for example. With this digital tool, you can kill several birds with one stone: The customers feel like they're being taken seriously. At the same time, you get data you can use to improve your business.
It's incredibly important that you arouse the customer's curiosity – that's the only way to entice them into stores. The trigger can be the surprising name of a store (vom Stein named "Eye Candy" for an optometrist), as well as innovative products or digital tools like video walls. 
Socializing is key for in-store shopping as an advantage over e-commerce. "I want to know what the customer in front of me has in their shopping cart," says the expert from "The Shopsumer Institute."  The whole thing can then be continued on the digital channels, for example through special Facebook groups for people interested in running.