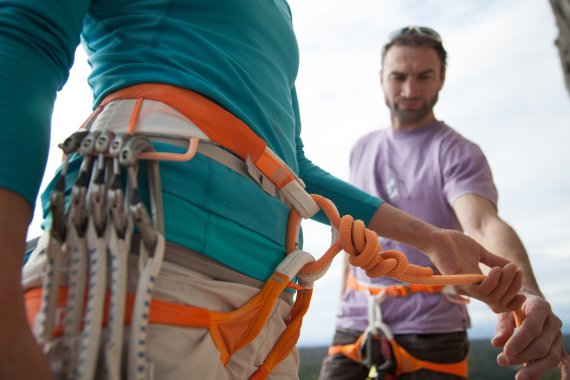 The urbanization of climbing sports is resulting in the development of new sports climbing areas. Many indoor climbers' transitions to the outdoors should thereby not be left to chance. Tutorials, instructions for use in catalogues and online shops, and a new generation of safety devices such as Grigri+, Smart 2, and OHM that can be intuitively operated, are only a few measures that manufacturers are adopting.
The halls are full, but sports climbing areas are also being visited more and more often. Many climbers are not aware that changing from plastic to natural rock also harbors risks. Outdoors, completely different challenges await the climber. If he can manage the fifth grade in the French system, a 5a on the rock face will represent an unsurpassable hurdle due to broader spacings and fragile rock. Making climbers away of safety and nature is becoming increasingly important for the industry. Five experts explain how they fulfill this task:
Black Diamond: Stephan Hagenbusch, Vice President of International Sales

Edelrid: Thomas Hodel, Brand Manager

Mammut: Andres Lietha, Head of Business Unit Hardware

Petzl Germany: Christoph Driever, Country Manager

Red Chili: Stefan Glowacz, co-founder
Black Diamond Equipment is a manufacturer of climbing, skiing, and mountain sports equipment headquartered in Utah. The company was founded in 1954, and also maintains global subsidiaries in Reinach, Switzerland and Zhuhai, China.
"A good product that's also specially oriented to the needs of beginners is definitely the bedrock. However, manufacturers of climbing safety equipment like Black Diamond must also be active in education, and must work closely together with hall operators, mountain guides, and sport associations.
It's especially important to make the beginners not only aware of relevant safety differences between indoor and rock climbing, but also to make them conscious of subjects like looking for parking places, behaving considerately in nature, dealing with residents, etc. Black Diamond has been investing in appropriate programs here for years – also in collaboration with climbing hall operators.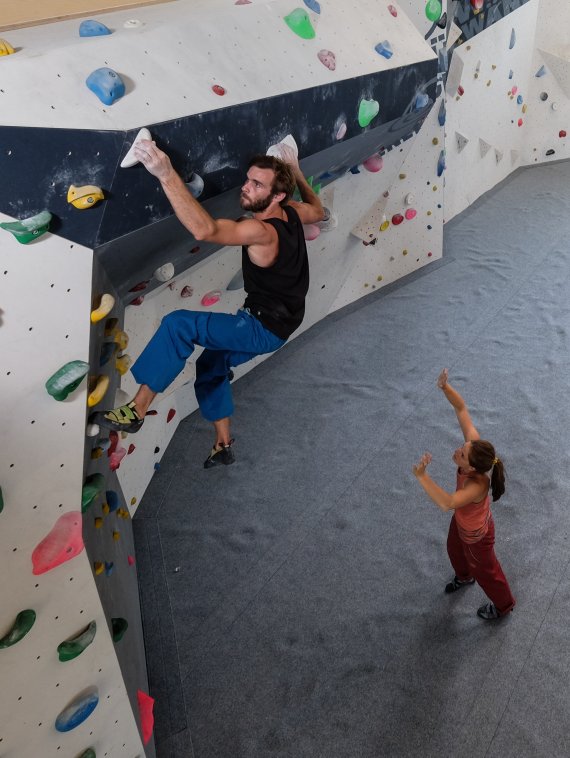 Edelrid is a German manufacturer of climbing and mountain sports equipment with headquarters in Isny im Allgäu, Germany. Founded in 1863, Edelrid has been part of the Vaude Group since 2006. The company has 160 employees.
"As one of the leading mountain sports brands, safety comes first for us. Today more than ever, it's important to develop products that cannot be misused. Simple and understandable handling becomes a must. Product design therefore plays a significant role here.
For a few years now, we have unfortunately had to identify an increasingly lack of risk awareness. This is mirrored in the accident statistics of the DAV (German Alp Association). As a manufacturer of PPE items, we aim to counteract this development through explanation, and with products that are as safe and intuitive to operate as possible. That's why, for example, we've been relying on the use of auto belay devices with our safety equipment for years."
The Mammut Sports Group AG is a Swiss manufacturer of mountain and trekking equipment with headquarters in Seon, Switzerland. The company, which has 465 employees, was founded in 1862.
"Climbing halls, in comparison to other outdoor sports, can produce a very high standard of safety and demonstrate correspondingly positive accident statistics. Furthermore, we are observing a strong move towards bouldering. Trivial injuries are relatively common here, but it's rare to observe serious injuries.
Mammut presented a new safety device for route climbers at the Outdoor 2017, the Smart 2.0 with the Smarter, which is specifically intended to help beginners avoid application errors. We're concentrating on the current trends in bouldering, but still playing to our existing strengths in rock climbing at the same time.
Petzl is a manufacturer of climbing equipment, cave equipment, work tools, and headlamps headquartered in Crolles (near Grenoble), France. The company was founded in the 1970s by cave researcher Fernand Petzl, and employs 700 workers.
"Both the associations and clubs, every climbing hall operator, but also of course the manufacturers must also make sure that beginner climbers are properly trained! The "newbies" often concentrate more on movement rather than safety – something that obviously needs to be appropriately focused on with this sport.
The Petzl company has traditionally committed itself to marketing not only products, but also solutions. Starting with the catalogue, which offers up to 30% of the application tips and assistance, to the website, to special retailer and customer training concepts (indoor/outdoor), we have set standards in guidance.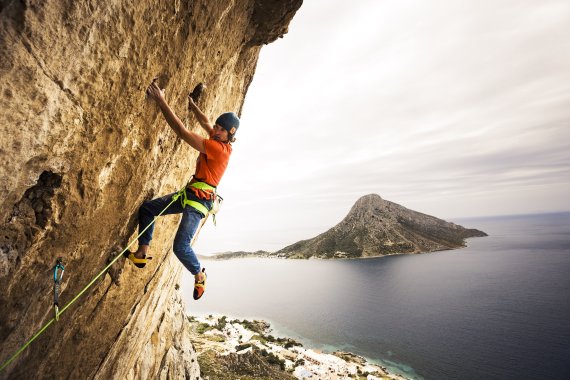 Red Chili Climbing is a German company that produces climbing boots and climbing apparel. Stefan Glowacz is its co-founder. In 2017, Red Chili merged with Edelrid.
"I'm certain of one thing: Climbing will evolve in a completely new direction in the coming years; it will break with tradition. People will come to the bouldering hall and get a fantastic full-body workout. And then maybe they'll go to the climbing hall because they've developed an interest in climbing – and maybe on to rock from there.
Experience is the deciding factor here. Going from a bouldering wall to a rock face is an enormous difference. We used to start directly on rock. But the gap is much, much wider nowadays. Independent climbing, maybe even in the mountains, requires you to work step by step – and also to observe particular safety aspects."