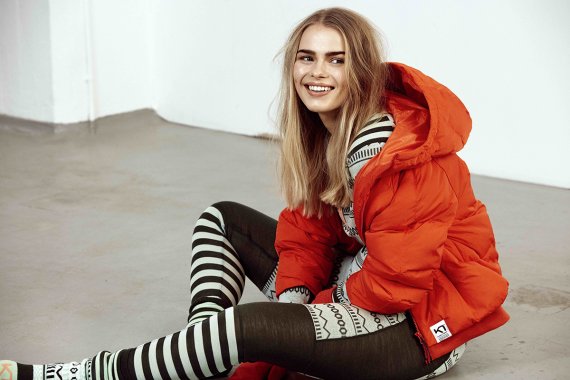 Women in fashionable, colorful functional tops are often seen in ski huts, yoga studios, running and all outdoor activities. Women want to live out their fashionable taste in sport and combine functional baselayers with a sense of fashion.
This new trend and the corresponding gap in the market were recognized above all by sporty women themselves and brands such as Kari Traa and Eivy, both Baselayer companies founded by women, are among the market leaders.
But companies like super.natural, which combine merino wool and polyester for everyday use and sports, are also well received by women. ISPO has taken a closer look at the growing market for stylish functional underwear.
The market for baselayer is huge: from fitness, running and yoga to all outdoor sports, women wear functional underwear - most recently, they prefer underwear that is fashionable and suitable for several sports as well as everyday life. The Norwegian freestyle skier Kari Traa has also set herself this goal. With her fashionable and functional baselayers, she has opened up a new market for women and is a pioneer in this sector.
Kari Traa's functional underwear is designed by women for women, combines fashion with functionality and hits the heart of their customers - in Scandinavia it is the leader in the baselayer segment and continues to grow every year. Kari Traa already has 17 different functional underwear lines, so there is something for every taste.
Anna Vister, the founder of Eivy Clothing, also recognized the trend and is targeting a younger audience that appreciates somewhat wilder designs and functionality. "We design for women for whom the whole world is their playground. They spend the winters in the snow and the summers in the waves. The Eivy customer is fashionable, independent and loves her freedom above all else. Since day one, we've focused on multifunctional apparel to maximize adventures while reducing luggage."
With this concept, Eivy managed to grow continuously without investors and still remain a family business. Despite the focus on snowboard functional underwear, the clothing can also be used for other sports such as mountain biking, because the trend towards fashionable layers has not yet arrived in the bikewear range.
super.natural has also understood women's desire for multifunctional, beautiful functional underwear and is implementing the trend in their clothing.
The focus is on baselayer for outdoor sports, a segment that still offers great potential - in terms of design, function and growth. Helena Purr, Marketing Manager for Germany, knows: "Nowadays, the demand for functional underwear should not only be high functionality, but also a cool look".
Before the new trend towards fashionable baselayers, functional underwear was only seen as pure sportswear and as underwear. Snowboarder and fashion designer Anna Vister wanted to expand this perception with the founding of Eivy.
With her young and very fashionable approach Anna was able to convince many customers and sets new trends again and again. The fashionable combination of everyday wear and sportswear is well received. The colorful tights and tops are among the most popular products along with the matching accessories. "We are constantly expanding and changing the concept of how functional baselayers can be,"  Anna Vister describes her view of modern functional underwear.
The sales figures and the success of the companies specializing in functional underwear for women show what sporty women want today: High functionality, fashionable design and a large selection - all developed by women for women. Because only women know what women really want and which clothes they feel comfortable in. They know the demands of their gender and can put themselves in the shoes of their customers.
Authenticity is in demand and appreciated. The designer, founder and former professional skier Kari Traa believes that the success of fashionable functional underwear is due to the fact that women and girls feel feminine in their underwear, even sweaty and without make-up after sports.
In addition to the multifunctional range of application, quality and functionality are the main criteria of female athletes. Merino wool has still been high on the market since its launch on the sports market - despite the higher purchase price. The antibacterial effect of the enzyme keratin, which is a natural component of merino wool, prevents unpleasant odors - even after heavy sweating or repeated wearing.
In addition, many women pay attention now to what they wear directly on their skin - and these are supposed to be natural products such as wool. That is why super.natural blends merino wool with polyester and thus fulfills all desired criteria.
"Nothing is closer to you than your first layer of clothing. The super.natural merino mix combines the natural elasticity of merino wool with the durability of polyester. This enables a unique dimensional stability and longevity of the products", describes Helena Purr.
The market in this area is constantly changing and the latest fashion trends flow into the latest functional clothing. At the same time, the innovative designers of the baselayer companies also influence the fashion consciousness of women and how they are perceived in sport: feminine and sporty at the same time.