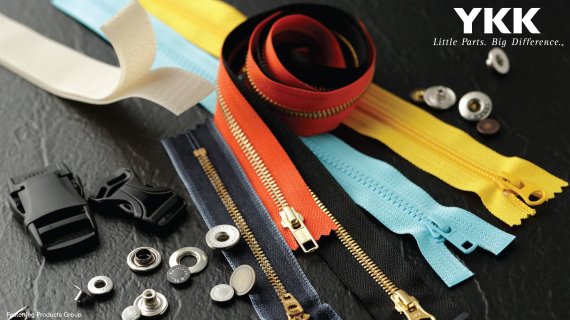 When the zipper was invented in the middle of the nineteenth century, no one could have guessed that this technique was only a beginning. Even more than 150 years later, the global Japanese company YKK continues to succeed in developing new, innovative fasteners that provide new functions for the sports and apparel industry. Founded in 1934 by Tadao Yoshida, YKK is today the world market leader for zippers and other closure systems thanks to its continuous investment in new products and technologies. We spoke to Michael Dittmer, Regional Director Eastern Europe & Russia, and Co-Director Apparel Fastening Material at YKK, about how YKK does it.
Mr. Dittmer, YKK is the most famous manufacturer of zippers in the world. Why are innovations still important in this market position?
Michael Dittmer: In many industries, YKK products are among the essential components of a product because they are robust and reliable on the one hand and innovative on the other. Things change quickly, and to keep up with trends, innovation is extremely important to us. We must be able to supply the market with innovative products. That is why our research and development centers are an integral part of our organization. Innovation is also reflected in the structure of our company. Our vertical integration allows the company to control our processes and helps all our divisions around the world to work with the same quality standards and production speed. This emphasis on quality extends to every phase of our production.
What role do your customers play in the creation of new ideas?
Innovation also arises from cooperation with brands, such as the innovation 'Fix a shape', which was developed together with the outdoor brand Eider. To the eye it looks like a simple zipper, but when closed it has a rigid S-shape that pulls the jacket collar away from the wearer's chin for increased comfort. We have also worked with many other outdoor brands such as Adidas, La Sportiva, Subtech, Sportalm etc. Another example is the 'QuickBurst' zipper, which has been further developed as a quick release fastener for sportswear. Athletes who need to get on the field quickly can pull the zipper sideways to open quickly.
How do you look for new input for product innovations?
We work closely with cooperating brands through our segment teams and guarantee a certain exclusivity in the distribution of these new products. This gives us time to develop them further. One example is 'Aquaseal', an innovative waterproof zipper developed for maritime workwear and later integrated into high quality skiwear and motorcycle jackets. The solution has now found its way back into water sports clothing and can be found in all kinds of garments - from fishing trousers to wetsuits. Many people are not even aware how groundbreaking this technology is.
To further raise our profile in innovation, YKK has also opened a showroom in Shoreditch, London, in 2015, where fashion designers can get technical advice and see how fastening machines work and interact with the rest of YKK's products.
Are there differences between the sports and fashion industries in terms of innovation?
Both industries drive us to create better products for our customers and their markets. We have worked very hard to maintain our relevance to different markets and this gives us the opportunity to transfer our experience and know-how from one industry to another. We can clearly see that both industries overlap with the need for sustainability, performance, customization, digitization and fast time to market.
Which innovations are you presenting at the moment?
For example, we are introducing a new Vislon zip fastener that closes by magnetic force between the left and right sides and was developed for sportswear to make it easier to change clothes quickly. It can also be used in other areas, such as children's clothing. We can also imagine a demand in the care industry.
And what developments are you currently working on?
We cannot say too much about new developments, but I can talk about a development called 'Vislon Aquaguard'. Here we are working on a further development of the easy-opening technology with flame-retardant properties, which we hope will be very useful in the sports and outdoor industry and in workwear.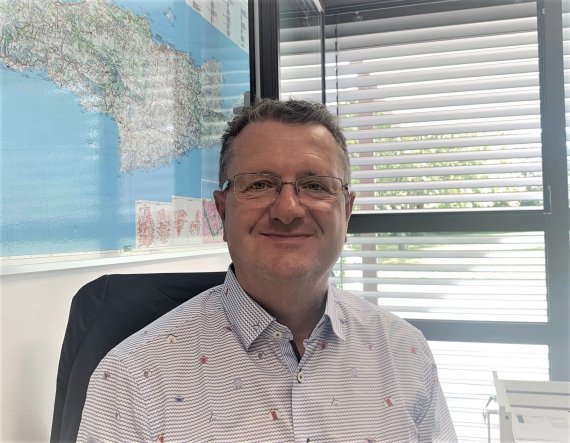 Sustainability is currently high on the agenda of the clothing industry. How do you react to this development?
Natulon, Organic Cotton and GreenRise vegetable-based zippers are already some of our representative sustainable products. Our Natulon Ocean Sourced zipper uses plastic waste from the sea, collected within 50 kilometres of the Sri Lankan coast. We received a lot of feedback for this at ISPO Munich and a positive market response. The new AcroPlating closures have also been improved in terms of sustainability. They undergo a process that produces a smooth, durable surface, but without the negative environmental impact of conventional electroplating. The process is used for our zippers as well as for push button and button products.
In the coming years, manufacturers will be legally obliged to ensure that their products are recyclable. What does this mean for YKK?
YKK is aware of the need for more recyclable business models and knows that brands or retailers are more committed to this. We are currently investigating how we can contribute to the implementation of circular fashion, and a non-material zipper is a possible step in the right direction. But I cannot say more yet.
YKKs founder, Tadao Yoshida, coined the expression "cycle of goodness". What does he mean by that?
Sustainability has been one of our values from the very beginning: We are still a private company supervised by second-generation owners, and the philanthropic aspect - expressed in the slogan "The Cycle of Goodness" - remains strong in CSR efforts around the world. Tadao Yoshida concluded that contributions to society are best achieved through the continuous creation of value through innovative ideas and inventions. He recognized that the resulting business expansion would bring prosperity to consumers and trading partners, and thus benefit society as a whole. He strongly believed that the fruits of these innovative ideas should not only serve individuals, but should be widely disseminated throughout society to maximize the benefits. In this way, it is possible to grow and at the same time contribute to the enrichment of all humanity. Tadao Yoshida called this the "cycle of goodness", and he made this idea his basic business philosophy. We maintain this concept as the ongoing business philosophy of YKK.
You are an important supplier to the clothing industry. How did you react to the pandemic?
An important part of our response to the pandemic was to become more active and present in the community. Not only did we manufacture components for PPE, but we also donated to local causes, for example in Italy, where YKK supported its local community by donating to the hospital near its factory and to smaller charities with which YKK has worked over the years. There was also mutual support in France and Spain. The "cycle of goodness" shows that companies survive through coexistence and mutual respect.
When it comes to looking to the future, YKK companies in the EMEA region agree that the expansion of virtual tools is essential and more investment is likely to be needed to ensure efficiency in the workplace and in our supply chain. There is also a search for more innovation and creativity to get out of this pandemic, to make production more agile and even more sustainable.