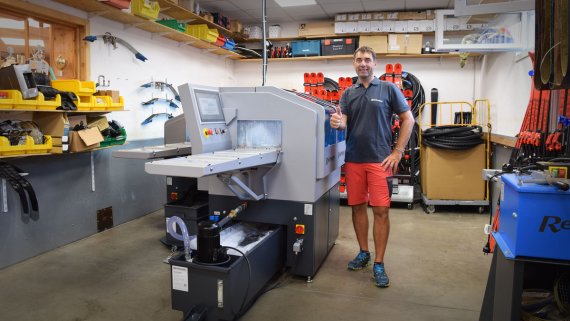 The technical innovativeness and economic performance of Swabian medium-sized engineering companies are world-famous and have been successfully proven many times. In line with this tradition, the mechanical engineering company Reichmann from Weissenhorn in Swabia, which specializes in ski service, has committed itself to providing solutions for tackling the current challenges. Like the entire world of business, the ski service landscape is also subject to pressure for change. As part of the winter sports industry, which is particularly devoted to nature, it goes without saying that sustainability is an essential core issue in all business activities. The responsible use of all resources is not only an imperative for environmental and climate protection, but also for economic efficiency.
In addition, the shortage of skilled workers represents a major challenge and requires solutions that enable the best results with efficient use of resources.
For an unforgettable, safe experience in the snow and top performance in winter sports, optimally maintained equipment is a basic prerequisite. The ski service industry fulfills a key function here under increasing economic pressure. Reichmann presents a highly efficient solution for the future with the compact Slope Master S automatic tuning machine.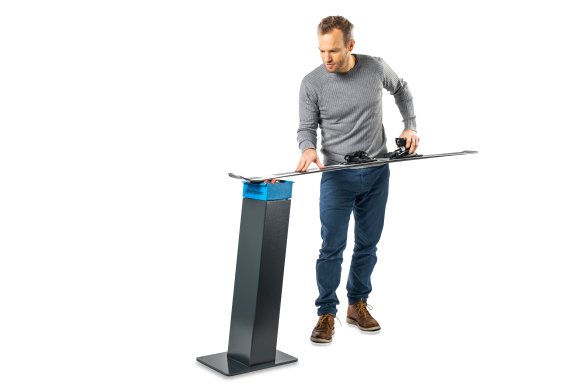 The Slope Master S is particularly attractive for small and medium-sized businesses that are currently on the threshold between manual and automated service. Thanks to its compact design, the Slope Master takes up little space and can therefore be accommodated in more confined workshops. This means that even smaller stores can benefit from the advantages of an automatic tuning machine and offer their customers fully automated surfacing and edging service.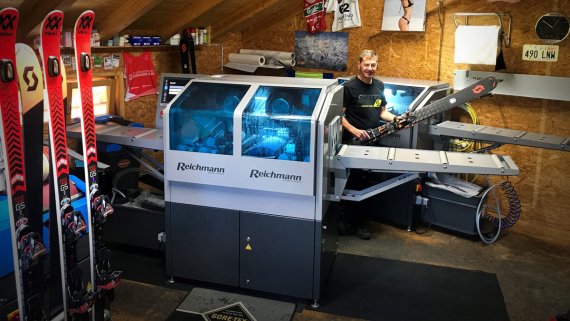 The Slope Master is suitable for alpine skis, cross-country skis and practically all snowboards. Since there is no length limitation, even jump skis can be processed.
The installation of the system is simple and the installation effort is therefore just as minimal as the maintenance in the further course.
The Slope Master is operated intuitively via the user interface of the touch panel, on which the work processes are visualized in a comprehensible way. In addition to using the pre-installed structure patterns, it is also easy to create your own structures. The extra-wide grinding stone can be dressed in three zones. The Slope Master  not only saves time, but also delivers the performance and quality of an automatic grinder with two stones.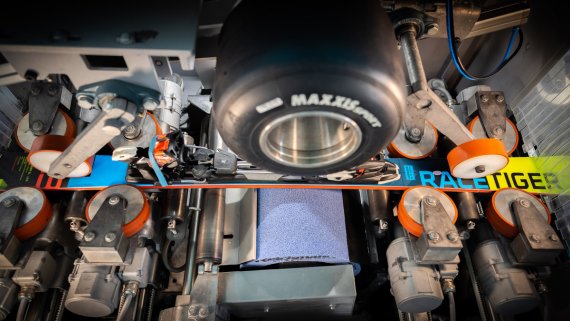 Compact design, simple operation, saving space, time and costs - with so much efficiency, it's easy to overlook the tongue-in-cheek customer testimonials that ski servicing with the Slopemaster Master is, above all, really fun.
Sustainability is not an empty phrase for Reichmann, but has always been actively implemented. Not only because district heating and solar energy have long been used in production. But above all because Reichmann brings robust, durable machines to the market. In mechanical engineering, sustainability means above all quality. Not only in design and production, but also in maintenance and service, where wear parts remain available for many years, annual inspections ensure reliability, and parts are only replaced when a defect is actually present or imminent.
GigaGlide Service 2.0 also ties in with this understanding of sustainability, which places valuable customer relationships above potential sales.
GigaGlide Service 2.0 is a water-based, environmentally friendly fast-acting lubricant made from biodegradable ingredients. "With GigaGlide, we are ahead of a market adjustment that is already taking place. Fluorine wax and kerosenes are problem substances left over snow in summer pastures, where they have no place," says Sales Director Federik Klingenbein.
GigaGlide completely replaces conventional wax and is suitable for all ski and snowboard surfaces. The effectiveness scientifically proven in several studies lasts up to seven days.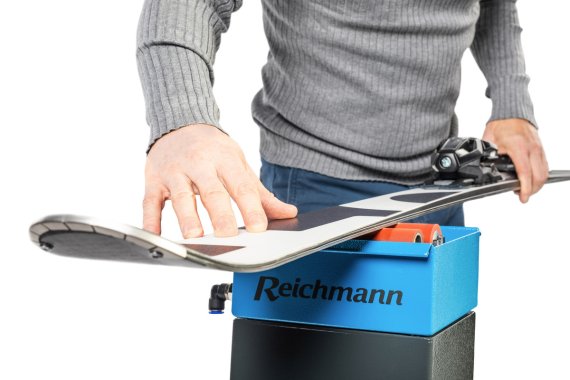 The highlight for the service industry: Using the special "GlideMaster" applicator (available as a tabletop unit or with a stand), the liquid GigaGlide Service 2.0 can be applied conveniently and very efficiently: two rollers arranged one behind the other optimize dosing, and excess GigaGlide can simply be reused. No energy is consumed and there are no fumes, no dust, no heat. So Gigaglide can also be easily used in sales or storage areas with clothing.
The safe, clean and environmentally friendly alternative to conventional wax is also available in different versions (as a spray or with an application sponge) as a practical bottle for the end user.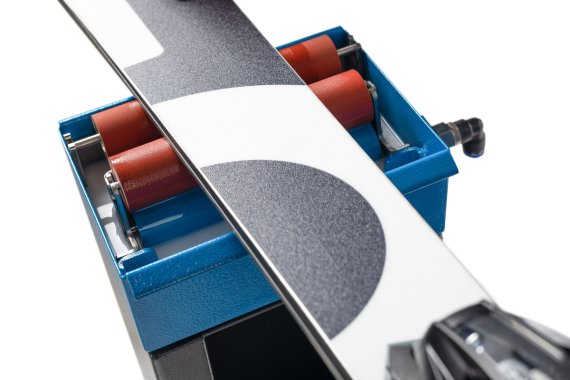 The patent-pending special formulation also works on pre-waxed coatings and is suitable for all temperature ranges. Brushing is not necessary. Thus, GigaGlide also focuses on saving resources, primarily manpower and time, and thus provides another building block for the sustainability of the service operation.
"At Reichmann, we attach great importance to placing intelligent solutions that work and meet the respective requirements. The ongoing further development of our products is a high priority that we live by every day," explains Frederik Klingenstein.
With the Slope Master S / SK service robot and the GigaGlide high-speed lubricant, including the Glide Master applicator, Reichmann provides efficient solutions for the ski service industry, enabling it to offer the best service quality with a future-proof investment."
"The Slopemaster is our smallest automated service machine. It is a highly efficient solution, especially for small and medium-sized businesses that are on the cusp of switching from manual to automated service. Especially against the background of the shortage of skilled workers, the simple and intuitive operation enables the best results. With its small space requirement, versatile range of applications from alpine and cross-country skis to snowboards and jumping skis, and low-cost maintenance, the Slopemaster is a worthwhile, future-proof investment. "

Frederik Klingenstein, Sales Director at Reichmann & Sohn GmbH
Compact design

Simple, intuitive operation

Fully automatic covering and edge processing

Minimal installation effort & easy maintenance

Saves money, time and space
environmentally friendly water-based

Biodegradable

Quick and easy order

Shelf life of seven days

Suitable for all temperatures, even extreme conditions!