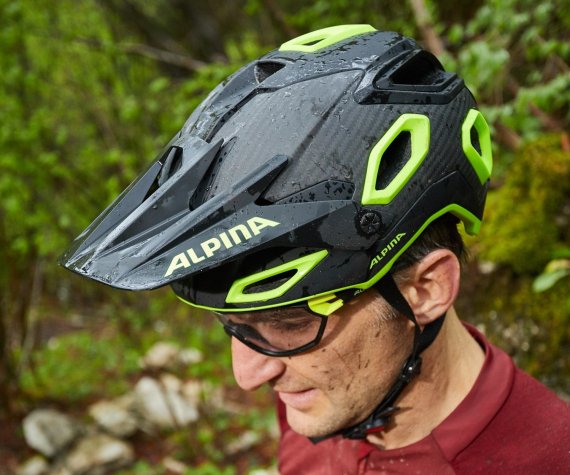 Anyone who ventures onto challenging trails needs the best possible protection. Especially in very rocky, blocky regions, such as at Lake Garda, there are hardly any soft fall zones, the risk of injury increases. With the new Alpina Rootage trail helmet, the modern enduro rider is not only optimally protected, but can also benefit from the very good breathability when uphill.
As in Formula 1, the biker is protected by the high-performance material carbon, which also has a positive effect on the weight. The edges of the helmet are finished with Edge Protect, an additional Ceramic shell, for added protection. Inserts made of polycarbonate stiffen the large ventilation openings, which together with internal channels provide the rider's head with the best possible supply of fresh air. Despite the hard outer shell, the Rootage wears very comfortably. The washable pads are made of COOLMAX™ material and nestle comfortably against the head. An optimal fit brings the Run System Ergo Flex with it. This ensures that the helmet fits evenly and fully on the head without generating pressure points. So it sits perfectly on rough trails and suppresses annoying wobble. Of course, it is also fully trendy, not least due to the goggle compatibility, because the visor can be folded upwards and the strap can be fixed at the back by a hook.
During our test at Lake Garda, we tried the helmet and were thrilled with the good fit and high breathability.
The Alpina Rootage is 100 percent enduro.
169.95 € RRP
But protection doesn't just refer to helmets or protectors. The eyes also need the best possible support.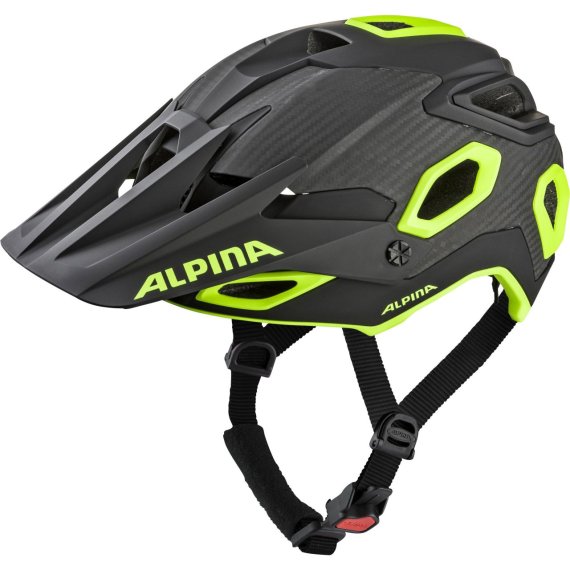 The demands on modern bike goggles are versatile. On the one hand, they must adapt perfectly to different head shapes, and on the other hand, they must adapt to changing light conditions at lightning speed. The quality of a pair of glasses is particularly evident in the change of light and shade. The Alpina S-Way VL+ has a large spherical panoramic lens and offers an enormous field of vision with maximum protection. With the high-end lens technology Varioflex, the Alpina S-Way VL+ becomes the outstanding sports glasses for any light and weather conditions. The lens optimally adapts the lens tint to the light conditions (photochromic), is bright when it is cloudy outside and dark when the sun is shining. It covers the protection ranges from category 1 to 3. The deformable temples adapt perfectly to any face shape.
The automatic tinting of the windshield works impressively and at lightning speed. Thus, the biker always has optimal visibility. The field of view is huge and the wearing comfort excellent.
A goggle not only for bikers, but for every sport and every face. 149,95 € RRP