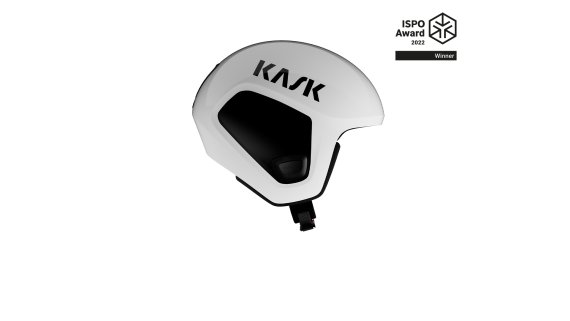 Omega is KASK's latest ski helmet and first racing helmet - made entirely in Italy. What started as a project to develop a world cup helmet for speed disciplines resulted in a helmet at the intersection of excellence and performance - which also convinced the ISPO Award jury. The Omega combines KASK's proven success in the world of cycling with input and analysis from world cup skiers. Wind tunnel testing confirmed the Omega is among the best in its class. And comes with a perfect fit and a tailor-made feel when wearing it.
From road cycling to triathlons, from horse riding to downhill skiing, this Italian company's products are well known to set the benchmark for the sports helmet sector. It is because they all follow the same approach: applying technological research to the individual specifics of the respective sporting discipline.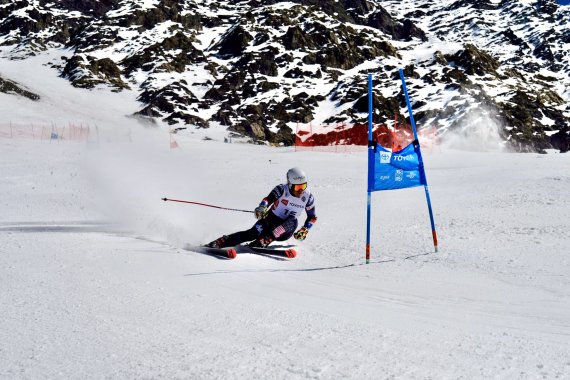 When KASK's technicians set about designing a new aerodynamic helmet for high-speed skiing, they drew on the experience developed in cycling. Particularly, the fact that helmets have to seamlessly integrate with the athlete's shape to come out on top in time trials are the same for cyclists and skiers alike. In order to cut through the air as aerodynamically as possible, the brand could take all their learnings from years of experience in cycling to the development of the KASK Omega. Years of laboratory tests at Scandinavian universities and hundreds of scans of the athletes' racing posture when at top speed then led to the development of a range of mathematical models. These models guided the process of honing in on the perfect helmet shape, still with the big goal of minimizing aerodynamic drag as much as possible: it's from this research and development process that the new Omega, a helmet aerodynamically outperforming all other racing helmets in its class, was created.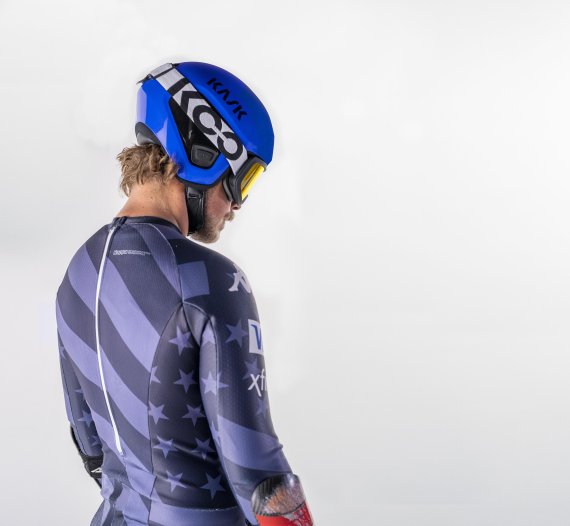 So minimizing drag was key to developing the Omega. But there is more to this alpine racing helmet. It also includes an integrated ski goggle hook, a synthetic leather chin strap and is FIS-certified.
Also, the KASK Omega family consists of different members. The helmet comes in a carbon black version designed especially for elite athletes. This Omega carbon version takes advantage of carbon fiber's extraordinary properties to result in an ultra-lightweight helmet, weighing 600 g only in a Size M.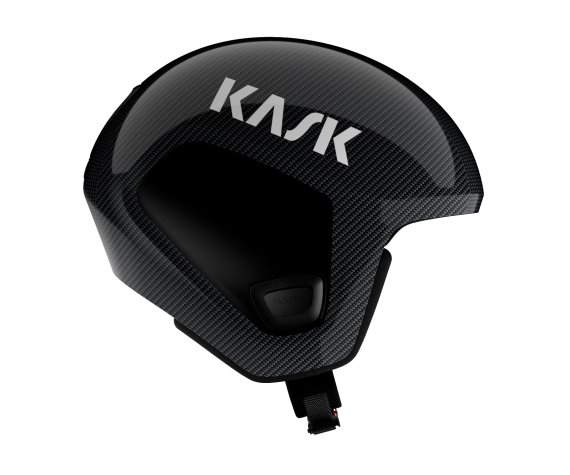 The Omega family further includes three thermoplastic color variants: White, Yellow Fluo and Blue, all offering the same aerodynamic and safety features, but with a small difference in weight (the size M weighs 660 grams). Thanks to highly advanced software, insights from CFD simulation but also professional ski racers testing the product in the wind tunnel, KASK was able to optimize the Omega to maximize marginal gains.
In summary, Omega features both improved aerodynamics and less weight to gain these milliseconds that could decide over a podium finish in alpine ski racing and won KASK an ISPO Award 2022. The Omega family of products will be available to buy from winter 2022/23 in five different sizes, with a recommended retail price of € 800.00 for the carbon version and € 350.00 for the thermoplastic version.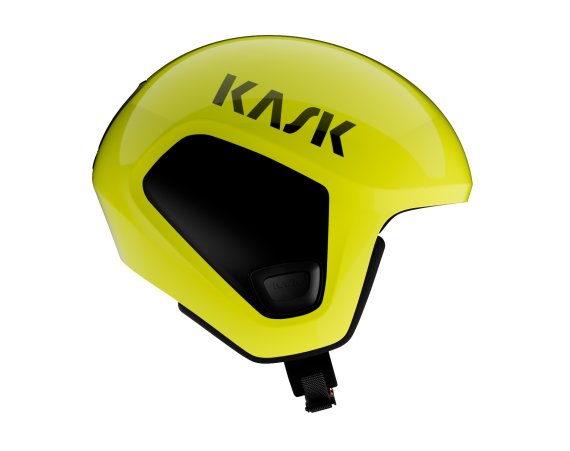 "This helmet has all the performance embedded a sportsman can ask for. Every detail has been taken very seriously by KASK: lightness, wearability, comfort and safety. In addition, style and appearance make this helmet aggressive and compelling.. ready to race!" ISPO Award Jury
Lightweight yet safe

Perfect fit and tailor made feel for a race helmet

Optimized shape for minimizing aerodynamic drag

Aerodynamic thanks to sophisticated testing wind tunnel testing

Complies with all FIS World Cup safety certifications
Product informations:
Two versions: one in carbon fibre and one in thermoplastic

Integrated ski google hook & synthetic leather chin strap

Weight: Omega Carbon: 600 g (Size M) - Omega: 660 g (Size M)

Sizes: XS - S - M - L – XL

Omega Carbon: carbon black - Omega: white, yellow

fluo

, blue

RRP: Omega Carbon: €800  - Omega: €350

Available: October 2022