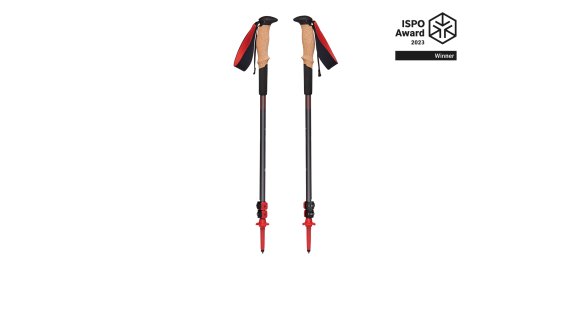 The big idea of the Black Diamond Pursuit Trekking Pole was to integrate as many eco-friendly materials and innovative designs as possible. In these poles, Black Diamond replaced traditional petrochemical EVA with BLOOM algae based resin. It is also the first time BLOOM algae foam is used in an outdoor hardgoods product outside of footwear. The pole shaft is 7075 aluminum, making it a long-lasting and sturdy pole. Aluminum can also be infinitely recycled into other consumer goods at the end of life. The grip of the pole consists of 100 per cent natural cork, which comes with heaps of performance characteristics provided by nature: it is naturally lightweight, dirt-repellent, provides good moisture management and is odor resistant and anti-allergenic, too. And, of course, as natural material, it is biodegradable and compostable. Recycled nylon fibers were used for the wrist straps.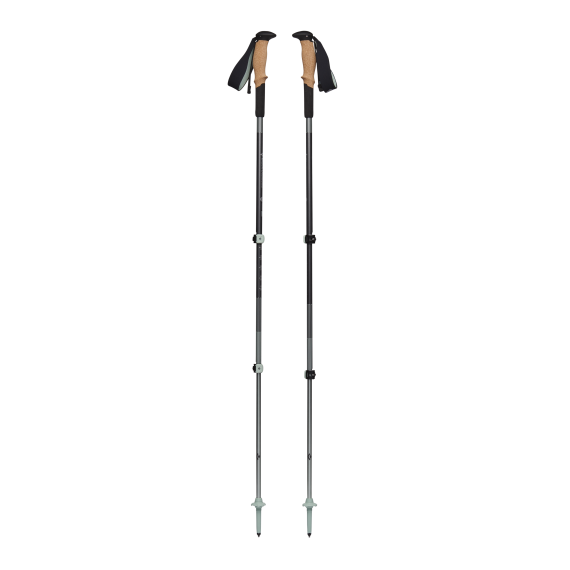 Ergonomics and comfort are the two main design points of the Pursuit Shock Trekking Pole. Handling as well as the touch and feel of each surface has been thought about from a user perspective. All contact points use a soft or natural material against the skin. Adjustment of the pole is easy and intuitive. »With our soft touch Flicklocks, improved grip and grip-top ergonomics, new baskets, upgraded straps, and sophisticated application of colors and finishes, the Pursuit Series stands apart«, says Paul Leonard, Mountain Business Unit Director at Black Diamond.
A sleek design also lets integrated tools for adjustment and emergency stay hidden until they are needed. A 1.5 mm hex bit tool is built into the shaft for in-field maintenance and it is replaceable with any standard hex bit. Further, the poles have been designed with thru-hikers and longer hikes in mind. »We focused on a redesigned shock mechanism built into the top of the pole, which allows for better grip ergonomics and stealth, a mechanism that has a softer, more effective movement designed to reduce fatigue and provide consistent cushioning, comfort and support over any type of terrain and distance.«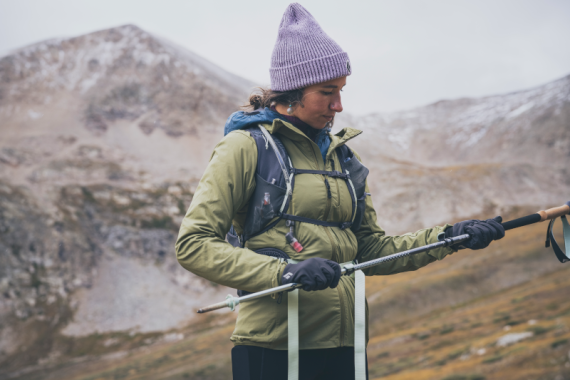 The grip has also been optimized for both small and large hands and a wider variety of users' needs. The Pursuit Shock Trekking Pole grips were designed by a team of men and women. Both weighted in on features size and comfort, so the size and length of the poles have been tailored with both genders in mind. As opposed to creating female-specific trekking poles the brand opted to make these poles in two specific sizes. As some women have larger hands than some men and would also appreciate a longer version of the pole, the Pursuit Shock Trekking Pole comes in sizes S/M and M/L for anyone to choose the best fit and color for them. »We've moved away from gendered models; instead, offering s/m and m/l models that have optimized grip sizes and lengths to better fit users of all sizes«, explains Paul Leonard. The poles are available in foam green and octane, two colorways that will appeal to men and women.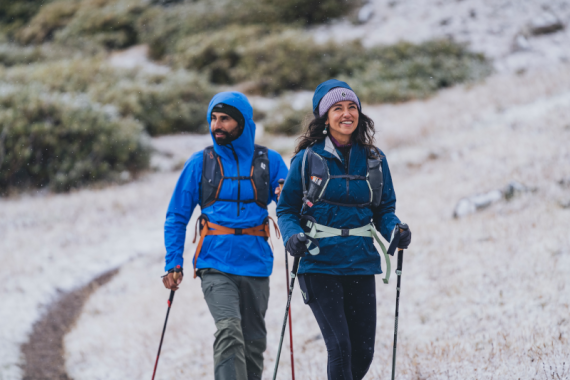 "With our new Pursuit Poles, we aimed to create a more premium experience for regular day hikers and backpackers of all ages with fresh, technical aesthetics, and upgraded components. Our goal with this approach is to carve out a space for a trekking pole for hikers and backpackers that is seen as a technical piece of gear that attracts a younger and more diverse group of users, with a signature aesthetic that pushing the idea of hiking and comfort forward into the future."
Paul Leonard, Black Diamond Mountain Business Unit Director
"Two USPs were apparent with these poles: First, their innovative use of eco-friendly materials such as cork and algae blended resin alongside recycled and recyclable materials. Second, their user-centered design includes optimized shock absorption and two different grip sizes for more comfort and less fatigue."
ISPO Award Jury
Using BLOOM algae based EVA, cork grips, and recycled materials

Integrated tool adjustment and storage

Innovative shock design incorporated into the grip

Optimized small & large grip sizes for a comfortable fit

Ergonomic adjustment using soft-touch material
Product Specs:
Colors: Foam Green, Octane
Length: 100-125 cm with S/M grip size, 100-140 cm with M/L grip size
RRP: 180 €