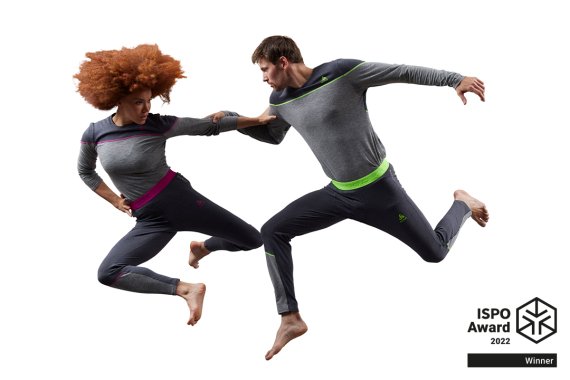 An ISPO Award 2022 thanks to sustainability and innovation: The new Revelstoke PW 150 functional underwear by ODLO convinced the jury of the ISPO Award with functionality, wearing comfort and robustness. The core of the new ODLO Base Layer is the natural "Performance Wool" blend, which ODLO developed together with the New Zealand manufacturer Nuyarn.
ODLO's Performance Wool powered by Nuyarn consists of high-quality merino wool blended with technical fibers. Performance Wool products are designed to outperform pure wool in function, comfort and durability. They last up to nine times longer than traditional merino wool and require fewer resources to manufacture. Two important criteria for a positive sustainability rating.
The highlight of the Nuyarn material is its patented production method. Nuyarn produces yarns for which wool fibers are spun along a core of high-performance filaments. In this two-ply technique, the yarn is first spun in one direction ("S"), then spun neutral to parallel, and finally spun again in the opposite direction ("Z"). As a result, the wool fiber is not twisted in itself, and a structure is created that enhances its natural properties - unlike traditional ring and rotor spinning processes, where the original potential of the fibers is compromised by twisting: There, the natural air pockets are compressed, loops are formed, and the natural movements of the fibers are restricted - these traditional spinning processes create a rope-like structure that can itch on the skin. Nuyarn, on the other hand, does not twist the fibers, thereby preserving wool's natural abilities, such as heat retention, moisture transport and comfort. It is soft on the skin and retains its shape even after several washes.
ODLO has used this Nuyarn to develop precision underwear specifically for tough, high-intensity use. The Revelstoke PW 150 Base Layer is designed for performance-oriented winter athletes who practice intense sweat-inducing activities such as skiing, snowboarding, touring, cross-country skiing or running.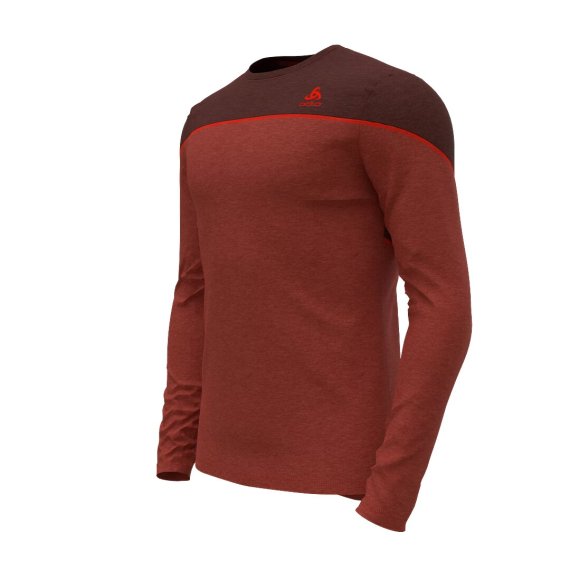 Compared to normal merino wool, the Performance Wool fabric has several advantages: It dries five times faster, offers 35 percent more elasticity and has 50 percent greater tear resistance, making the underwear more durable. It is also more robust against abrasion and pilling. Thanks to the Nuyarn manufacturing process, the wool's natural air pockets are retained, which increases heat retention and thus insulation by 35 percent. At the same time, they also provide breathability and help wick moisture away from the body. The unique structure also acts as a protective barrier against air currents and improves wind insulation by more than 50 percent. The yarn structure also allows more stitches to be placed in the seams during production, which increases seam strength by 120 percent.
Antibacterial

Breathable

Good moisture management

Thermoregulating

Odor-inhibiting

Soft

Robust

Sustainable
These properties helped the ODLO Revelstoke PW150 win an ISPO Award 2022, because the jury was particularly convinced by the product's sustainability as a result of its high durability, functionality and innovative strength. The functional underwear also scored points in terms of manufacturing quality and material selection. The jurors* also praised the fact that the Base Layer is very well suited for use in endurance-oriented winter sports.
The ODLO Revelstoke PW150 Base Layer will be available in stores from September 2022 at a retail price of EUR 110.
"Wool is a fantastic natural fiber with many positive properties. But it has always been difficult to use it for garments that are suitable for high-intensity, sweat-inducing performance. In Nuyarn, we have found a partner whose unique spinning technology allows us to create a high-performance blend. It combines all the functional properties of merino wool with the added functional properties of another fiber - to ultimately deliver the best of both worlds."
Dan Pattison, Senior Product Manager, Sports Underwear, ODLO
"Wool has many advantages, but also disadvantages - especially in sweaty sports. Here Odlo uses the new merino technology Nuyarn, which eliminates some of these disadvantages due to a novel spinning process: the Revelstoke PW 150 has less weight, it is warmer, more robust, more elastic and it dries faster."
Regina Henkel, Jury ISPO Award