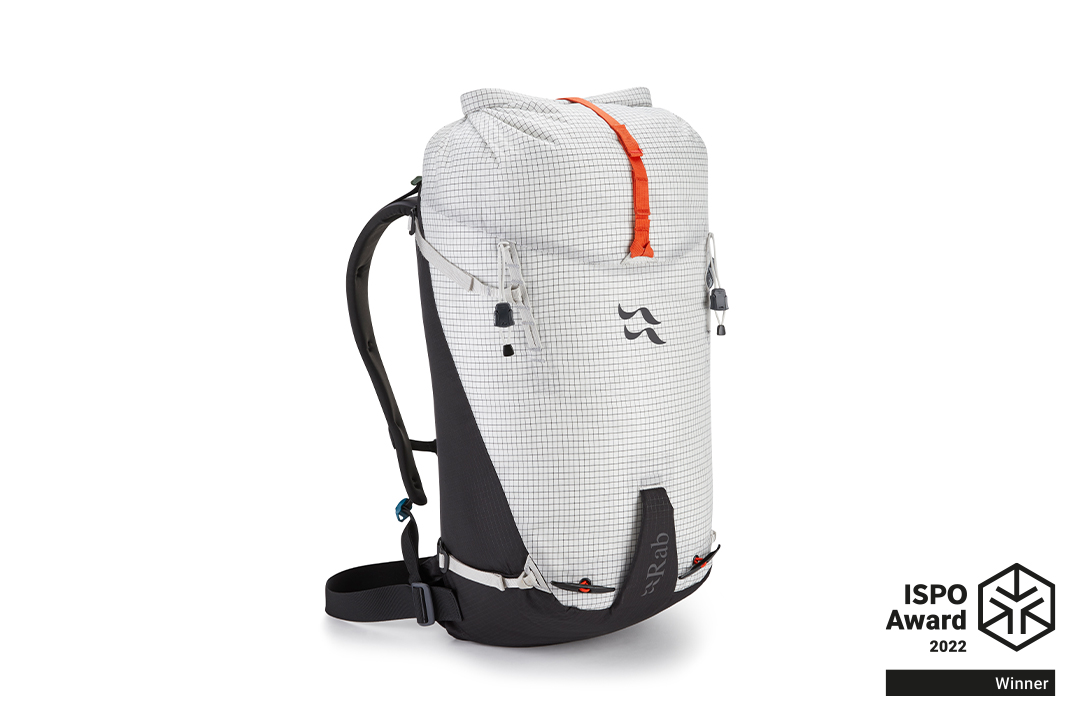 Minimalist design, thoughtful details and durable materials: with these plus points, the Rab Latok 38 has secured an ISPO Award 2022. The robust and lightweight climbing backpack is designed for alpinists, mountaineers and ice climbers who pay attention to every gram during their expeditions and mountain adventures, but who also need to have full confidence in the durability of their backpack. The jury gave the Rab Latok 38 the coveted award because it is versatile and brings plenty of functionality despite its light weight.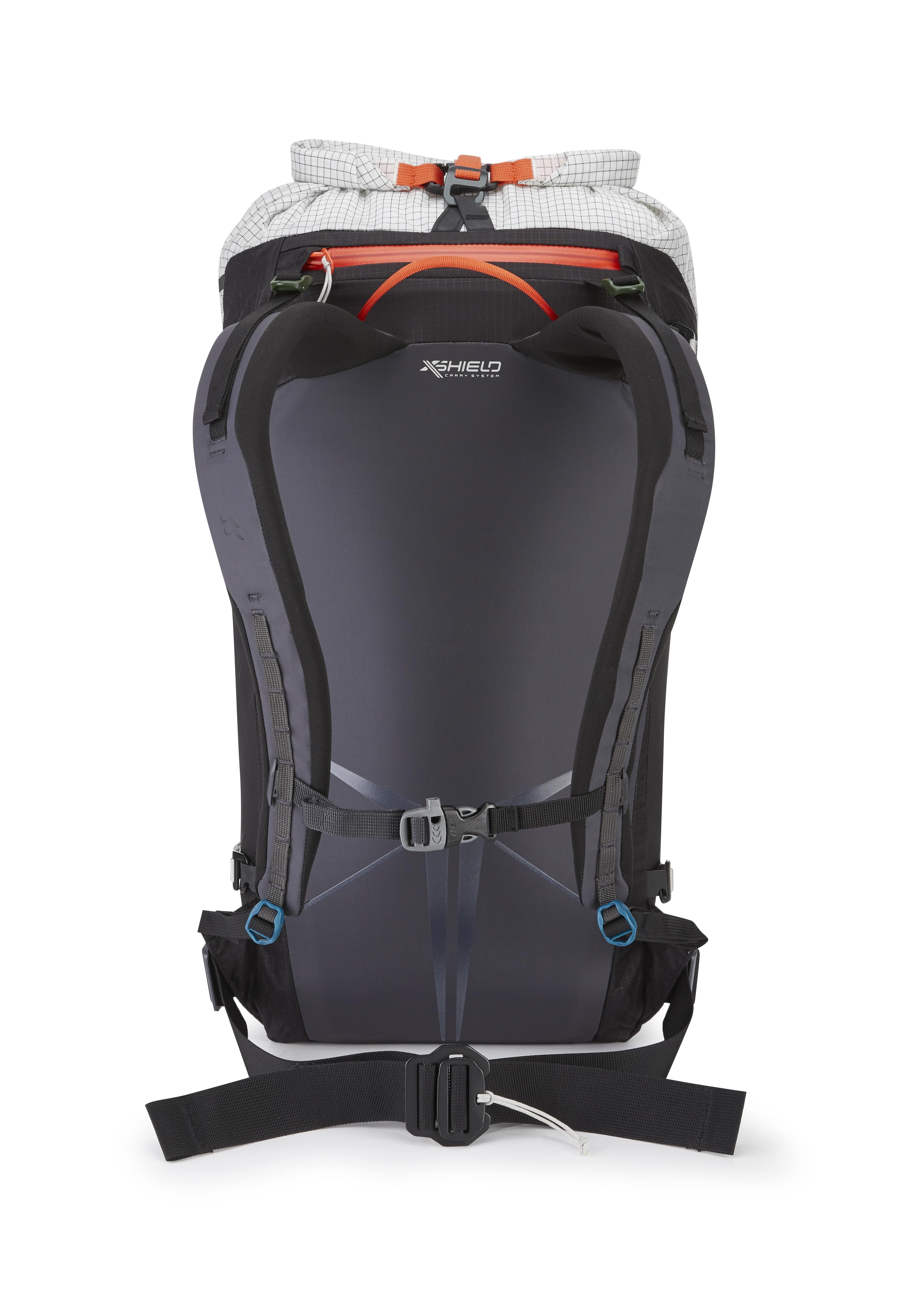 The new backpack from British mountaineering equipment manufacturer Rab first impressed the jury with its tear- and abrasion-resistant outer material. It combines a 210D Cordura nylon fabric with Spectra® Ripstop and a water-repellent Hydroshield coating. Woven into the durable Cordura are Spectra® fibers, which the manufacturer claims are 15 times stronger than steel. These man-made fibers are also valued for their light weight and abrasion resistance. They strengthen the fabric, thereby increasing its protective function and durability. Spectra® is manufactured using a complex gel-spinning process that produces particularly strong fibers. They can be used on their own or - as in the Rab Latok 38 - incorporated into a fabric. This combination of materials provides protection from sharp rocks, ice tools or the steel edges of skis in high-alpine environments. This prevents damage to the backpack and the equipment carried in it. Additional protection against moisture is provided by the water-repellent coating, half of which is Hydroshield Dura and half recycled 420 PW Hydroshield.
The low-profile Latok 38 weighs just 754 grams, measures 60 x 33 x 22 centimeters and holds 38 liters, but will also be available in a 28-liter version. It features a lightweight, close-fitting and comfortable X-ShieldTM carrying system with a removable foam back panel. The nylon outer back panel material is snow resistant. The pack closes easily with a roll-top system and has multiple straps on the sides and top for attaching skis, a climbing rope or up to two ice axes. If these straps are not needed on a trip, they can be removed to save further weight.
On the top of the backpack, a weatherproof zipper gives you access to a security compartment where you can store your smartphone, wallet, keys or other essentials. Another security compartment can be found in the inner compartment of the backpack.
"The N210D Cordura fabric with the Spectra ripstop combined with a minimal but effective feature set has allowed us to create an incredibly tough, highly functional and weather resistant pack that carries well and is still really light, especially when you strip it right back. Visually as well I love these packs, the patterning and 2 tone aesthetic create a strong, confident aesthetic that really stands out."
"A roll-top entry rucksack where simplicity is the key factor for ensuring high performance while maintaining the weight as low as possible. The accessories are strippable to have on the backpack only what you need, nothing more. Built with ultra-tough, lightweight Cordura. The backpack is cool, is durable and it is a platform to be adapted to your projects."
Andrea Adriani, Jury Member and ISPO Collaborators Club Member
Lightweight and durable

210D Cordura fabric with Spectra® Ripstop and water-repellent Hydroshield coating

Two removable ice axe straps

Removable strap for attaching climbing rope to the top of the pack

Lightweight compression straps with durable metal hooks that can be used as A-frame ski straps

Snow resistant back panel with removable foam panel
Due to the robust and lightweight material, the Rab Latok 38 scored points with the jury of the ISPO Award in the categories of material selection, manufacturing quality and weight. The jury also liked the reduced design. This and the high functionality finally earned the Rab Latok 38 the ISPO Award 2022.
The Rab Latok 38 will be available in stores from September/October 2022 at a price of 200 EUR.
"Alpine packs pose a very unique challenge in terms of design. They probably have to withstand the most abuse out of any pack yet they need to be as light as possible. Functionally, they have to be able to carry a significant amount of kit, inside and out, whistle still being as minimal and stripped back as possible. They also need to be simple, straightforward and highly weather resistant considering some of the extreme environments they can be in. Combining all these factors into a single pack that also then visually stands out of the crowd is no easy task. This is why I'm really excited about the new Latok 38."
Dan Jenkin, Senior Pack Designer Rab