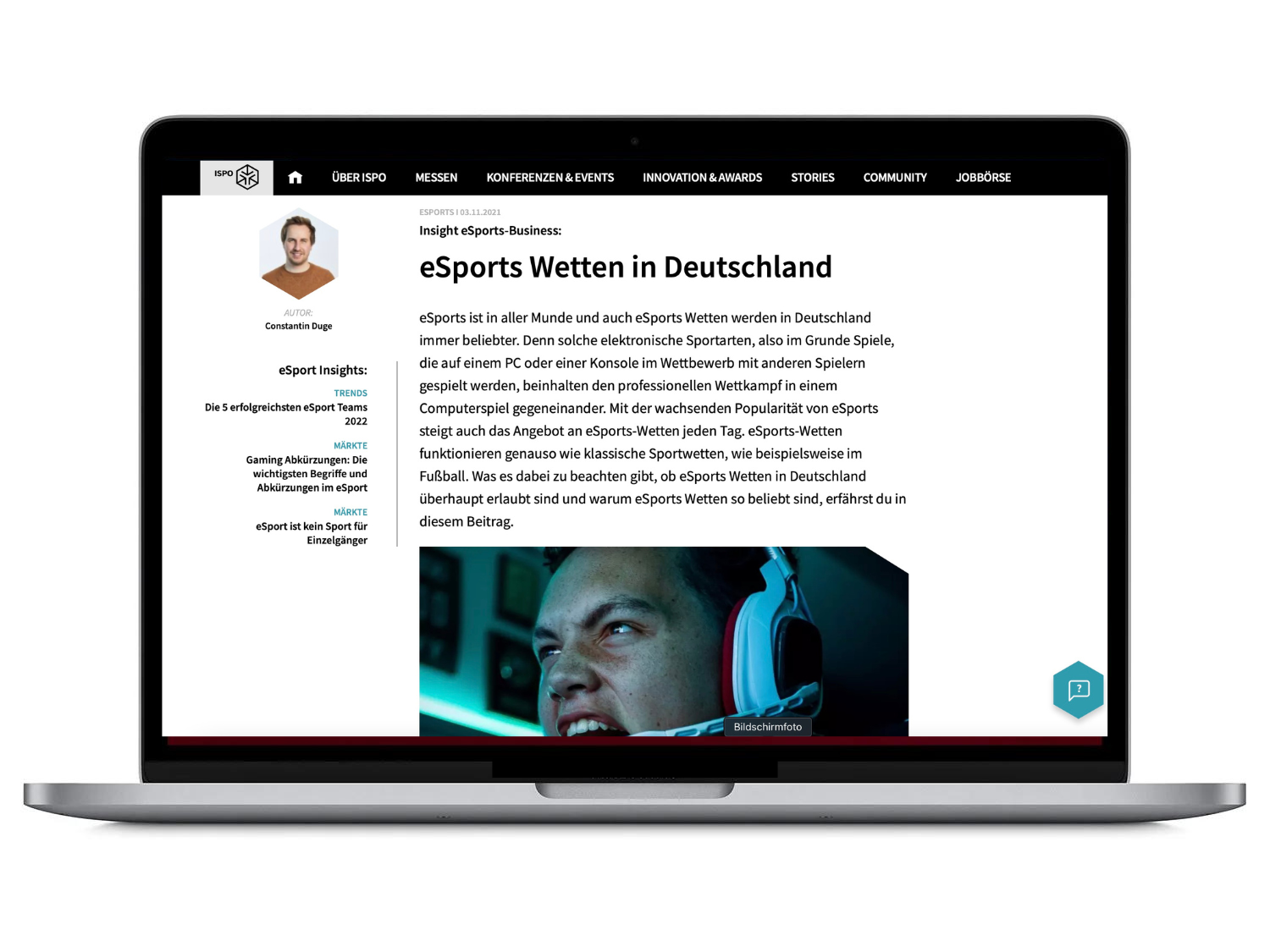 After only two months, we were able to deliver on ISPO.com Future Reach's SEO promise. The high ranking on page 1 in Google brought high reach and conversion.
After we agreed on the keyword "esports betting", we kept our promise to bring the article to the first Google results page - on time. The article clarifies and brings the topic of betting out of the "dirty corner".
Home page teaser on ISPO.com
Proven ISPO SEO future reach method
Call-to-action to redirect to a betting partner overview page
The best of all worlds: With the Keyword Partnership + Future Reach you get all the benefits of Native Advertising and a separate SEO optimization with reach building. We guarantee systematic and long-term SEO traffic. Through SEO optimizations we reach German Google page 1 after 6 months at the latest and high findability in English-language search as well.
Content:
Editorial consulting

targeted SEO traffic

Editorial story (promotion article)

Keyword according to agreement

Native advertising article including content distribution*
from 7.000 Euro net
The large editorial promotion article is created together with our experts. A keyword is developed on the basis of which the editorial team implements a large editorial promotion article. After 6 months you will reach Google page 1 (German language).
Suitable for: Sell In and Sell Out support, i.e. publication for Sell In and high Google visibility for Sell Out.
Find here an example.
Facts about ISPO.com
0
Newsletter subscriptions
Facts about ISPO.com
0
Newsletter subscriptions
Facts about ISPO.com
0
Newsletter subscriptions
My name is Florian von Stuckrad and I am responsible for marketing ISPO.com. My goal is to find the perfect advertising solution together with you and your brand. Contact me now and let's write history(s) together.
We offer you numerous possibilities to present your brand in the best possible way and to reach your target group. Discover more promotion options now: