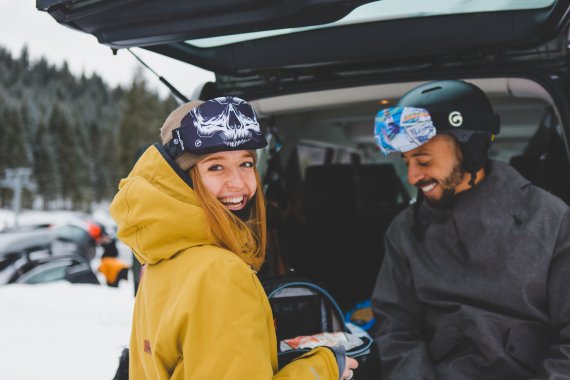 It began with an accident. A trio of friends (co-founders Josh Gray, Andy Taylor and Rich Adrian-Smith) were in a lift queue when one of them dropped their new goggles, scratching the shiny lens. This was the catalyst for a brainstorming session to create a product that would protect those precious lenses. Realising it's rare for people to use their goggle bag in-resort, they conceived of a stretch-microfiber 'sock' that would slip over the goggles, and with the today's availability of recycled plastic fabrics, it was a given to make the product out of recycled PET.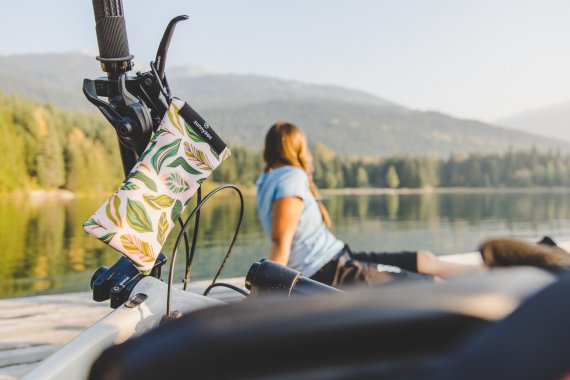 From this seed of an idea, the "gogglesoc" was developed in their basement. The feedback from local riders they sampled to was overwhelmingly positive, so they began knocking at retailers' doors in the Whistler area. Once it became clear that not only were customers buying into the idea, but that gogglesoc was easily one of the best money-makers per square-foot of retail space, things quickly snowballed: the team expanded into North America, with Europe and Asia following the subsequent season.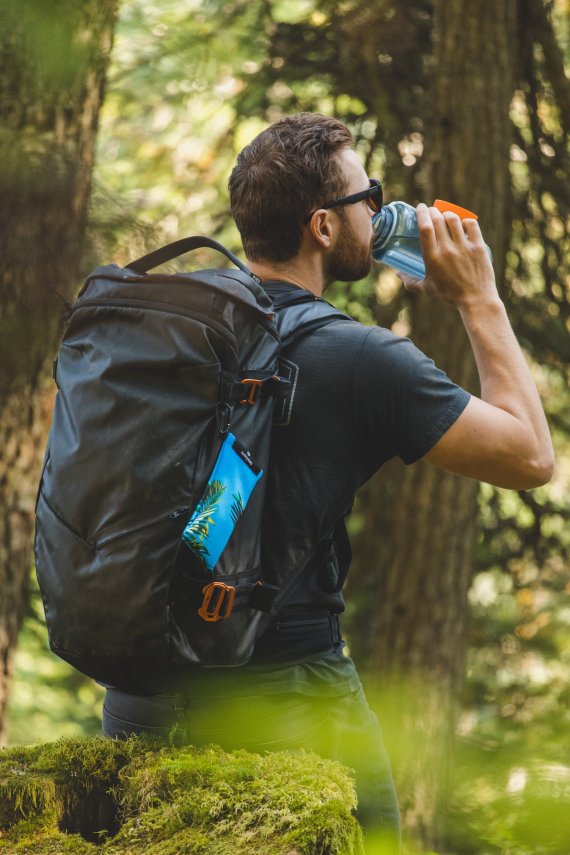 Today, gogglesoc makes eco-friendly eyewear accessories for the outdoors. In addition to their initial goggle lens protector, they've diversified their offering to include the visorsoc and sunnysoc (for visor helmets and sunglasses respectively), all of which continue to be made of recycled PET. This approach to creating practical solutions to common problems has seen over 650,000 gogglesocs sold to date, over 240,000 plastic bottles repurposed, and sales expanded to 23 countries. Though much has changed, their priorities have remained from day 1: to create products with a simple, functional design at an approachable price point that keeps the planet in mind.  
The latest product hitting the market in 2021, the sunnysoc, turns what was once basic into anything but that: A smart and attractive alternative to the ordinary, often too bulky sunglasses case. ''It's a lightweight pouch but protects sunglasses in style; allowing one to stuff, chuck, drop and experience worry free. It can also be used for specs or a phone. Simply handy...''says Andy Taylor.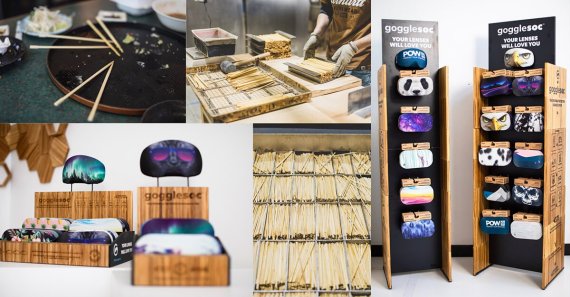 Their philosophy of "It's cool to be kind" remains a constant. In addition to making their products from recycled PET fabric from the start, gogglesoc have been mindful of their responsibility to reduce their ecological footprint as a company, using a minimum of recycled cardboard to display their product and are now even making in-store merchandising out of recycled chopsticks. "It's not only good to be green," says Josh, "we view it as a no-brainer these days." ''The same thing counts for brand display, it's something that tends to be forgotten. We've partnered with ChopValue for our display options, repurposing used chopsticks into fine design." Andy Taylor adds.
Beyond the sustainability aspect, gogglesoc have also been donating to good causes from the get go, as Andy Taylor explains: "We've partnered with numerous charities across the world, including adaptive ski programs and environmental organizations. Currently these include a long-standing collab with Protect Our Winters, and adaptive ski organisations like High Fives. This is important to us, because without the strong sense of community, snowsports wouldn't be what they are today, and without keeping an eye out for protection of winters we won't be able to enjoy that sense of community in the future either. "
At a time when it's easier than ever for people to dream up a product and get it produced to fill a real (or imagined) niche, it's refreshing to see companies like gogglesoc thinking beyond mere profit and build a brand around products that not only solve a problem, but that support good causes and take the topic of sustainability seriously. Oh, did we mention that their products look great, too?